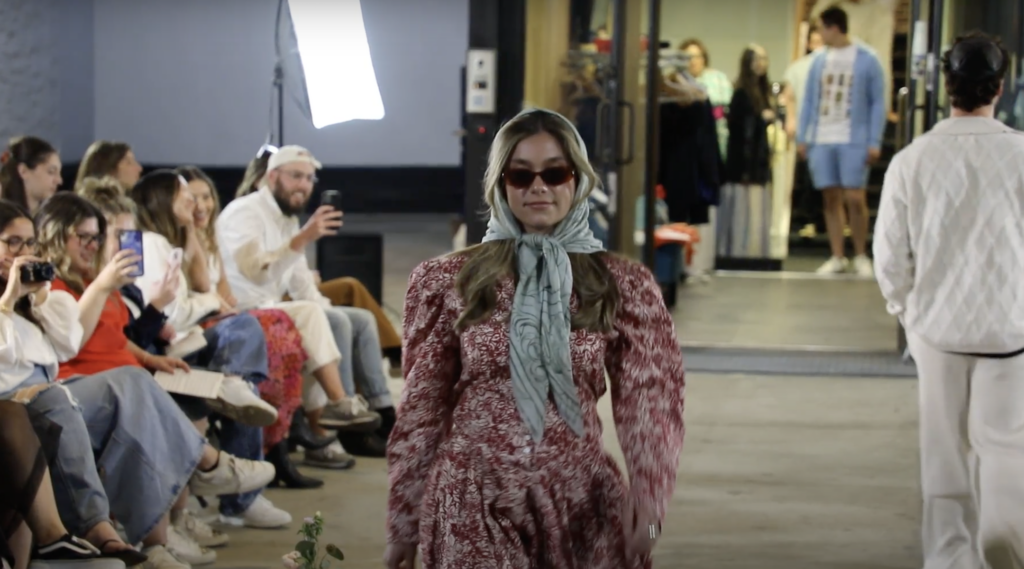 A fashion show in Tribeca attempts to capture 'The Jewish Uniform'
(New York Jewish Week) – Hip-hop music blasted through loudspeakers as about a dozen models strutted up and down a makeshift runway. Some of them wore cream knit loungewear, while others were clad in modest but elegant dresses accessorized with silk scarves.
The models, many of them student volunteers from Chelsea's Fashion Institute of Technology, were donning "The Jewish Uniform," at least as defined by the minds of Havurah, a cohort of self-described "frum" (religiously observant) New York-based 20-somethings aspiring to create a "renaissance of Jewish art." In addition to the fashion show, Havurah has hosted readings, Torah study and concerts, and the group recently launched "Verklempt!," a Jewish literary magazine.
Last Thursday evening, "The Jewish Uniform" highlighted 13 Jewish designers whose levels of experience ranged from amateurs to well-established brands like Batsheva, whose signature modest dresses and ultra-feminine womenswear first made a big splash in 2016. Directed by Havurah co-founders Daniella Messer and Eitan Gutenmacher — both 20-year-old students at New York University —  the show's looks were curated by Ashley Finkel, a 26-year-old e-commerce coordinator at La Perla and styled and staged by Lily Paige Sausen, 26, who runs an online vintage store.
Havurah's motive is to create Jewish art and to understand the intersection of art and Judaism. The fashion show, in particular, aimed to celebrate and explore what makes an outfit Jewish — at least through an observant lens.
"The intention of the show was to use fashion as a medium to bring together a community of creatives in NYC," Finkel told the New York Jewish Week. "We're very happy with how the evening turned out."
Around 120 people attended the show, which took place in the outdoor space underneath the bulbous curve of the architecturally unique Tribeca Synagogue (49 White St.), an Orthodox congregation. The downtown neighborhood is now known for its hip loft buildings, but it was once a center of the textile and cotton trade industries in the 19th and early 20th centuries.
"I thought it was really cool to be able to show my looks in a Jewish show," said Yarden Sopher-Harelick, a 24-year-old designer and FIT graduate who had three outfits in the show, including a blazer dress fashioned out of bubble wrap and a seatbelt.
Batsheva Hay, the Orthodox designer who runs the eponymous brand, donated four dresses to the show, though she wasn't able to attend herself. 
Each "Jewish Uniform" runway look had a tongue-in-cheek title and description that was presented in an accompanying program for the show, allowing the creative directors to build on their thesis about what makes an outfit Jewish — and to poke some lighthearted fun at Jewish customs as well. Take "The Yenta," who wears a white blouse, pearls and a long black skirt: "She attends shul for one purpose: the tea. It's piping hot, just like her outfit," the program read.
The "Shabbat Snoozer" — a loose, comfortable, matching set in navy — was described as "the classic combination of a food coma and a few hours to spare before Havdalah," while the "Cholov Yisroelnik," described as "the kosher version of a milkmaid," consisted of a headscarf, a pink gingham skirt and white top, with the model carrying a carton of milk instead of a clutch.
For first-time model Tara Dietzel, an 18-year-old first-year student at FIT, walking in the show and seeing clothes designed by Jewish designers was a way for her to envision how she might combine her Judaism, her love of modeling and her professional goal to become a fashion designer.
"It was so much fun and a good first step to figuring out how I can accomplish all of these dreams at once," Dietzler told the New York Jewish Week after the show.  
Support the New York Jewish Week
Our nonprofit newsroom depends on readers like you. Make a donation now to support independent Jewish journalism in New York.
Guests included many of the designers' friends and family, who cheered enthusiastically as their models walked the runway. After the presentation, everyone came together over wine and seltzer. The designers posed with their looks and models walked through the crowd to show off their clothes' texture and details up close. 
At the event, Elke Reva Sudin, a Brooklyn-based designer and painter, launched "The Crown Collection," a limited collection of silk head scarves. Nearly a decade ago, Sudin ran a similarly-missioned organization to Havurah called Jewish Art Now before founding Drawing Booth, a non-Jewish arts vendor where artists live-sketch guests at events. The scarves are her first foray into fashion.
Sudin said that designing scarves — an item popular among Orthodox women, most of whom cover their hair after marriage, as per Jewish law — was a way for her to explore her own Jewish identity and spirituality as a married Orthodox Jewish woman. She found out about Havurah through a mutual artist friend.
"I've been out of the Jewish world for a while now and I appreciate that there was a Jewish space I could turn to launch my scarves, which are sort of my return to Jewish art while entering into the world of fashion," Sudin, 35, told the New York Jewish Week. "Both my designs and Havurah have the same intent, which is to be inclusive and to create something not only beautiful, but meaningful to the Jewish community."