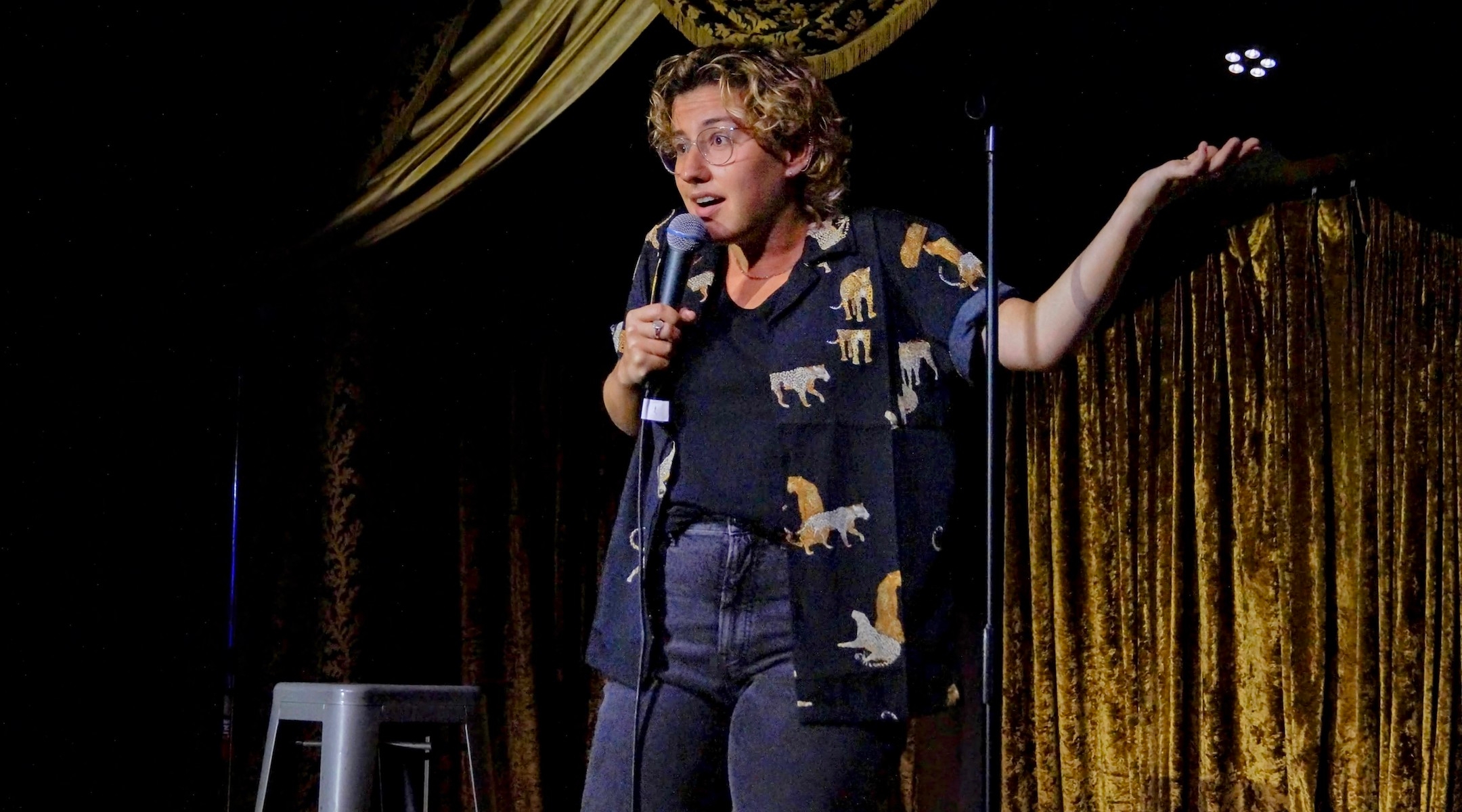 An all-Jewish, all-queer lineup of comedians takes the stage at New York Comedy Festival
(New York Jewish Week) — Growing up in an Orthodox community in Queens, Raye Schiller had no idea it was possible to combine her love of her Jewish community, her queer identity and her dreams of being a comedian. 
This week, all three of those identities will come together for the 28-year-old, who is hosting "Big Yenta Energy," a stand-up show featuring a line up of queer Jewish comedians as part of the New York Comedy Festival on Wednesday night. It's the only show out of 100 being produced as part of the festival this year that is entirely queer and entirely Jewish — Schiller thinks it may be the first of its kind in the festival's history.
"As a young, Orthodox person I was really scared and really unsure of myself, I thought I couldn't be both. I thought I had to pick one. I can't even describe what it would have meant for me to see a celebration of both of those identities," Schiller told the New York Jewish Week. 
In addition to Schiller, the show will feature sets from Leah Forster — a popular comedian among the Orthodox set — along with Clara Olshansky, Dylan Adler and Sami Schwaeber. 
Taking place at Club Cumming in the East Village, the show is based on Schiller's podcast "Yenta!", which she started earlier this spring, on which guests are invited to share secrets and gossip from their lives. "It's sometimes about Judaism, sometimes about being queer, but always about gossip," Schiller said. 
As part of her podcast, Schiller herself brings a secret from her life to every episode, which she says has helped her heal from the harsher parts of her upbringing, when she didn't know if she could ever come out as queer. 
At the show, audience members will be encouraged to anonymously write down their secrets — workplace crushes, high school romances and more — on notecards that will be collected and read aloud by Schiller.
"There's something really healing about sharing your secrets and what you might be ashamed of and then seeing that actually all these other people also feel that way," she said. "It's the best feeling when people tell me that they are able to see themselves in my comedy and be more proud of who they are because of it."
Schiller grew up in a strictly observant community in Queens, attended an all-girls yeshiva and studied at a seminary in Israel after high school. She said she was able to come out as queer in her 20s and be herself while maintaining relationships with her family and holding on to Judaism.
She started performing stand up comedy at the end of 2020, after a long year of quarantine, a cross-country move from New York to Los Angeles and a period of "intense inner growth." She works during the day as a software engineer and splits her time between Los Angeles and New York City. 
Schiller said she hopes that her show can also be a place where New York Jews can come together to laugh during a dark time, five weeks into the Israel-Hamas war.
"It is a very difficult situation for the world right now. It's important to unite and find joy and love and laughter, and I think Jews are also really good at laughing through our pain," she said. 
Support the New York Jewish Week
Our nonprofit newsroom depends on readers like you. Make a donation now to support independent Jewish journalism in New York.
"We're going to come together, we're gonna laugh and love and that will be, I hope, a meaningful experience for everyone that comes. I love to make people laugh, but I also want to bring people community and touch people's hearts while they laugh," Schiller said. 
Catch Big Yenta Energy with Raye Schiller at Club Cumming on Nov. 8 at 9:30 p.m. Tickets start at $12.