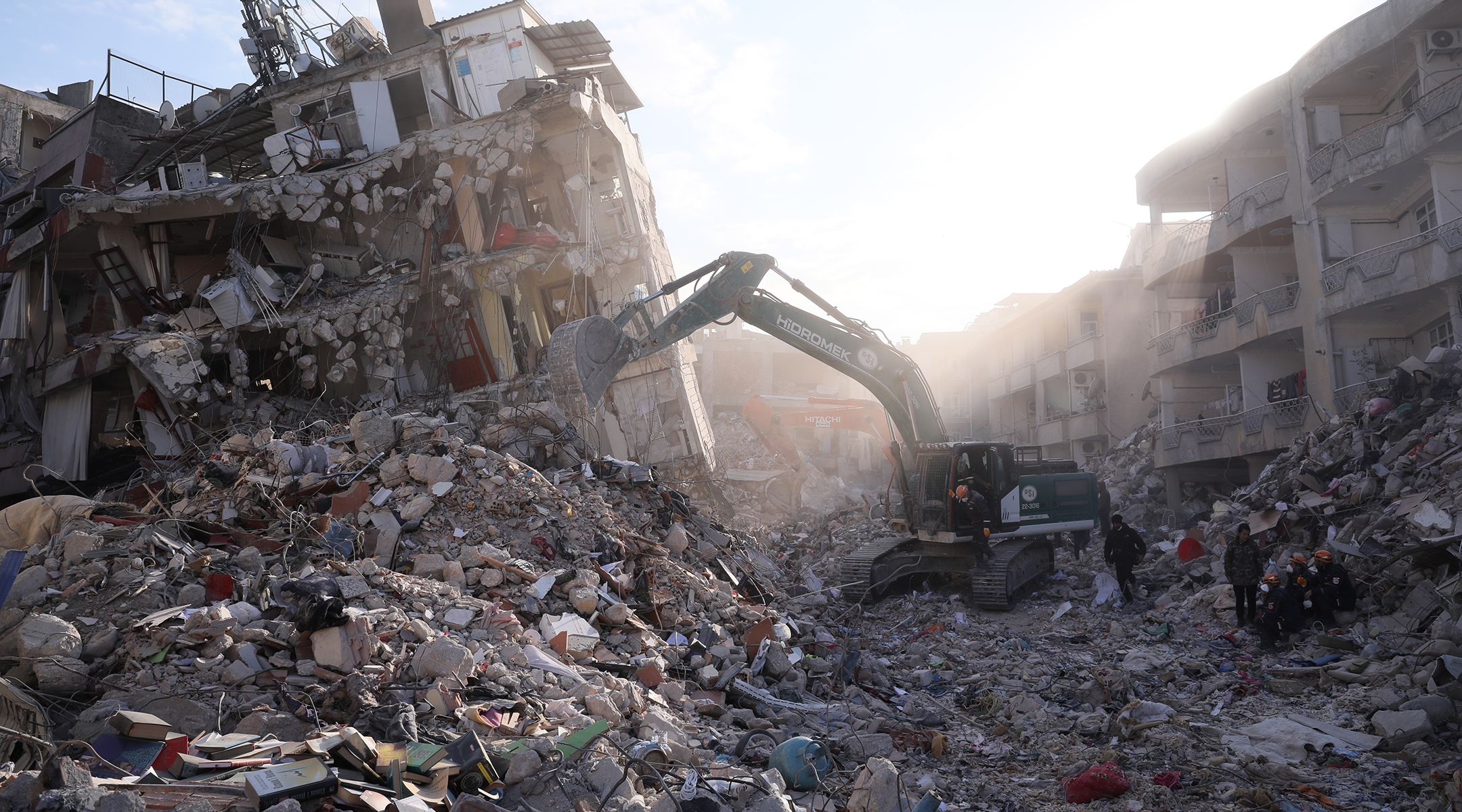 Antakya's remaining Jews flown to Jewish nursing home in Istanbul
(JTA) — The remaining few Jews of Antakya have been transferred to Istanbul, where they are staying in a Jewish nursing home thanks to a collaboration between the Turkish Jewish community there, a Kazakh-Israeli billionaire and Israel's fundraising organization Keren Hayesod.
While there have been a variety of ways for survivors to leave Turkey in the wake of last week's earthquake that killed over 40,000 — including through the Turkish budget airline Pegasus, which is offering evacuation flights free of charge from several cities — Antakya's Jews were helped by Alexander Machkevitch, a Jewish businessman from Kazakhstan who is one of the richest men in Israel with a net worth of over $2.4 billion.
"Even in the most difficult days following the disaster, members of Turkey's Jewish community discovered a unity which has characterized the Jewish people throughout the generations," Alexander Machkevitch said in a statement issued by Keren Hayesod. "I am honored to take part in this joint effort with Keren Hayesod to help our fellow Jews from Antakya, and hopefully give them an opportunity to rise from the ruins to rebuild their families and restore community life.  Our hearts are with the Turkish people during this difficult time, with hope for a full recovery for the wounded and rebuilding of the area."
Despite their small numbers, Antakya's Jewish community was known amongst Turkish Jews for being fiercely traditional, only consuming kosher meat. In the nursing home, they are being provided with kosher food.
Antakya was one of the areas hardest hit by the earthquake that ravaged Turkey and Syria last week. Among the dead accounted for so far were the president of the city's Jewish community, Saul Cenudioglu, and his wife Fortuna. 
Jews have been present in the city, known in antiquity as Antioch, for nearly 2,500 years, since its founding under the Seleucid Empire. Though several hundred Jews lived in the city at the time of Cenudioglu's birth in the 1940s, by last year their number had dwindled to only 14, the youngest of whom was over 60. Many of them worked in shops in the city's famed Long Bazaar market.
The Turkish Jewish Community's president, Ishak Ibrahimzade, wrote on Twitter last week that the earthquake had brought "The end of a 2,500-year-old love story."
The Cenudioglus were buried in Istanbul's Kilyos Jewish cemetery earlier this week, but the rest of the city's small Jewish community — only about 8 families — were flown to Istanbul. Many across eastern Turkey are living in tents outside of destroyed or structurally compromised homes, while temperatures approach or drop below freezing.