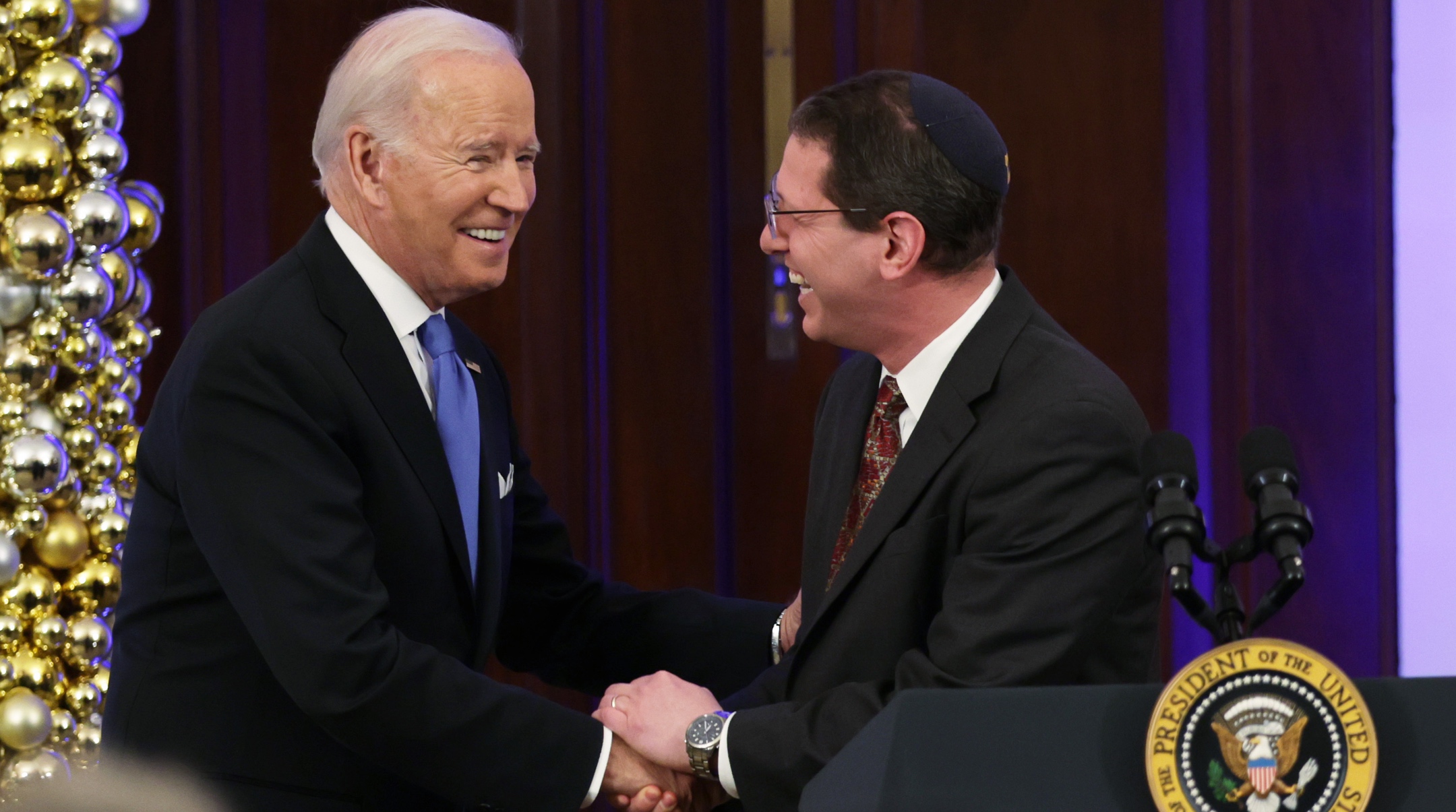 Biden Administration set to roll out antisemitism strategy on Thursday
WASHINGTON ((JEWISH REVIEW)) — President Joe Biden is set to unveil a broad strategy to combat antisemitism on Thursday morning, launching a plan that has been in the works for months and that has sparked debate among Jewish organizations.
The strategy will be announced with a video presentation and a live-streamed conversation between its two architects — Susan Rice, Biden's chief domestic policy adviser, and Second Gentleman Doug Emhoff, who is Jewish.
Multiple sources confirmed to the Jewish Telegraphic Agency that the rollout time was announced in messages sent to leaders of Jewish organizations on Sunday. The administration has been laying the groundwork for a strategy that would encompass the breadth of government. Biden said earlier this month that the strategy "includes over 100 meaningful actions that government agencies are going to take to counter antisemitism." He said it would raise awareness of antisemitism and Jewish heritage, engage in building coalitions to fight antisemitism and bolster security for Jewish communities.
Recent events marking Jewish American Heritage Month, which is observed in May, have made antisemitism and Biden's plans to combat it a focus both at the White House and in agencies as diverse as the FBI and the U.S. Department of Agriculture.
Emhoff spoke Tuesday night to a gathering of the Jewish Democratic Council of America. Vice President Kamala Harris delivered remarks to the group on Wednesday morning. "Let us not be overwhelmed," she said, urging those present to work with the strategy once it is published. "Let us not be living in a state of fear. Let us not throw up our hands when it's time to call up our sleeves."
Someone who was consulted on the antisemitism strategy said that the administration originally hoped to launch the strategy, which in the works since December, at the Jewish American Heritage Month event last week at the White House. But it was delayed because of concerns among Jewish community leaders over how the term "antisemitism" would be defined.
The plan will embrace a "working definition" of antisemitism advanced in recent years by the International Holocaust Remembrance Alliance, whose examples of antisemitism include using "double standards" when criticizing Israel and calling it a "racist endeavor."
But there have been tussles on social media over efforts, first reported by Jewish Insider, for the plan to also mention an alternative definition of antisemitism. That definition, written by a group of academics and called the "Nexus Document," has tighter standards around when anti-Israel speech is antisemitic. It says that applying double standards to Israel may not necessarily be antisemitic, but "to treat Israel differently solely because it is a Jewish state" would be.
In recent days, a number of Jewish organizational leaders have been reassured by White House officials that the reference to the Nexus definition will not detract from the plan's embrace of the IHRA definition.