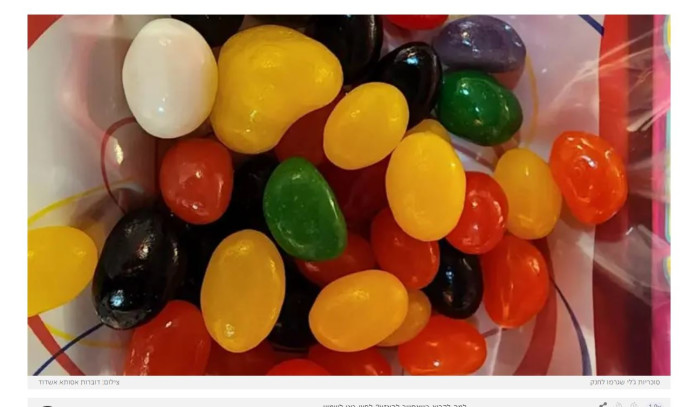 Child aged 6 in serious condition after choking on jelly bean
A six-year-old boy has been hospitalized at Assuta Ashdod Hospital since Saturday in serious condition, after choking on a jelly bean. While walking with his mother in Ashdod and eating the candies, he suddenly coughed and choked and lost consciousness. Passersby called Magen David Adom medics, who were unable to remove the bean and rushed him to the hospital's pediatric emergency room.
The child was stabilized and transferred to the pediatric intensive care department, where he was anesthetized and respirated.
"This is a very unfortunate case that can happen to any child," said Dr. Noa Rosenfeld, director of Assuta's "pediatric intensive care. "|In the coming days, we will know how severe the complications are. Unfortunately, this is not the first case in which we must provide lifesaving medical care to a child who chokes on candy or other foreign objects.
One should avoid giving candies, especially if they are hard, and never leave them alone with the candy.Last month, at the Rambam Healthcare Campus in Haifa, a two-year-old toddler who choked on a gumdrop was hospitalized in intensive care but in the end she died.
According to data from Beterem (Safe Kids Israel), in the last five years some 50 children died as a result of choking on foreign objects. Two thirds were under the age of four and six toddlers under the age of one year.
Beterem director Orly Silbinger said that choking is the third-most-common cause of death in babies and young children, because their respiratory system is not developed enough.
Baby swallows magnet piece
Inedible objects often dangerously attract infants and toddlers as well. In a recent example, a nine-month-old child in Ra'anan was playing with refrigerator magnets with his older sister. His mother noticed a small piece of the magnet with sharp edges had remained on the fridge and that he had a cut on his tongue. He was able to nurse, but then he vomited and his parents realized something was wrong.
They rushed him to Meir Medical Center in Kfar Saba, where an X-ray located a foreign object at the top of his esophagus. In the operating room, the foreign object was removed gently with an endoscope.
The parents said they had had the heavy, strong magnet for eight years and never dreamed it would endanger their child.