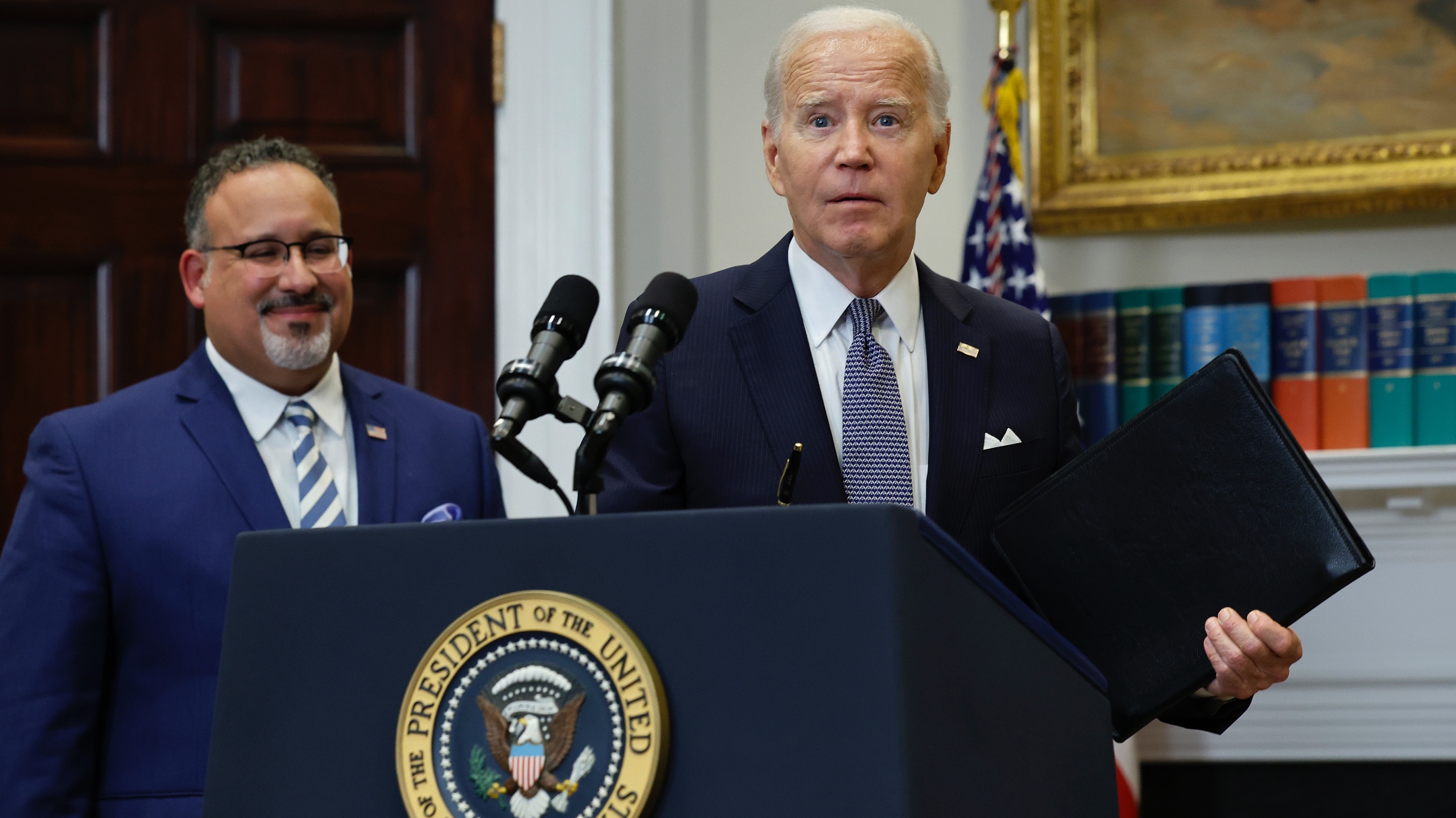 Education secretary: Colleges could face funding cuts if they don't address antisemitism
WASHINGTON ((JEWISH REVIEW)) — Education Secretary Miguel Cardona said colleges could lose federal funding if they fail to address antisemitism and other bigotries, following up on a meeting last month with Jewish leaders alarmed by rising antisemitism on campuses in the wake of the Israel Hamas war.
Cardona made his warning in an interview on CNN on Monday ahead of the release the next day of a letter reminding federally funded schools of their obligation to protect Jews and other minorities.
"I would want to provide support for these universities, provide guidance. And if there are egregious acts, I want to make sure that we're investigating," he told the network. "Ultimately, if we have to withhold dollars from a campus refusing to comply, we would."
Cardona's comments do not represent a new policy, but they suggest that Cardona is prepared to be aggressive in pressing colleges to act. In a release on Tuesday formally announcing the letter, Cardona tied the letter's instructions to what Jewish organizations have said is a massive spike in antisemitism on campuses since Hamas terrorists struck Israel on Oct. 7, launching the war.
"The rise of reports of hate incidents on our college campuses in the wake of the Israel-Hamas conflict is deeply traumatic for students and should be alarming to all Americans. antisemitism, Islamophobia, and all other forms of hatred go against everything we stand for as a nation," he said.
The letter sent Tuesday to colleges that receive federal funds, signed by Catherine Lhamon, the department's assistant secretary for civil rights, describes in its first paragraph "an alarming rise in disturbing antisemitic incidents and threats to Jewish, Israeli, Muslim, Arab, and Palestinian students on college campuses and in P-12 schools."
In her second paragraph, Lhamon ties the money the schools get from the government to their legal obligations to protect minority students. Both public and private universities receive federal funds through a variety of pathways.
"I write to remind colleges, universities, and schools that receive federal financial assistance of their legal responsibility under Title VI of the Civil Rights Act of 1964 and its implementing regulations (Title VI) to provide all students a school environment free from discrimination based on race, color, or national origin, including shared ancestry or ethnic characteristics," Lhamon said in her letter. "It is your legal obligation under Title VI to address prohibited discrimination against students and others on your campus—including those who are or are perceived to be Jewish, Israeli, Muslim, Arab, or Palestinian — in the ways described in this letter."
In his Oct. 30 meeting with Jewish leaders, Cardona noted that the Biden Administration had already, prior to the Oct. 7 Hamas deadly attack on Israel, extended Civil Rights Act protections to religious minorities, including Jews and Muslims. He promised a two-week deadline to come up with a plan.
Jewish leaders at that meeting noted that the federal government in recent years has expanded Title IX of the same act, which bans gender discrimination, to allow for funding to be withheld from universities that do not address sexual harassment and assault. They suggested that the department could apply similar measures to Title VI as an incentive for compliance.
Sen. Jacky Rosen, a Jewish Democrat from Nevada, last week had sent a letter urging the Education Department to issue "updated guidance to college and university administrators making clear the consequences of failing to ensure the safety of Jewish students," among other measures.
Rosen, who cofounded an antisemitism task force in the Senate, welcomed Cardona's letter issued Tuesday. "I'm glad to see the U.S. Department of Education is taking action at my urging to remind school administrators of their legal responsibility to keep students safe from antisemitism and other forms of discrimination – or face consequences," she said. "I'm continuing to urge the department to form a task force to counter campus antisemitism."