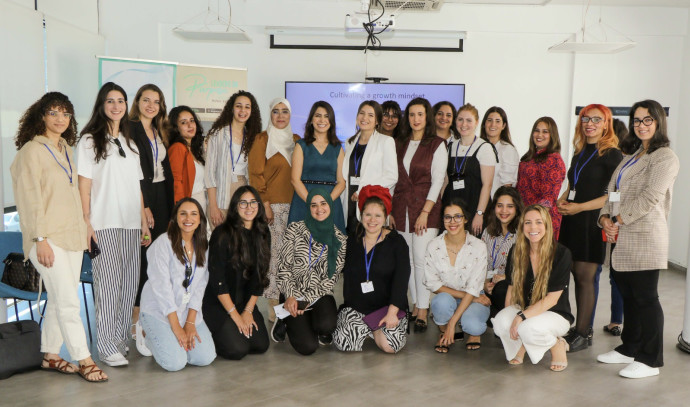 FemForward kicks off first Moroccan, Israeli cohort in Casablanca
Eleven Israeli women and their leaders participated in the first-ever FemForward seminar in Casablanca this past week. They were paired with 11 Moroccan women for a program addressing gender disparity in managerial positions within the tech industry.
The cohort from Israel included women from all religious backgrounds.
"This is the first time that young women from Israel and Morocco's technology sector have come together for an intense program in which they will be paving their career paths together while creating lifelong regional friendships across the MENA region," explained Rachel Wagner Rosenzweig, co-founder and CEO of FemForward.
FemForward was founded in Jerusalem three years ago and has been operating in the capital. This is the first cohort that includes Moroccan women with grants from the American Embassy in Jerusalem and the UAE-Israel Business Council. The program is also operating in collaboration with Commons Zerktouni, Microsoft, McKinsey and AFEM.
 "We express our gratitude to the American Embassy in Jerusalem, the UAE-Israel Business Council and our esteemed partners in Morocco for their invaluable support in creating this transformative program," said co-founder Fleur Hassan-Nahoum, who is also deputy mayor of Jerusalem and a co-founder of the UAE-Israel Business Council.
Women's international mentorship
Each participant was matched with a mentor from a different country in their field.
In addition, over the next two months, the program will continue with weekly online seminars given by women who hold senior hi-tech positions. Topics will include management and negotiation. The workshops will also allow the women to establish connections with their peers and mentors.
Hassan-Nahoum said a second seminar will be held in Israel at the end of July.
"FemForward was set up in Jerusalem three years ago and has seen fantastic results," Hassan-Nahoum said, noting that 50% of the program's 100 graduates have seen immediate salary raises and job promotions.
She added that the MENA part of the program kicked off in Morocco, but there are plans to establish cohorts in the United Arab Emirates and Bahrain over the next two years.
"FemForward is committed to shattering the glass ceiling for women in tech," Wagner Rosenzweig concluded. "I am honored to be a part of this."