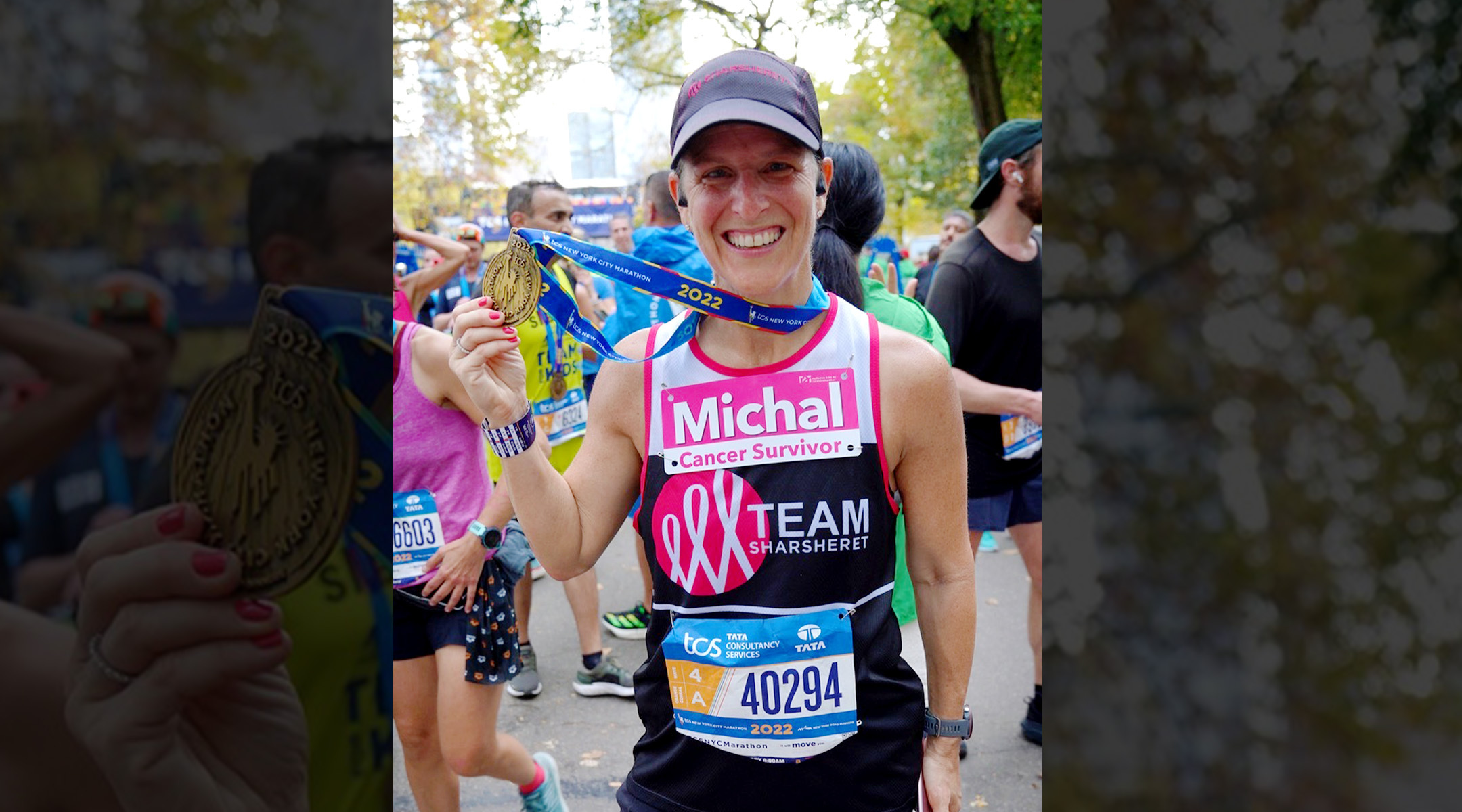 For one Jewish family, education about family cancer history pays dividends
When Sue Gorlin was a child and away at camp during the summer of 1960, her mother received some awful news: She was diagnosed with ovarian cancer, and doctors gave her six months to live. 
But she underwent surgery and, defying the odds, made a full recovery. 
Not long afterward, Sue's aunt was diagnosed with the same illness, and in this case the outcome was bad: She died within two years. 
Still a teenager, Sue didn't quite understand what was going on because she was kept largely in the dark.
"Back then, it was called 'the big C.' Nobody talked about it," Sue recalled in an interview. "My mother and her sister both had ovarian cancer, but they were never going to tell me. That's how secretive it was."
Only by chance in the mid-1990s did Sue learn the truth, when a cousin revealed the story and urged her to get tested for the BRCA1 and BRCA2 genetic mutations. Those mutations render carriers far more susceptible to breast and ovarian cancer than otherwise, and approximately one of every 40 Jewish women of Ashkenazi descent is a carrier — compared to about 1 in 400 women in the general U.S. population.
 Sue, who at the time was living in Silver Spring, Maryland, got tested and learned she was not a carrier of a BRCA mutation. But she nonetheless decided to get an annual pelvic sonogram and ultrasound just to be on the safe side.
That decision would end up saving her life. About 10 years later a sonogram revealed a malignant growth on one of her ovaries that had not yet spread. She had surgery to remove it, then underwent five months of chemotherapy.
Today Sue, now 79, lives in Israel with her husband, Jacques. Their Gorlin Family Foundation is a major benefactor of Sharsheret, the American Jewish nonprofit that offers education, counseling and support to women facing breast cancer and ovarian cancer.
October has been recognized as National Breast Cancer Awareness Month since 1985, and several weeks ago President Biden proclaimed September as National Ovarian Cancer Awareness Month.
This October, Sharsheret is holding five webinars focused on the cancers, from "Facing Scanxiety" (Oct. 16) to "Artificial Intelligence and Breast Cancer: What Does the Future Hold?" (Oct 30), and coordinating hundreds of in-person events at schools, Jewish community centers, and synagogues across the country. 
Marking breast cancer and ovarian cancer with two specially designated months is a lifesaving reminder: It gives people an opportunity to learn about their risk for cancer and about how to find the resources they need to protect their health," said Sharsheret CEO Elana Silber. "During these two months, people are paying attention and understanding the urgent concerns in our community. As a result, we are seeing more investment in critical support programs and medical research."
Because they are in a heightened risk category, Jews have extra reasons to undergo genetic testing and research their family history.
"If it hadn't been for Sue knowing her family history, who knows if she'd be around today?" said Sue's husband, Jacques. "When she discovered her ovarian cancer in 2009, there were no clinical trials, and we didn't know about the services of Sharsheret."
Knowledge of her family history also made all the difference for Sue's daughter, Michal Gorlin Becker.
"Because of my family history, I was considered high-risk and already had genetic counseling years before," said Michal, 49, a mother of four living in Jerusalem. "I knew that my mother had ovarian cancer, and that my great-aunt had died of it. So in 2016 I had my ovaries taken out."
She continued to monitor her health. In April 2020, after Michal's doctor at Jerusalem's Shaare Zedek Medical Center had her do a biopsy, she received some bad news: She had breast cancer. The news arrived on the morning of her 46th birthday, just as she was preparing for her daughter's bat mitzvah.
 "I was expecting it, but not necessarily on that day," Michal said. 
Fortunately, her cancer was at an early stage and had not yet metastasized. Michal started chemotherapy the day after the bat mitzvah. She did eight rounds of chemo every two weeks; the course of treatment took four months.
"I was very lucky in that the type of cancer I had — HER-negative — wasn't biological, and it wasn't related to any hormones, so I didn't have to continue with pills," Michal said. "I had a double mastectomy with immediate reconstruction. It was major surgery, but I've done the best I can to prevent any sort of recurrence."
Michal attributes her success fighting the cancer in part to her physical fitness at the time of her diagnosis. She had run back-to-back marathons in January and February 2020 and felt she was in the best shape of her life. 
"I was strong and positive," Michal said. "This is why I was able to get through it."
Still a runner, Michal ran the TCS New York City Marathon last year with Team Sharsheret. 
Her mother, Sue, eventually retested herself after technological advancements made BRCA testing more discerning. Updated versions cover genetic deletions as well as mutations, and Sue discovered she had a deletion that had not been picked up in earlier tests. Now Sue sees her oncologist once a year but has MRIs and mammograms every six months, as well as the CA125 blood test recommended for ovarian cancer survivors.
It's important to keep in mind that breast and ovarian cancers are not limited to those with genetic mutations and often have other causes, said Sharsheret's genetics program manager, Peggy Cottrell.
"When we see multiple cases of ovarian cancer in the same family, the likelihood of it being an inherited cancer is higher," Cottrell said. "If someone tests negatively for hereditary cancer but has a very strong personal and family history of cancer, an updated test or even a research study may be helpful. Speaking with a genetic counselor can help clarify the best course of action."
Chicago attorney Daniel Gorlin, 44, who is the youngest of Jacques and Sue Gorlin's four children, credits his mother's survival and his sister's health in part to education about the importance of knowing one's family history of illness — a message Sharsheret emphasizes in its educational outreach. 
"This knowledge is what saved their lives," said Daniel, who is a member of Sharsheret's Illinois Community Advisory Committee. 
Daniel has gotten himself tested for the BRCA genetic mutation. (Men are also susceptible to breast cancer, and carriers of the mutation are at higher risk of not only male breast cancer but also melanoma, prostate and pancreatic cancer.)
"It's a different day and age now. People are far more interested in their genetics than before," Daniel said. "This is a moment in time when it's too dangerous for these topics to be taboo."
The key, Sharsheret leaders say, is to take action. Sharsheret offers free and confidential conversations with mental health professionals and genetic counselors as well as connections to peer supporters. They can be reached via email at [email protected], by phone at 866 474-2774 or online at Sharsheret.org.