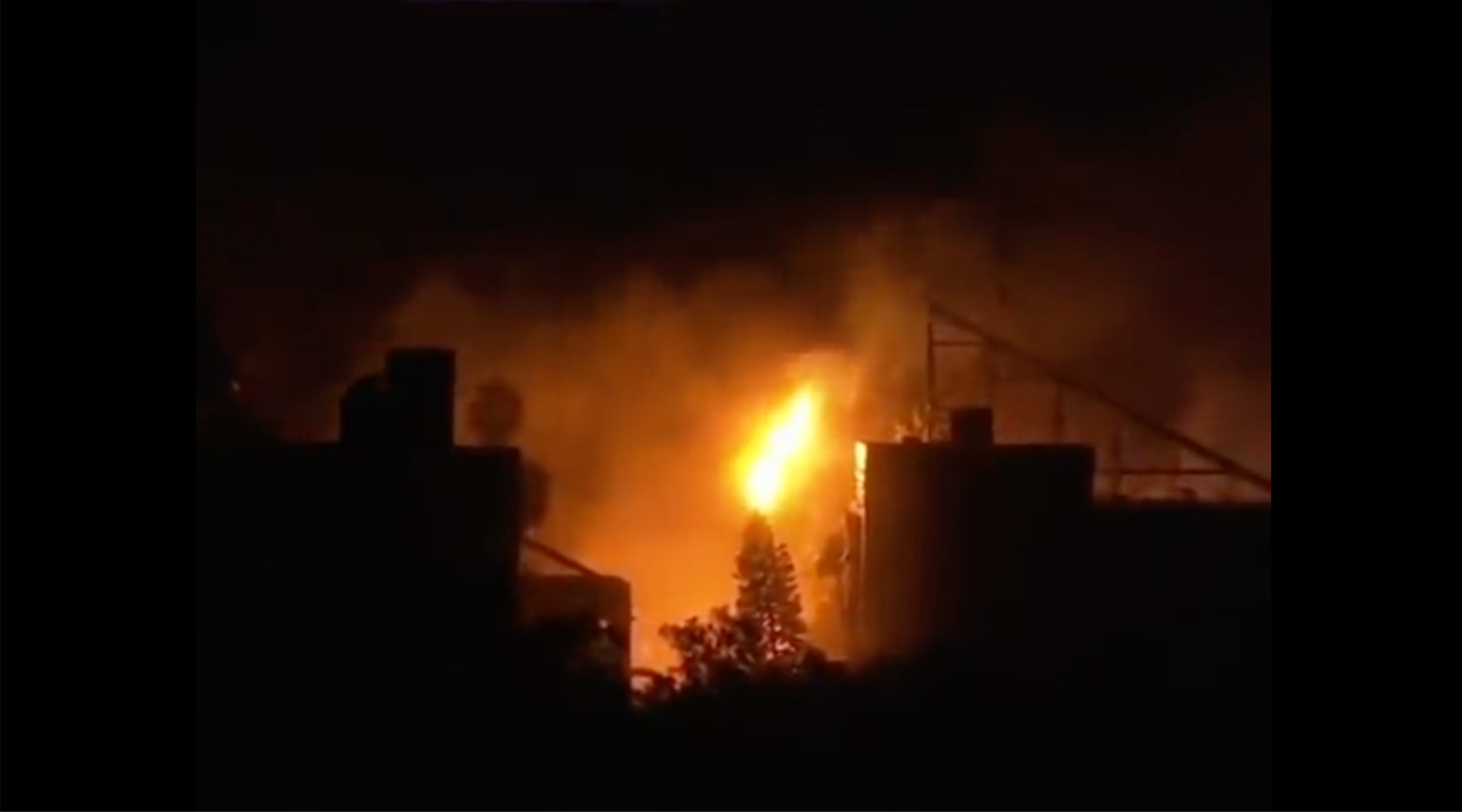 Israeli military says Palestinian rocket struck Gaza hospital where hundreds were reported killed
((JEWISH REVIEW)) — Israel has concluded that an explosion at a Gaza City hospital that reportedly killed hundreds of people was the result of an errant rocket fired by Palestinian Islamic Jihad, a terror group in Gaza.
Hamas and the Palestinian Authority both blamed Israel for the blast at al-Ahli hospital, which the Palestinian Red Crescent Society emergency services group said had caused the deaths of hundreds among the thousands sheltering in the building.
A planned summit between U.S. President Joe Biden and several Middle East leaders was canceled and riots broke out in the West Bank and Jordan after the explosion.
Rockets fired from Gaza often fall short, landing inside the Palestinian territory. Security footage from the Israeli side and video posted by Al Jazeera both appeared to show a failed rocket causing an explosion in Gaza as a volley streaked through the night sky toward Israel.
The Israel Defense Forces said it had reviewed multiple sources of information, including its intelligence systems, before determining the source of the rocket.
"It is clear that the IDF did not strike the hospital in Gaza," it said in a statement that also said 450 rockets had fallen within Gaza since Hamas' Oct. 7 attack on Israel. "The hospital was hit as a result of a failed rocket launched by the Islamic Jihad terrorist organization."
The deadly blast further drove up tensions in the war, as Israeli troops appeared to prepare for a possible ground invasion of Gaza, international condemnation of Israel piled up and fears spiked of a wider conflagration in the Middle East.
The explosion swiftly drew condemnations and, in some places, protests against Israel. Dozens of rioters targeted the Israeli embassy in Amman, Jordan. Riots also broke out in Palestinian areas of the West Bank, Hebrew media reported.
Palestinian President Mahmoud Abbas declared three days of national mourning for the victims, the Palestinian Wafa news agency said. Abbas also canceled a planned meeting with Biden, multiple reports said, citing Palestinian officials. And the Jordanian foreign minister reportedly announced that a summit including Biden, Abbas, Egypt's Abdel Fattah el-Sisi and Jordan's King Abdullah has been called off.
The European Union, Turkish President Recep Tayyip Erdogan, Arab League, Jordan, and the head of Amnesty International all decried the blast.
The World Health Organization said it "strongly condemns the attack," without directly blaming Israel.
Israel has long maintained that it does not target civilian infrastructure such as hospitals, and an IDF spokesperson told Fox News on Tuesday that hospitals are "not an IDF target." It has also charged that Hamas, which controls Gaza, operates its military operations out of civilian buildings including hospitals.
"The entire world should know: It was barbaric terrorists in Gaza that attacked the hospital in Gaza, and not the IDF," Israeli Prime Minister Benjamin Netanyahu said in a statement posted to X. "Those who brutally murdered our children also murder their own children."
Hamas attacked Israel on Oct. 7, killing around 1,400 Israelis, capturing about 200, and sparking the war between Israel and Gaza terror groups. Over 2,600 Palestinians have been killed in Gaza since Israel launched its counter-offensive, according to the Hamas-run Gaza Health Ministry.