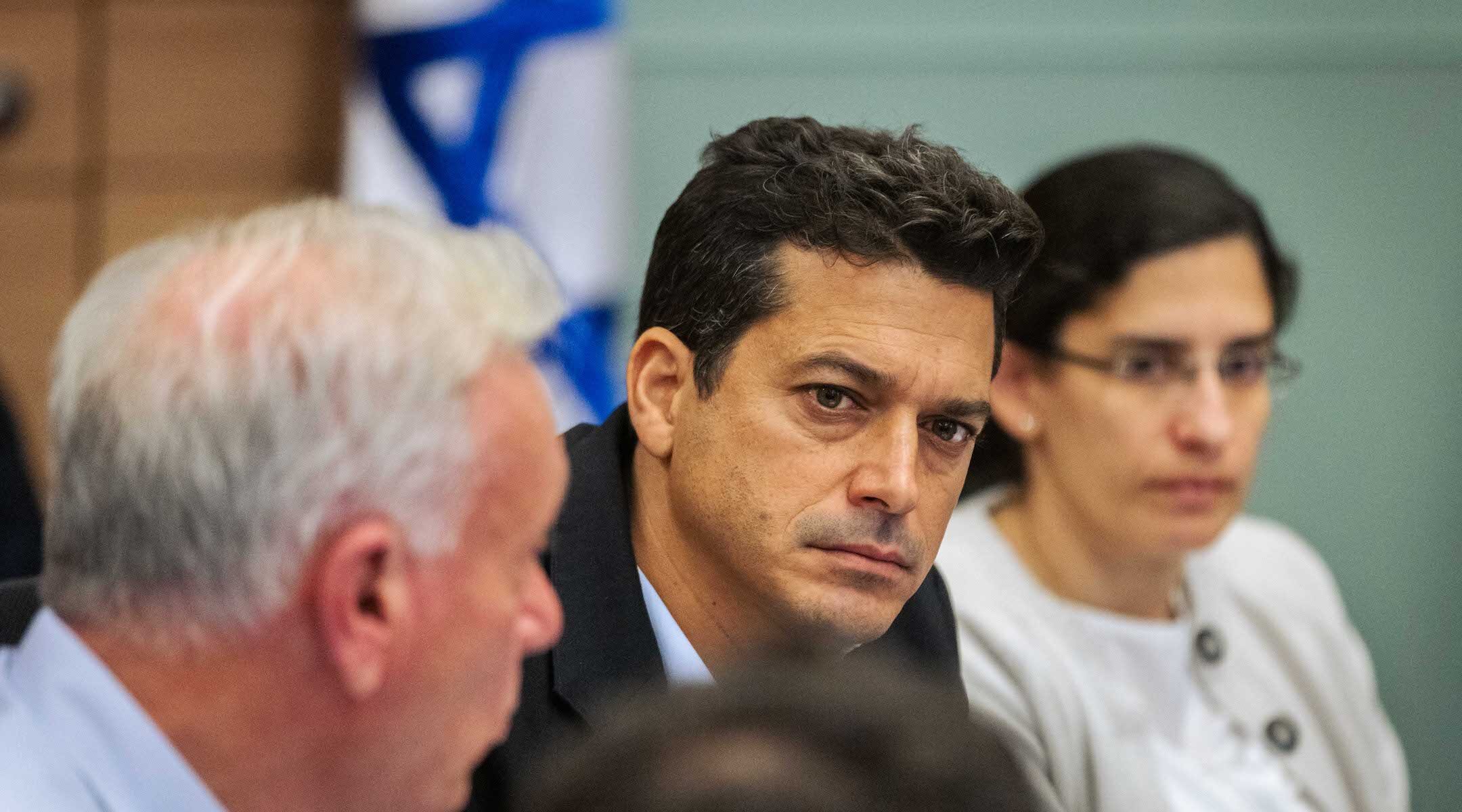 Israel's Diaspora minister calls J Street 'hostile' after group tweets negatively about him
((JEWISH REVIEW)) — Amichai Chikli, the Israeli Diaspora minister who has antagonized some liberal segments of American Jewry, called J Street "hostile" to Israel after it retweeted a photo of the minister from New York City's Celebrate Israel Parade.
Chikli was photographed at the June 4 parade making what appeared to many to be an obscene gesture toward a group protesting the Israeli government. He and his staff said he was gesturing to the protesters to smile and did not intend to make the obscene gesture.
Either way, the picture, taken last week by Forward reporter Jacob Kornbluh, has become fodder for Chikli's critics, who have circulated it widely online as evidence of his disdain for protesters who oppose Israel's government and its efforts to weaken the judiciary. Yair Lapid, the leader of Israel's parliamentary opposition, tweeted the photo and wrote, "This government never ceases to embarrass us internationally." And J Street shared a tweet by UnXeptable, a protest movement led by expatriate Israelis, that included the photo of Chikli below the word "SHAME," which is a frequent chant at Israeli antigovernment protests.
Chikli, a member of Prime Minister Benjamin Netanyahu's Likud Party, has pushed back. Speaking Monday evening on Kan, Israel's public broadcaster, Chikli responded to the viral photo by attacking organizations and individuals that had shared it on social media, saying that it was "fake news."
J Street is a liberal Jewish Middle East lobbying group that calls itself "pro-Israel and pro-peace" and has become a target for pro-Israel conservatives in the United States and Israel. The anchors challenged Chikli, saying that J Street is an "important" group in the Diaspora and asking why he didn't explain to J Street that the photo was misconstrued. (Chikli did reply to Lapid's tweet with his explanation, writing that on the occasion of Israel's 75th birthday, "we're allowed to celebrate and be happy.")
"It's not an important organization, it's hostile," he said in his Kan appearance, citing J Street's advocacy for the 2015 nuclear agreement with Iran, which Israeli governments have reviled. "It's a hostile organization that harms the interests of the state of Israel."
Chikli also criticized J Street for receiving funding from George Soros, the liberal Jewish billionaire megadonor who has become a bogeyman for political conservatives. He said, "I have no expectation of J Street, which George Soros funded with $1 million, there's no turning to him."
Soros has funded J Street and his charity, the Open Society Foundations, has in the past funded groups that are critical of and in some cases averse to Israel. Last month, Chikli tweeted, "Criticism of Soros – who finances the most hostile organizations to the Jewish people and the state of Israel is anything but anti-Semitism, quite the opposite!"
J Street said Chikli's tenure has been "disastrous." Chikli has drawn criticism since he was appointed late last year because of previous comments deriding the Reform movement and LGBTQ Jews.
"Comments like this show how deeply contemptuous this Israeli government is of the vast majority of American Jews, who reject their far-right, anti-democratic agenda," J Street spokesman Logan Bayroff told the Jewish Telegraphic Agency. "It's hard to imagine anyone doing a more disastrous job of 'building ties with the diaspora' than Amichai Chikli — who resorts to petty attacks and insults against anyone who has the backbone to stand up for fundamental Jewish and democratic values."
Chikli's spokesperson did not return a request for comment.