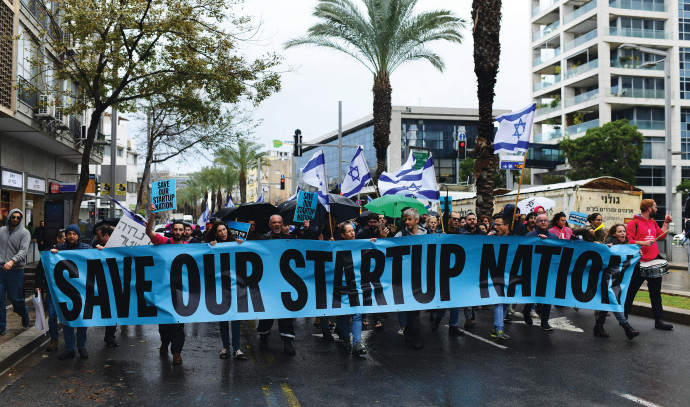 'Israel's high uncertainty is killing business.'
Aman Group is one of Israel's leading IT companies, having generated over NIS 810 million in revenue this year. The company is a member of Israel's Business Forum, and as such was a participant in the nationwide corporate strike on Monday, when the country's top 150 companies ceased to work in protest of the Knesset passing the Law to Cancel the Reasonableness Standard, a significant step in the current government's efforts to undermine the High Court's legal authority.
Economists, experts, and executives alike have warned about the ill effect that the judicial reform will have on Israel's economy, and already the damage is beginning to show. According to findings from Start-Up Nation Central, already 22% of hi-tech companies in Israel have begun diversifying their cash reserves outside of the country, and 37% of investors have seen companies in their portfolios withdraw portions of their cash reserves and move them abroad.
Additionally, 8% of companies have begun moving their headquarters abroad, with another 29% planning to do so in the near future. A whopping 84% of investors report that the judicial reform has negatively influenced the performance and prospects of the companies they have invested in.
Speaking on behalf of Aman Group, CEO Ben Pasternak elaborated on his company's backup plans given the current market instability, what other companies are considering in the face of current financial challenges, and the overall negative impact that the reform continues to have on Israel's economy.
To kick things off with politics aside, what is the overarching impact that the reform has had on Israeli business?
Political and economic strife 
"Whatever your political views about it, what's happening now in the country reflects big time on the business community. Now, doing business with Israel is a little bit more complicated, more risky, and that's largely affected Israel's overseas income."
"50 to 60 percent of our business is in Israel, and we have several 1000s of employees here, so we are very much engaged with the Israeli community. And we are feeling the tension and the uncertainty. Now, uncertainty is very large around the world as it is, but in Israel, it's even higher."
"Uncertainty kills business. We are already seeing that in the results: it's taking more time to do business, and more time to take new initiatives."
As a company with a significant portion of business happening overseas, would you say that Aman is somewhat insulated against the economic turmoil happening locally?
"It's reduced the risk for sure, and that was the intention about two decades ago when we opened our other branches and acquired quite large companies overseas: of course, also to enlarge our knowledge and technology base, but also in order to reduce the risk [of local instability]."
Considering the current economic situation here, does Aman have a "Plan B" in case the economy continues to decline? I have to imagine that in Aman HQ there are discussions like "Okay, well if it goes south then do we move to Europe? Do we move somewhere else?"
"First of all, I'm an Israeli patriot. I will do almost everything I can — not almost — everything I can in order to back the Israeli economy. I'm a very large patriot and I will use everything in my arsenal to get things in order, so to speak. [Israeli hi-tech] was at its best time ever only a few months ago. It seems unbelievable that this situation is changing so dramatically."
"That said, yes, Aman has [a backup] initiative. When we opened the year, only six months ago, we put quite a large amount of budget toward m&a (mergers and acquisitions). Because of the situation, we think that now is the time to push m&a. We usually do at least one or two very big transactions, in Israel or overseas. Now we want to raise our bar to three of those, and to target mostly overseas and not in Israel. And that reflects the current business situation — even though I'd much prefer to do it in Israel."
Is that a sentiment you see reflected in Aman's Israeli peers, such as those within the Business Forum?
"A lot of companies don't have deep pockets like Aman does, so they'll be doing whatever is necessary in order to protect their [liquid assets] — in those kinds of cases, a lot of them are sitting on their money. But if companies like us [who have available money] have a focus, they will absolutely be focusing on overseas business, and not on the Israeli economy."
"I think we have some advantage because we already operate in Europe and the US; usually our competitors don't have these kinds of large overseas operations, so it's a little bit different. But I'm still sure they are thinking the same. Nobody will invest a lot in the Israeli economy as it is now."