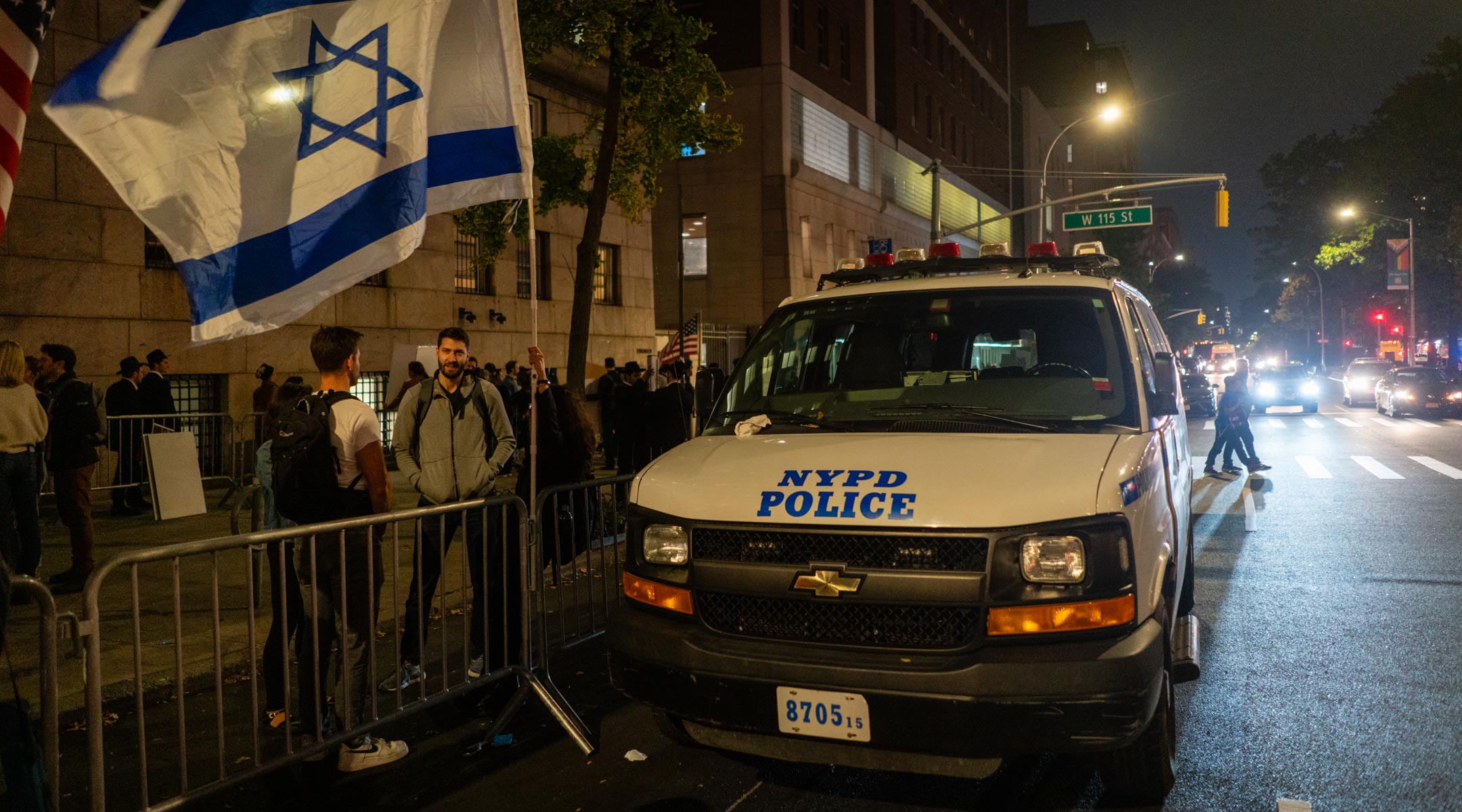 Jewish students barricade in Cooper Union library as protesters chant 'Free Palestine,' on day of protest across NYC campuses
(New York Jewish Week) — Jewish students at a New York City college were locked in their school's library for 20 minutes as pro-Palestinian demonstrators pounded on the doors and shouted slogans. 
The incident on Wednesday night at Cooper Union, a private college in downtown Manhattan, occurred after pro-Palestinian and pro-Israel students held dueling rallies. It came on a day when, at a New York University protest nearby, a protester waved a sign showing a Star of David in a trash can. Meanwhile, further uptown at Columbia, supporters of Israel rallied and decried that school's administration.
Footage from the incident at Cooper Union showed a group of Jewish students in the library, while protesters outside pounded on the building's doors and windows, chanting "Free Palestine," waving signs advocating a boycott of Israel and calling for a ceasefire in Israel's war against Hamas in Gaza. Building staff had made the decision to lock the doors.
The NYPD has been in touch with the school and present on its campus, and told the New York Jewish Week that there was no property damage, nor criminal reports or injuries during the incident. But Jewish students who spoke to CBS said they felt threatened. 
"It was tense, people were nervous," said one student who appeared in footage of the incident and spoke to CBS but did not give her name. "They were specifically acting very aggressive in those spaces where outwardly Jewish students were sitting."
CBS reported that the pro-Palestinian protesters released a statement saying, "Our protest was not targeting any individual student or faculty but the institution itself." The statement also disavowed antisemitism. 
In a statement to the New York Jewish Week, Cooper Union said, "The library was closed for approximately 20 minutes late this afternoon while student protestors moved through our building. Some students who were previously in the library remained there during this time."
Jewish leaders as well as city and state officials have condemned the incident. The regional director for the Anti-Defamation League, Scott Richman, said he had spoken with Cooper Union students and was "shocked" by their account of the incident. ADL CEO Jonathan Greenblatt said, "This intimidation of students is appalling," and demanded that the college keep Jewish students safe. The school has not issued any public statements. 
The American Jewish Committee, New York Governor Kathy Hochul and Manhattan Borough President Mark Levine also expressed alarm over the incident. Levine said the NYPD had been involved and were reviewing security footage of the incident for more information.
Student groups in New York and nationwide, meanwhile, staged a walkout in support of the Palestinians on Wednesday.
A pro-Palestinian rally in Washington Square Park, near NYU's campus, featured a demonstrator with an antisemitic sign reading, "Please keep the world clean," and a figure placing a Star of David in a trash bin. Video from the event showed dozens of demonstrators chanting "globalize the intifada."
Police and Jewish security groups have reported a spike in antisemitic incidents since the start of the war in the New York region and around the country. Recent incidents in New York, where Jews are targeted by hate crimes far more than any other group, have ranged from physical assaults to racist graffiti and harassment.
Support the New York Jewish Week
Our nonprofit newsroom depends on readers like you. Make a donation now to support independent Jewish journalism in New York.
Columbia and other Ivy League colleges have been rocked by controversy since the start of the war between Israel and Hamas, as pro-Palestinian student organizations came out in support of the terror group's Oct. 7 attack. After Israel began its counteroffensive against Hamas, protests against the Jewish state intensified, including in recent days.
At Columbia on Wednesday, hundreds students and supporters lined Broadway outside the school's gates, waving Israeli flags and holding images of Hamas hostages in a display of support for Jewish students and criticism of the administration due to its perceived inaction in the face of threats to Jews.
The demonstrators at the rally chanted "end Jew hatred" and "free Gaza from Hamas," as a passing truck with an electronic billboard displayed images of the captives held in Gaza and other students streamed by.
Students chanted "shame on you," in a message directed at the university's leadership, which some demonstrators said had allowed a hostile atmosphere for Jews as student groups applauded the Hamas attack and barred "Zionists" from an on campus event.
"The university is not doing anything, not condemning any of the terror acts that happened," said an Israeli Columbia student, Noa Gorecki.
"It's just disappointing that this kind of university chooses to behave like that and we're doing everything we can," she said, adding that Jewish students felt "unsafe, scared, angry."
The rally was organized by the local advocacy group End Jew Hatred to "empower" Jewish students due to inaction from administrators, said Gerard Filitti, an activist with the organization who is not a student.
"It's very difficult for Jewish students to feel safe, let alone to be heard," Filitti said. "The administration can't be equivocal."
Filitti, a senior counsel with the nonprofit Lawfare project, a group that takes legal action on behalf of pro-Israel students, said he expected litigation against universities due to their conduct since the Oct. 7 attack on Israel by Hamas, which killed and wounded thousands. Pro-Palestinian and pro-Israel rallies have spread across campuses in the wake of the attack, and a range of student groups and faculty members have praised the attack.
"College campuses are not keeping Jewish students or faculty safe and they're obligated to do so," he said. "They're allowing an environment that's hostile to the point that they can't enjoy the same benefits as any other student, and that's not legal."
Some parents came to the rally to support their Jewish children at Columbia, after the students reported feeling unsafe. Other participants were not affiliated with the university, but came to show support.
"There's little we can do here while our family and our friends are fighting in Israel so we want to try to do our part," said Will Lerer, a Yeshiva University student.
Support the New York Jewish Week
Our nonprofit newsroom depends on readers like you. Make a donation now to support independent Jewish journalism in New York.
On Oct. 9, before Israel's military response had caused significant damage, Columbia's Students for Justice in Palestine said it "stands in full solidarity with Palestinian resistance" and called the Hamas attack "an unprecedented historic moment for the Palestinians."
A 19-year-old attacked an Israeli student with a stick outside Columbia's main library in the wake of the attack, resulting in hate crimes charges. 
Columbia student branches of Students for Justice in Palestine and the anti-Zionist Jewish Voice for Peace announced a walkout on Wednesday as part of a national student protest against "the siege and genocide in Gaza." The student groups demanded the university divest from Israel and for students to "stand against the university's support for a genocidal and settler-colonial regime."
Columbia postponed an annual fundraising drive that was scheduled for Wednesday, saying it was "not the appropriate time" for the event. Several prominent donors have pulled funds from other Ivy League schools, including Harvard and the University of Pennsylvania, in recent weeks due to alleged antisemitism and the university administrations' response to the war.
On Oct. 12, three Columbia administrators released a statement on the conflict, condemning antisemitism and Islamophobia and saying, "We reject and will not tolerate hate speech, violence, or the threat or any acts of violence in our community."
Last week, university president Minouche Shafik called for civility on campus and condemned online harassment, saying some students had been victimized by doxing. The statements did not condemn Hamas.
Jews and supporters of Israel on campus have called for Shafik to do more. An Israeli professor, Shai Davidai, made a viral speech last week directed at parents, saying, "I want you to know we cannot protect your children from pro-terror student organizations."
"None of the presidents of universities all around the country are willing to take a stand. This is what cowards do and I'll name it now, President Minouche Shafik of Columbia University, you are a coward," he said.