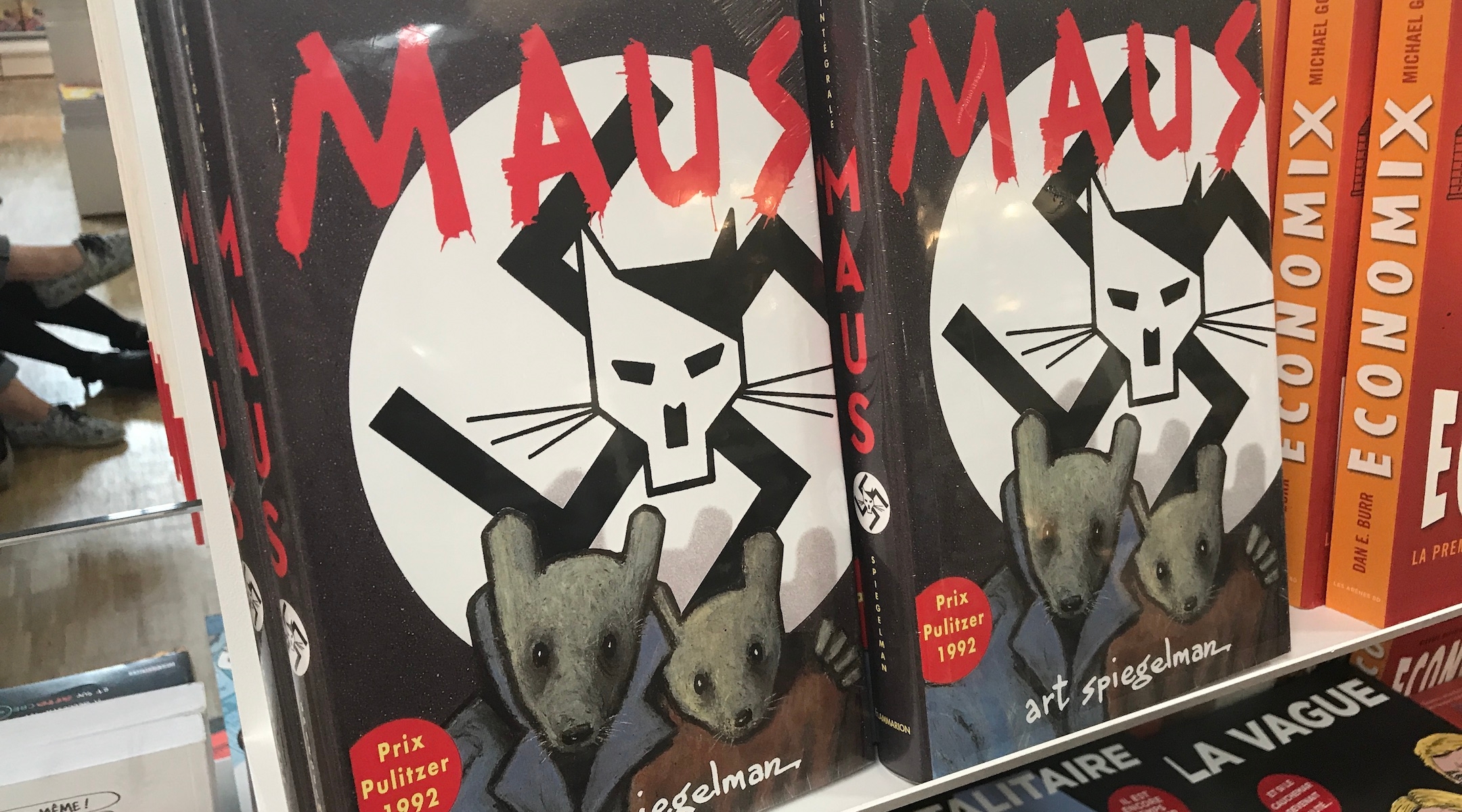 'Maus' evades a ban in Iowa after school district cites 'ambiguity' in new state law
((JEWISH REVIEW)) — A new Iowa state law forbidding instruction on sexual and gender identity prompted one school district this week to briefly order staff to remove Art Spiegelman's "Maus" and hundreds of other books from its shelves.
But days later following national outrage, the district reversed course, issuing a trimmed-down list of 65 books for removal that contained neither "Maus," nor several other Jewish-themed books on the first list.
The quick about-face in Urbandale Schools, a suburb of Des Moines, was the latest example of the confusing and often contradictory landscape for Jewish texts amid the growing nationwide "parents' rights" movement targeting what its proponents say are inappropriate books in schools. In Iowa and other states, that movement has fueled legislation targeting educators who distribute content that could be interpreted as sexual.
"We have determined that there is ambiguity regarding the extent to which books that contain topics related to gender identity and sexual orientation need to be removed from libraries," the district's superintendent, Rosalie Daca, wrote in a memo to staff Thursday that an Urbandale spokesperson shared with the Jewish Telegraphic Agency.
"As such," the memo continued with bolded emphasis, "we will pause removing books that reference gender identity and sexual orientation until we receive guidance from the Iowa Department of Education." 
The memo followed one from earlier this week that, as reported in the Des Moines Register, instructed staff to comb their libraries for more than 300 books in potential violation of the law, including "Maus," Judy Blume's "Are You There God? It's Me, Margaret," the Holocaust novel "Sophie's Choice" and Jewish author Tony Kushner's Pulitzer Prize-winning play for adults, "Angels in America." That initial list prompted a passionate response from the literary free-expression advocacy group PEN America, which implored the district not to follow through with its removals.
In pointed language, administrators blamed the state's education department for issuing vague and unclear guidance for how to comply with the new law, which Iowa's Republican governor, Kim Reynolds, signed in May and is scheduled to take effect in January 2024. The law states that it is "prohibiting instruction related to gender identity and sexual orientation in school districts" and also forbids "any material with descriptions or visual depictions of a sex act."
It's unclear how "Maus" wound up on the initial list of books flagged for removal, or how the district's decision not to touch books related to "gender identity and sexual orientation" resulted in a stay of execution for Spiegelman's book. "Maus" recounts the author's parents' traumatic experiences surviving the Holocaust, and doesn't contain any discussion of gender or sexual identity. It does contain a single panel of a nude mouse representing Spiegelman's mother after she dies by suicide. 
The same image previously provoked the ire of a Tennessee school board, which removed "Maus" from its district's middle-school curriculum over the image last year and catapulted the book into the center of the nationwide book-ban debate. Districts in Missouri also previously removed or considered removing "Maus" over the wording of a new state law forbidding the distribution of explicit materials.
Daca's memo noted that the Urbandale district compiled its initial list of books by culling "book lists from other states who had passed similar laws." The district did not respond to follow-up questions about "Maus." 
Other Jewish books that have been rescued from district-wide book removals include "The Fixer" in South Carolina and "Anne Frank's Diary: The Graphic Adaptation" in Texas, though other districts in Florida have permanently removed the Anne Frank adaptation as well as a Holocaust novel by Jodi Picoult and a picture book about Purim featuring a same-sex couple.
One Jewish-themed book that remains on Urbandale's removal list is Andre Aciman's novel "Call Me by Your Name," which details a Jewish LGBTQ youth's coming of age and is decidedly more explicit in its description of sexual acts.