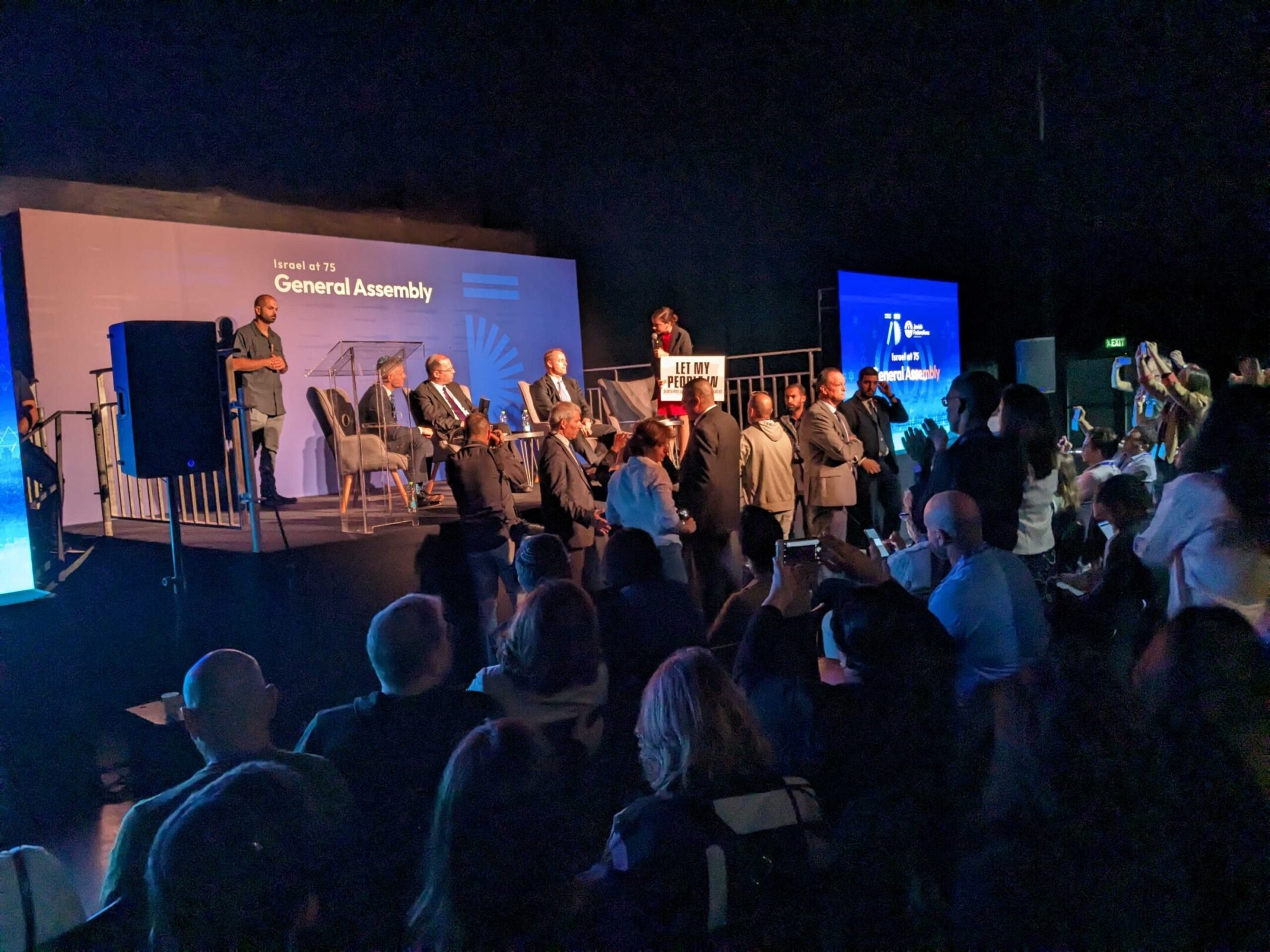 Mayhem at Jewish Federations conference in Tel Aviv as protesters and panelists fight over judiciary and immigration
TEL AVIV (JTA) — A panel at a major American Jewish conference here descended into pandemonium as protesters in the audience shouted down a leading far-right politician.
Panelists also sniped at each other over the government's controversial attempt to overhaul Israel's judiciary and its threat to tighten immigration rules.
Security personnel forcibly ejected multiple protesters from the event, which took an unplanned five-minute break to calm the tensions in the room. It was the first reprimand of protesters at a conference whose organizers had made clear they expected them and supported any that did not interfere with the proceedings.
"We wanted very much to include anyone who wanted to be here, to learn and to be part of the conversation. It's unfortunate it was disrupted so we couldn't engage in the kind of learning we had hoped for," Jewish Federations of North America board chair Julie Platt told the Jewish Telegraphic Agency after the interrupted panel. "It was more than we expected."
The drama at the event surrounded Simcha Rothman, an Orthodox lawmaker who is one of the architects of, and a vocal advocate for, the government's proposal to sap power from the Supreme Court. Protests against him on Monday began before his speaking engagement and followed him throughout his remarks.
Rothman is the most prominent advocate for the judicial overhaul to speak at the General Assembly, a conference taking place in Tel Aviv and organized by the Jewish Federations of North America. Prime Minister Benjamin Netanyahu was scheduled to speak at the conference's opening on Sunday night but backed out hours earlier in the face of protests.
Monday morning's events came about 12 hours after hundreds of protesters demonstrated outside the General Assembly's opening event. Inside the conference kickoff on Sunday night, addressing the protesters, Platt said, "We see you, we hear you and we are inspired by your love of Israel."
Rothman opted to come and met opposition in the conference's halls almost immediately. While sitting with a reporter in  the gathering's breakfast area, a small gaggle of protesters arrived at his table and started chanting "shame" in Hebrew. One protester offered Rothman a bracelet bearing the word "democracy," which has become the anti-government protests' one-word slogan, and another yelled, "Rothman, go to hell."
The protests intensified at the morning panel, which centered on proposals to change Israel's Law of Return affording automatic citizenship to Jews, their children and grandchildren. Every time Rothman spoke, a group of protesters standing in a kind of informal ring around the room shouted him down with chants of "shame" and "liar," in both Hebrew and English. Protesters on one side of the room held Israeli flags — another mainstay of the street protests — as well as an LGBTQ rainbow pride flag.
Multiple protesters were dragged out of the event by security — at least one of whom came back in and continued protesting. One yelled, "Rothman is destroying Israel, destroying our future! My kids! My kids!"
Rothman repeatedly had to pause his remarks and shot back at the protesters throughout his comments.
"What we see here is exactly the problem we need to address, a person that shouts 'democracy' while trying to shut up other people," Rothman said after a protester shouted, "You're an enemy of the Jewish people!" Rothman later said, "Some people are looking for consensus only when they're in the opposition."
The shouting was not limited to protesters in the audience. Rothman's co-panelists were Yohanan Plesner, the president of the Israel Democracy Institute think tank, and Alex Rif, founder of the One Million Lobby, which advocates for Russian-speaking Israelis. Plesner objected in strong terms both to Rothman's views on the Law of Return and to the judicial overhaul.
"The government came in with an agenda to fundamentally alter the fragile arrangements that existed for 75 years," he said. "Somehow this balance was kept because the Supreme Court played a balancing role, and the Knesset and government respected that role."
Rothman at one point suggested that Plesner join the protests and criticized him personally.
"The person that is the head of the Israeli Democratic Institution [sic] basically praises the idea that an undemocratic organization in Israel, powered in Israel, unelected… will make a decision that as we see are very tense," Rothman said, referring to the Supreme Court. "Not the democratic body politic of the State of Israel, God forbid."
Plesner responded by saying, "You're misrepresenting what I said. Every democracy has an independent court that protects rights."
Rothman responded, "They lied to you, they lied to the public in the U.S., they lied to the public in Israel."
The panel's stated topic, the Law of Return, also led to sharp disagreement. Rothman is in favor of making the law more restrictive by canceling the provision allowing the grandchild of a Jew to gain citizenship. The clause has allowed for a significant proportion of Israel's Russian speakers to immigrate.
Rothman said the idea of canceling the clause "is not new, it's not [originally] from this government, it's to deal with the problem that arose … in the 90s," when large numbers of Jews immigrated from the former Soviet Union. Because he said the change would mostly affect immigrants from eastern Europe, he suggested it shouldn't be as concerning to American Jews and added, "Sadly, some people are trying to make this issue a split between American Jewry and Israeli Jewry in an unjustified way. We need to have this conversation and find a solution."
Rif responded by accusing Rothman of telling Russian-speaking Israelis, "You're here by mistake." She called on Israel to ease immigration for Jews from Russia and Belarus. In an explicit allusion to last century's American Jewish activism on behalf of Soviet Jewry, which employed the slogan "Let my people go," she brandished a sign onstage reading "Let my people in."
Both Rif and Plesner drew cheers from the audience when they spoke.
"When you change the law of Return, you close the door for them forever for the Jewish people," she said of Russian speakers already living in Israel. "You're telling them, 'We don't want you here.' Now, they're living here for 30 years feeling second-class."
Following particularly intense protests and onstage argument, Jewish Federations personnel called for a five-minute break. Protests against Rothman continued following the break, though the panel's discussion continued. After the break, Plesner offered an olive branch of sorts to Rothman.
"I want to say, to Simcha Rothman's credit, that he is a staunch ideologue. I disagree, almost, with everything he says, but he's a staunch ideologue," Plesner said. "Before the elections he said exactly what he's going to promote. We sat together, and he said so."