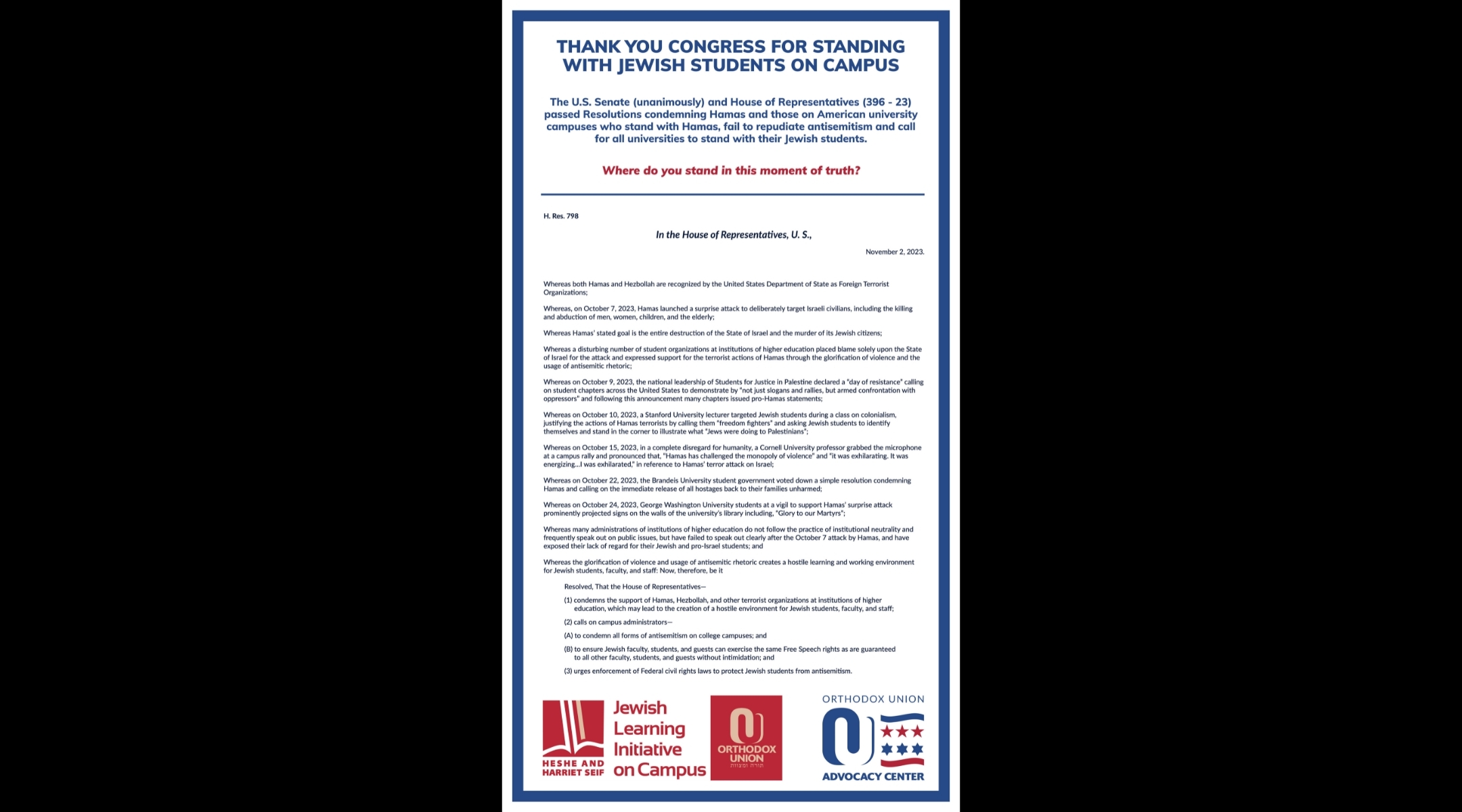 Orthodox Union pitching ads condemning antisemitism to more than 20 campus newspapers
((JEWISH REVIEW)) — The Orthodox Union is seeking to run a full-page ad in more than 20 university newspapers across the United States reprinting the text from a congressional resolution denouncing antisemitism on college campuses.
"Thank you Congress for standing with Jewish students on campus," reads the all-caps headline of the ad, which is printed in red and blue text on a white background. Following a description of the resolution, it says, "Where do you stand in this moment of truth?"
The ad has so far been accepted for publication in five papers. It is running at a time when tensions are high on North American campuses in the month following Hamas' Oct. 7 attack on Israel and the launch of Israel's ensuing war against the terror group in Gaza. Jewish students have faced death threats on multiple campuses, and pro-Palestinian groups at schools across the country have celebrated or endorsed the Hamas attack.
In light of that climate, the O.U., an Orthodox umbrella group, said it wanted to send a message of reassurance to Jewish students — and an admonition to those who celebrated the Oct. 7 violence. So far, seven schools' papers have accepted the ad.
"With rising antisemitism across America's college campuses, we at the Orthodox Union felt it crucial to show Jewish students action was being taken to support them in these challenging times," Nathan Diament, the O.U.'s executive director of public policy, told the Jewish Telegraphic Agency in a statement.
"Purchasing ads in university newspapers that display the resolution passed nearly unanimously in Congress denouncing campus antisemitism also serves as a reminder to college students siding with Hamas that they are on the wrong side of history," he added. "American Jewish students have the right to live freely and safely, and we will continue protecting this right in whichever way possible."
The O.U. has reached out to more than 20 newspapers, including some on campuses whose names have become associated with inflammatory statements and actions, and where donors and professors have called on administrators to do more to protect Jews.
They include the University of Pennsylvania, which has lost donors who called for a more robust response to antisemitism; University of Massachusetts Amherst, where a student was arrested for punching a Jewish peer; Cornell University, where a student was arrested for threatening to "shoot up" the kosher dining hall; Columbia University, where someone was arrested for assaulting an Israeli student; and others.
The non-binding resolution, introduced by Rep. Burgess Owens, a Republican from Utah, passed last week 396-23. Among other clauses, the resolution states that the House of Representatives "condemns the support of Hamas, Hezbollah, and other terrorist organizations at institutions of higher education, which may lead to the creation of a hostile environment for Jewish students, faculty, and staff," and calls upon college administrators to condemn antisemitism on their campuses and protect their students.
The ad has been accepted for placement at Santa Monica College and Western University, which share a newspaper; the University of California, Los Angeles; the University of Maryland; Washington University in St. Louis; and Binghamton University.
Some papers did not respond to the O.U.'s inquiry. The University of Chicago, which had initially accepted an ad placement, later retracted that decision, saying they do not accept political advertisements, according to an email shared with (JEWISH REVIEW)
Josef Katz, director of marketing and communications for the O.U., said the organization chose universities that already have an established Orthodox Union-Jewish Learning Initiative on Campus program, which aims to engage students in Orthodox Jewish life.
"We want to make sure that everyone feels safe and respected on these campuses, and do what we can to work with schools to make sure that these protests — it's getting worse than protests in some cases, where there's assaults, people fearing for their lives — are being addressed appropriately," Katz said.