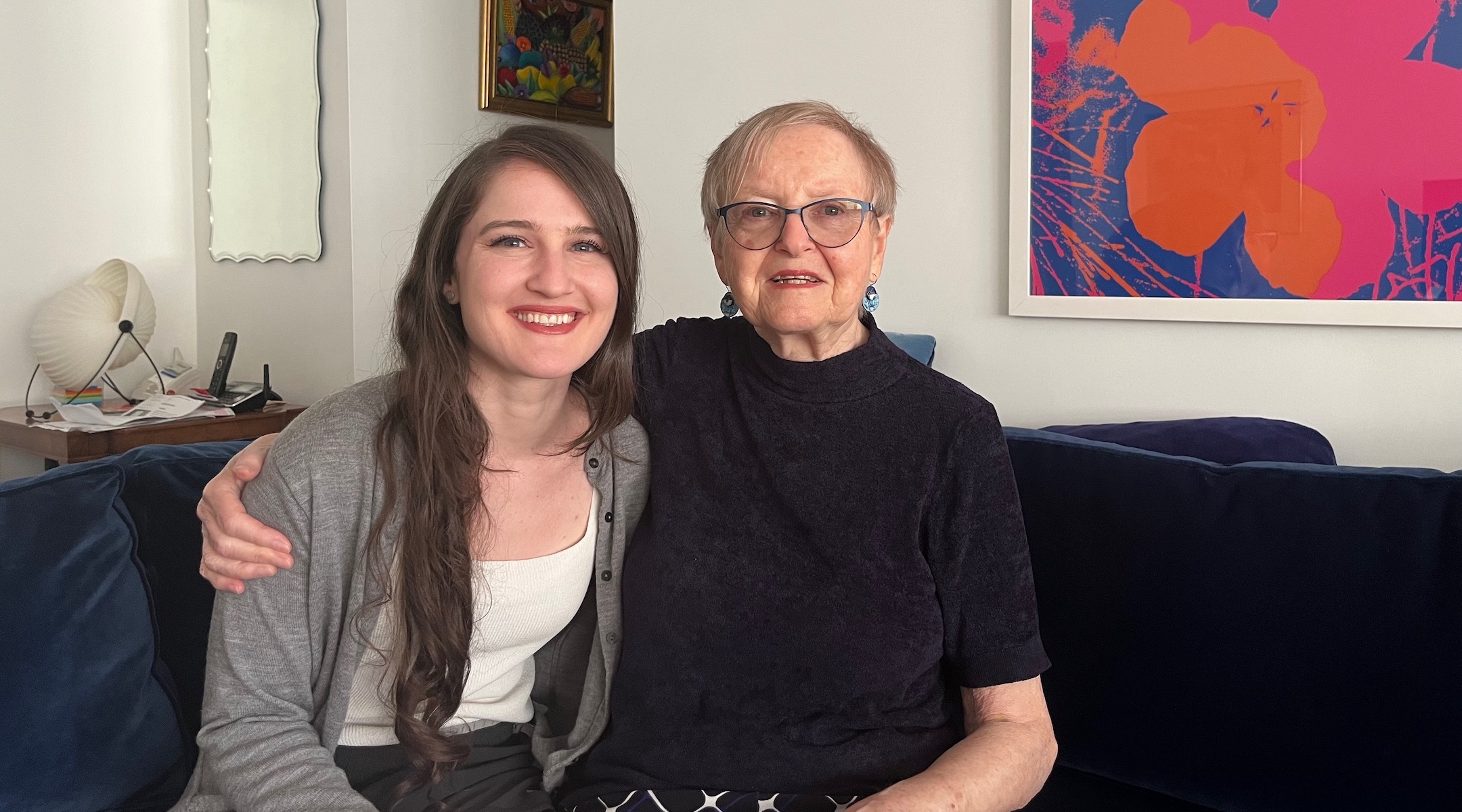 Sophie is 85 and survived the Holocaust. Caroline is 29 and new to NYC. Here's how they became fast friends.
(New York Jewish Week) – It's a sunny Wednesday afternoon, and Sophie Turner Zaretsky has laid out a tray of fruit and cookies, eagerly awaiting her friend Caroline Crandell. When Crandell arrives at Zaretsky's Upper West Side apartment, just a few minutes after their scheduled meeting time of 3 p.m., the two break into smiles and embrace.
The two women have been meeting every few weeks since the fall of 2022. Like any pair of friends, they discuss everything that's going on in their lives and families, as well as current events and their favorite spots in the city. But unlike most friendships, there's a 56-year age gap between the two: Zaretsky, a Holocaust survivor and retired radiation oncologist, is 85, while Crandell, a software engineer, is 29.
"We just talk," Zaretsky told the New York Jewish Week as she poured tea for Crandell and a reporter. "Whatever comes into our head."
"She knows all about my dating life," Crandell added. "I get a lot of advice, which is helpful."
The pair were matched through the "Caring Calls" initiative, a flagship program of the Wechsler Center for Modern Aging at the Marlene Meyerson JCC Manhattan on the Upper West Side. The program was created during the pandemic to help seniors combat isolation. It enlists some 130 volunteers to reach out to everyone over 70 who has attended any type of program or event at the JCC in recent years. Most of the check-ins happen over the phone: Volunteers call a few times a year to say hello and offer everything from tech support to grocery shopping assistance.
"We want to be there for our community as folks age," Susan Lechter, the director of the Wechsler Center, told the New York Jewish Week. "No one should be lonely in this world. If we can make a difference in any way, we want to be there for our community."
And some of these relationship blossom into something deeper. Seniors can request a "buddy" for regular phone calls; according to the Wechsler Center, there have been 140 "buddy" matches so far, according to Sherri Lerner, the programs and initiatives coordinator for Caring Calls.
When Zaretsky first heard from Caring Calls last fall, she had a specific request: She wanted to be matched with a young person as a buddy. "I talk to old people and I'm tired of hearing about all the issues and problems with aging," Zaretsky quipped. "I have my own issues; I don't want to hear anybody else's."
Given that most of the Caring Calls volunteers are middle-aged or older adults, Lerner knew exactly whom to tap: Crandell, who was living by herself in a fifth-floor walkup on the Upper East Side, having arrived in New York via California during the Omicron wave of January 2022. In order to meet new friends, Crandell had enrolled in intramural soccer at the JCC, and she also had inquired about volunteer opportunities there.
"My family is very far away and I haven't had any living grandparents for a long time. I didn't know anyone when I moved here," Crandell said, explaining her interest in the Caring Calls program. "I think it's good to have different generations and different perspectives come together."
Matched by Lerner, the pair first spoke in October of last year and they hit it off immediately. "I think we spoke for like an hour," Crandell said, recalling how they bonded over their dislike of cooking and exercise. "By the end of the call we said to each other, 'Let's not do the call thing. Let's meet up.' I came over a few days later and we've been getting together every few weeks ever since."
The particular afternoon of the New York Jewish Week's visit, Crandell had brought over a new blend of tea to try. Over their beverages, the two women share lipstick and book recommendations, and swap stories about their childhoods — which were, not surprisingly, vastly different from one another's.
Support the New York Jewish Week
Our nonprofit newsroom depends on readers like you. Make a donation now to support independent Jewish journalism in New York.
Zaretsky, born Selma Schwarzwald in 1937, had grown up in hiding in Lvov, Poland; she and her mother posed as Catholics in order to avoid deportation to the Belzec killing center. She moved to England with her mother in 1948, when she was 10, and wasn't told she was Jewish until she was a teenager.
"It was terrible," she said of moving from Poland to England. "It's very hard to be a refugee when you don't know the language. You feel stupid. You don't have the narrative. I didn't have the narrative for England and I didn't have the narrative for being Jewish."
After attending medical school in England, Zaretsky moved to New York in 1963 for her medical residency at Montefiore Hospital in the Bronx, and found herself alone in a brand new city. In 1970, she married David Zaretsky; they had two sons.
Though the JCC initiative is the first time either Zaretsky or Crandell have participated in a formal matching program, Zaretsky has a history of "adopting" people who look like they might need it. A number of years ago at a dinner at the United Nations, which she attended in place of her son, a business developer who often worked with the organization, Zaretsky was seated next to the ambassador from Malta. "He didn't know people in New York, so being the Jewish mother that I am, I had to introduce him to everyone to make sure he could live a good life here," she said. They're still friends to this day, Zaretsky said, and she has been known to advise him on certain geopolitical issues when the General Assembly meets.
"I have found that young people nowadays are so educated and so aware, but they still need a little bit of TLC — at least this one does," Zaretsky said, nodding towards Crandell. "But I do, too."
Indeed, former U.S. Surgeon General Vivek Murthy has described a "loneliness epidemic" that peaked, not surprisingly, at the height of the pandemic. Older adults, disproportionately women, have been especially vulnerable, although a Harvard studying 2021 found that older teens and young adults were the hardest hit by the social isolation brought on by the pandemic.
"I feel like in the society we live in right now, isolation and disjointed community is common," Crandell said. "Everything's online, every single person has been affected by technology and feeling pretty isolated, no matter what age. Any opportunity to meet people in person or just connect with someone goes a long way."
This type of relationship is exactly what the program aims to achieve, said Lechter. "We were determined to create more intergenerational opportunities," she said. "We're hoping that it becomes more frequent."
By the time Crandell needs to head to her soccer game, several hours have passed. "I come thinking I'm just stopping by, but it turns out we have hours of things we need to discuss," Crandell told the New York Jewish Week. "I always lose track of time."
Like any good Jewish mother, Zaretsky sends her off with a care package of snacks to take home and a plan for when they'll meet up again — this coming Friday, for Shabbat dinner.