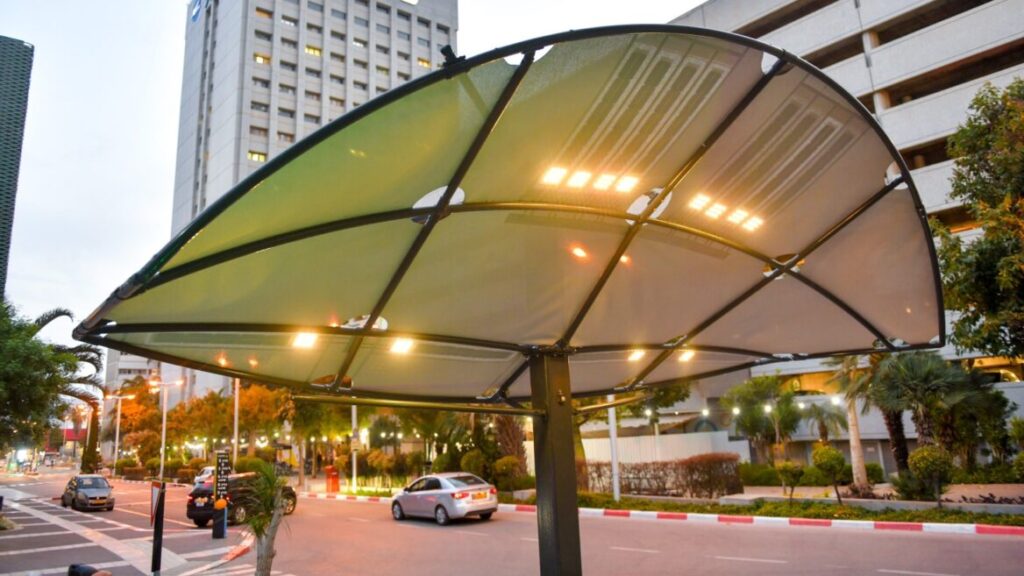 Tel Aviv pilots solar-powered material that provides shade and glows at night
The municipality of Tel Aviv-Jaffo, the city which experiences an extreme summer climate, has started a pilot with Israeli startup Lumiweave, the developer of a revolutionary clean energy system in the shape of an umbrella, that provides shade during the day and lighting after sunset.
The pilot area in Park Atidim, Ramat Hahayal, is home to dozens of high-tech, financial, media, and medical companies.
The founder Anai Green is the winner of Women4Climate Challenge 2020, as part of a global climate tech competition for women. She presented the street fabric that embedded solar organic photovoltaic cells to provide off-grid soft linear light and shade.
Anai Green graduated from Bezalel Academy of Art and is an industrial and product designer. She worked in Japan before establishing her own design business in Israel.
Lumiweave blends Anai's unique expertise in new LED lighting technologies and flexible photovoltaic cells with the potential for outdoor textiles to address the problem of urban heat islands.
During the trial period, Lumiweave and the municipality will assess the system's charged only by the sun effectiveness in preparation for future citywide deployments.
Additionally, Cityzone organization operates a smart city and urban technology lab for the municipality, will evaluate and test the technology in real-world urban environments.
According to the municipality, Lumiweave is a "unique initiative" that addresses "climate change and the growing difficulty of shadowing in metropolitan areas through a technological solution that is based on renewable and clean energy and permits lighting without polluting fuels."
Tel Aviv's mayor, Ron Huldai, said "the city was one of the world's leading cities in climate protection and an active member of the C40 organization, having undertaken real commitments to improve air quality and the transition to green energy."
"We are committed to action," said Huldai, adding that LumiWeave "will turn out to be a groundbreaking project."