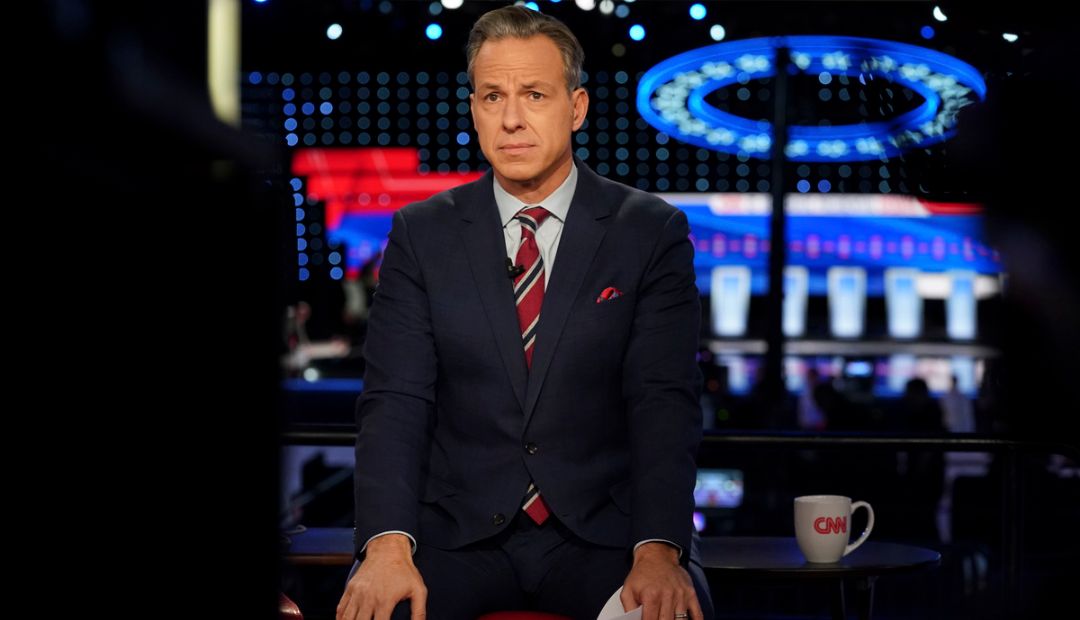 'This s- is not a game': On CNN, Jake Tapper tells Marjorie Taylor Greene not to use antisemitism to score 'political points'
((JEWISH REVIEW)) — Speaking in front of a view of the Tel Aviv skyline, CNN anchor Jake Tapper issued a plea to Rep. Marjorie Taylor Greene: don't fake concern about antisemitism to score political points.
Tapper was hosting his Sunday "State of the Nation" program from Tel Aviv, where he is helping to cover Israel's war on Hamas, launched after the terror group invaded Israel, killing and wounding thousands and taking hundreds captive. He took the last five minutes of the show to talk about a motion of censure Greene, the hardline right-wing Georgia Republican, had initiated against Rep. Rashida Tlaib, the progressive Michigan Democrat who is Palestinian-American.
"Antisemitism is not a cudgel to be used against people for political points, nor is Islamophobia or racism or anti-gay behavior or misogyny or any other kind of bigotry," Tapper said.
"Just over three weeks ago, 1,400 people, mostly Jews, mostly civilians, were slaughtered here in some of the cruelest and most unimaginable ways, in the deadliest day for Jews since the Holocaust," he said. "This shit is not a game."
Last week, Greene introduced the motion of censure against Tlaib for "antisemitic activity, sympathizing with terrorist organizations, and leading an insurrection at the United States Capitol Complex."
Greene, who has championed those jailed for the deadly Jan. 6, 2021 riot took aim at Tlaib's address to protesters at a Jewish-led pro-Palestinian rally in which demonstrators filled the U.S. Capitol Rotunda. The motion said those protesters "put Members of Congress, their staffs, and Capitol visitors in danger by shutting down elevators, stairwells, and points of egress, while obstructing official business."
Tapper said that the day of nonviolent protest, a fairly routine occurrence at the Capitol, was not the same as the Jan. 6 riot, often referred to as an insurrection, which sought to overturn the elections, and which ended with at least five deaths and hundreds of jail sentences.
"Marjorie Taylor Greene describes this act of civil disobedience from a bunch of left-wing Jewish groups that are critical of Israel's government, this act, as an insurrection," he said. "This is not an insurrection."
He said Tlaib may deserve criticism, most recently because she waited days to walk back her statements blaming Israel for a blast at a Gaza hospital after a series of assessments attributed the incident to a failed Palestinian rocket launch. But he said House Republicans including Greene, who is close to former President Donald Trump, are not "really in a position to censure Tlaib."
Trump and Greene, he said, had both associated with Holocaust denier Nick Fuentes, while Greene had likened President Joe Biden to Hitler.
"Donald Trump posted a screed accusing liberal Jews of quote voting to destroy America and Israel last Rosh Hashanah, to nary a peep from any House Republican leaders," he said.
Tapper has made his Jewish identity a central part of his news-gathering persona, and took a leading role among anchors in decrying the Jan. 6 attack on the Capitol.