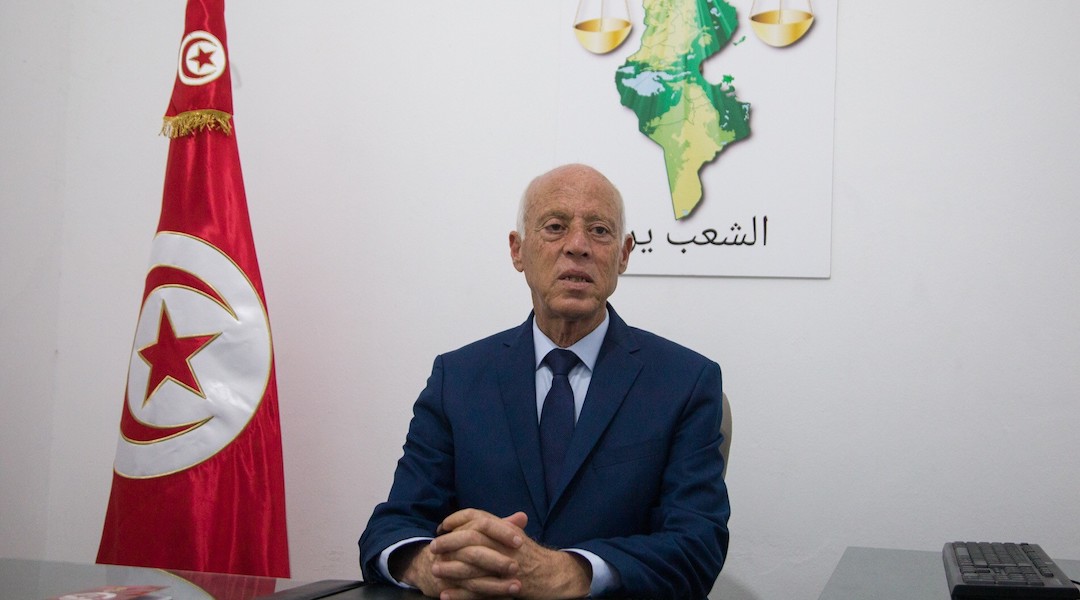 Tunisian president pledges security for Jews after synagogue shooting and controversial comments
(JR) — Tunisia's president met with the country's chief rabbi and pledged to protect Tunisian Jews and their houses of worship on Wednesday, just over a week after a deadly synagogue shooting rattled the local Jewish community and raised questions about their security.
Kais Saied had also drawn scrutiny over comments he made last weekend, in which he pointed to Israeli violence against Palestinians and claimed his grandfather saved Jews during World War II. Critics said he was trying to downplay the issue of antisemitism in Tunisia.
"We will provide you security in your temples. Live in peace and security, and we will provide you with all security conditions," Saied said at Wednesday's meeting, according to Reuters. The meeting also included the country's chief Christian archbishop and Muslim mufti.
Saied added that an investigation is underway to determine if the shooter, a security guard who killed five people, including two Jewish cousins, had any accomplices. Authorities have described the shooting as a "criminal" attack, not a "terrorist" one; the latter would imply antisemitic motives, the AFP reported.
"The president gave us guarantees that what happened recently would not happen again," Chief Rabbi Haim Bitan said on Wednesday.
The attack last week occurred at the 2,500-year-old synagogue on the island of Djerba, which hosts an annual Jewish pilgrimage that draws thousands from around the world on or around Lag b'Omer, a break during the 49 days of mourning between Passover and Shavuot.
The pilgrimage has been attacked before and called off over security concerns. In 2002, Al-Qaeda terrorists killed 21 people in a shooting outside the synagogue.
"I think it's a death blow, at least for the foreseeable future, to a beautiful tradition and pilgrimage, and it is causing palpable pain," a French-Israeli Jew who was born in Tunisia told the Times of Israel last week, referencing the shooting.
There are around 1,800 Jews remaining in Muslim-majority Tunisia, about 1,000 of which live on Djerba, from a pre-1948 population of over 100,000.
Saied has been criticized as an autocrat who has dismantled democratic and judicial institutions since coming to power in 2019.