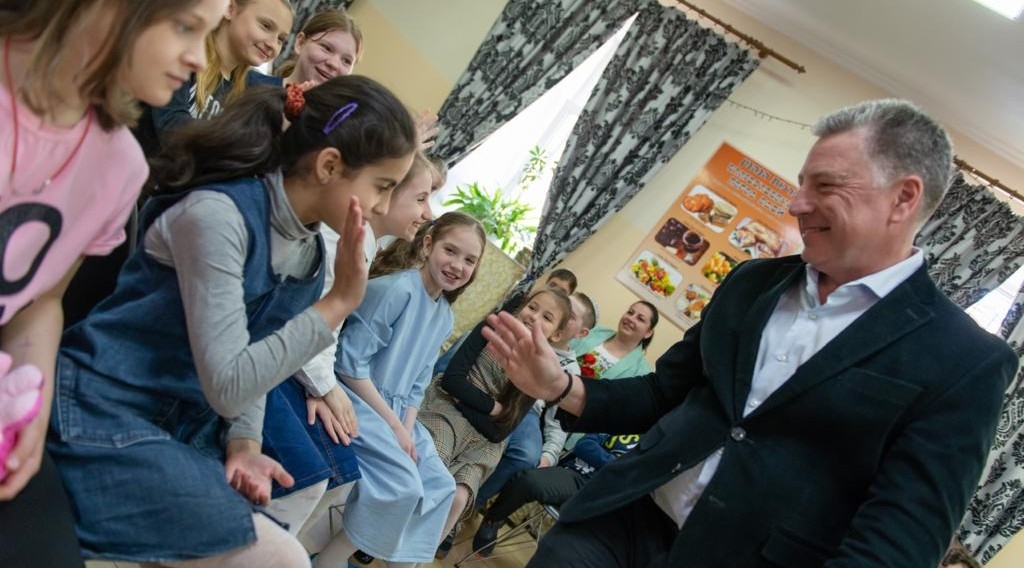 U.S. diplomat visits Jewish orphanage in Odessa after night of heavy shelling
The American diplomat Kurt Volker, a former State Department special representative to Ukraine and a former U.S. ambassador to NATO, arrived one recent morning for a solidarity visit to Chabad's Mishpacha Children's Home in Odessa.
Accompanying the distinguished guest were Odessa Mayor Gennadiy Trukhanov and his deputy, Pavel Vugelman.
Greeting the guests was Rabbi Avraham Wolff, a Chabad emissary and the chief rabbi of Odessa and southern Ukraine; Igor Shatkhin, the director of the Federation of Jewish Communities of Southern Ukraine; the staff of the Or Avner school, and the orphanage's administration.
Volker offered soothing words to the small children after they'd gone through a difficult night without sleep due to the heavy shelling, promising them that the American people and the U.S. administration stand with them. Together with Rabbi Wolff and the wonderful staff that work with him, Volker said, they would do all they could to guarantee them a good life, happiness and a bright future.
Shatkhin, the director of the federation, said that in his conversation with Volker they discussed ways to expedite construction of bomb shelters under the structure of the Odessa orphanage and how to protect all the Jewish institutions spread out over southern Ukraine. Volker praised Chabad's work in Ukraine over the last 30 years, and in particular the great humanitarian assistance Chabad has been offering, together with the Jewish Relief Network Ukraine (JRNU) organization led by Shlomo Peles, to Jews and non-Jews in Ukraine during this harsh war.
This is a paid post. JR's editorial team had no role in its production.