Unetaneh Tokef, the High Holidays' roll call of ruin, is heartbreakingly real for the Ukrainian Jews I've gotten to know
(JR) — A catalog of calamities is central to the liturgy of Rosh Hashanah and Yom Kippur, the Jewish High Holidays that begin later this week.
We Jews are asked to imagine ourselves perched on the precipice of life and death. Nothing frames it as starkly as Unetaneh Tokef, the roll call of ruin enumerating various disasters that might befall us in the coming year.
With its repetition of "Who by …" fill-in-the-blank awfulness — strangling, stoning, famine and plague — the medieval poem is the stuff of myth and legend, an opportunity to ponder fate and frailty. But for the Jews of Ukraine, the majority of whom remain in the country despite the ongoing conflict, the text is heart-wrenchingly real.
When we Jews pray, we face east, toward Jerusalem. But as the grandson of a Ukrainian Jew, east always conjures "the old country" — that's where my soul calls home and where I've often directed my most fervent prayers. This year, Unetaneh Tokef is a compass for my heart.
I'm sure "who by water" resonates for Lyubov Irzhanskaya. When the Kakhovka dam burst in June, the Dnipro River surged into her second-floor apartment. The 76-year-old retired teacher had hours to decide where to flee.
"Who by fire" must send a chill through Lyudmila Dobroyer, 87 — a Holocaust survivor and the primary caregiver for her son Yuriy, who has developmental disabilities. During attacks on Odesa this summer, her building was badly damaged.
And then there are more workaday terrors, fears that keep me up at night half a world away in my safe Ohio bed. What if I lost my job and couldn't provide for my family? What if it happened amidst power cuts and sub-zero cold?
"Who shall become impoverished" — ask Evgeniy Moshkovitch, 40, a forklift operator who fled Kherson with his family two months into the crisis. With employers skeptical of the displaced, he's unable to find a job and relies on Jewish community assistance to pay the bills.
Grim as it is, Unetaneh Tokef isn't about blindly submitting to fate. Instead, it gives us the keys to our own salvation — "repentance, prayer, and charity," it exhorts, "can lessen the severity of the decree."
Our own hands can rescue us, and post-Soviet Jews, who've doggedly rekindled identity and community after the Holocaust and communism, could teach a master class. As a longtime staffer at the American Jewish Joint Distribution Committee, or JDC, the humanitarian organization that for decades has aided needy Jews and built Jewish life across the former Soviet Union, I've seen it firsthand.
In Ukraine, I've witnessed local Jews volunteering for relief efforts in record numbers and my colleagues delivering over 800 tons of humanitarian aid, home care to the bedridden and Shabbat gatherings during air-raid sirens. We're also addressing new waves of need: unemployment, educational gaps and trauma — all with an imperative to strengthen lives, even if peace remains elusive.
Hidden in Unetaneh Tokef's horrors are some best-case scenarios, too: "who shall be exalted," "who shall reach the fullness of their days." What if it all goes right, the prayer asks? What if we sustain each other? What if we write our most vulnerable into the High Holidays' symbolic Book of Life?
We can do that by marshaling our resources, as my organization has done since February 2022 with tens of millions of dollars from our partners — the Jewish Federations of North America, the Claims Conference, International Fellowship of Christians and Jews, individuals, families, corporations and foundations — and by lifting up individual stories so we understand the stakes if we fail to act.
For centuries, Jews have debated the identity of the nameless Unetaneh Tokef writer who gave voice to the cruel uncertainty of human existence and the possibility of redemption even in the darkness.
That anonymity hasn't blunted the poem's cold wisdom — life will often disappoint you, but it just might surprise you, too. I've learned that by listening to other Jews who could just as easily be lost to history and have just as much to teach.
In western Ukraine earlier this year, I met Liliya Sumka, the last Jew in a small village only accessible by dirt roads. A 54-year-old widow with cerebral palsy, she ekes by on a $52 monthly disability pension.
For her, the difference between "who shall live and who shall die" is sometimes the stack of firewood and food packages delivered by my organization — or finding God in her own still small voice reciting the Shabbat blessings.
"Life?" Liliya chided me with a wry smile. "You can't make it through that alone."
May we all remember that, recognizing that we only get to fullness by giving it — showing up with full hearts and a full commitment to aiding those living on a knife's edge around the clock, not just in the pages of our prayer books.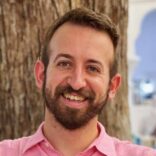 is a former journalist and the JDC's senior video and digital content producer.
The views and opinions expressed in this article are those of the author and do not necessarily reflect the views of JR or its parent company, 70 Faces Media.