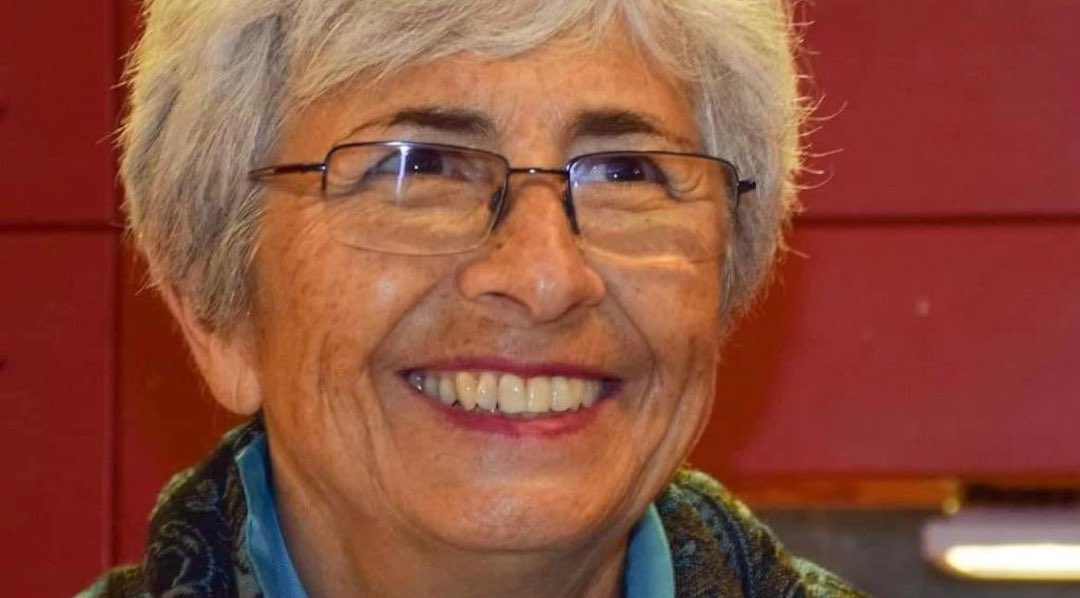 Vivian Silver, veteran Canadian-Israeli peace activist, declared dead in Hamas massacre
((JEWISH REVIEW)) — Vivian Silver, a Canadian-Israeli peace activist who had been presumed kidnapped by Hamas, was declared dead after her remains were found at her home.
Her death was confirmed to (JEWISH REVIEW) by multiple activists who said they were in touch with Silver's family. Shifra Bronznick, a prominent Jewish social justice activist and lifelong friend of Silver's, learned from Silver's son that her remains were identified via her DNA. 
"Vivian was always persistent in the pursuit of peace and justice," Bronznick told (JEWISH REVIEW) on Monday evening. "She was a lifelong feminist, a committed activist, a fearless leader, an exceptional friend and a loving mother, wife and grandmother."
Until Monday, Silver, 74, was assumed to be among the more than 200 people held captive by Hamas. She is now among the approximately 1,200 people murdered by the terror group in its Oct. 7 attack. Hamas terrorists killed more than 100 people at Silver's home community, Kibbutz Be'eri, in one of the day's worst massacres. 
She is one of several peace activists to have been killed or captured by Hamas on Oct. 7. Hayim Katsman, 32, who worked with Palestinians in the southern West Bank, was killed in his home in another community on the Gaza border. Yocheved Lifschitz, who helped ferry Palestinians from Gaza to medical care in Israel, was taken captive by Hamas and released in late October; her husband Oded, also involved in peace work, remains missing.
"A woman of infinite, deep, ongoing compassion, humanity and dedication to Arab-Jewish partnership and peace. Yes. Peace," Anat Saragusti, an Israeli writer and feminist activist, wrote on social media in a post announcing Silver's death. John Lyndon, the executive director of the Alliance for Middle East Peace, wrote that "she wanted to be free & at peace. Rest in power, Vivian."
Silver's sons, like the family members of many of those presumed hostage, lobbied extensively for her release, traveling the country and speaking to journalists around the world to call attention to her story. One son, Yonatan Zeigen, stood out for his calls for a ceasefire, an unusual position in Israel. He said he had learned from his mother to seek peace above all else.
"I would tell her, 'Israel is dead. It's hopeless,' and she would say, 'Peace could come tomorrow,'" Yonatan, a social worker in Tel Aviv told the Washington Post in a story published last week.
Chen Zeigen, her other son, is a doctoral student in archaeology at the University of Connecticut. She is also survived by four grandchildren.
On the day of the massacre, according to the Washington Post story, Silver took a call with a radio station where she pushed back against the idea that the Palestinians were "insane." In messages with Yonatan, she expressed fear, frustration and love. "I'm with you," he wrote to her. Her last message back to him was, "I feel you."
Born in Winnipeg, Canada, she was the longtime director of  the Arab Jewish Center For Empowerment, Equality, and Cooperation, which organized projects joining communities in Israel, the Gaza Strip and the West Bank. In 2014, after the last major war between Israel and Hamas, she helped found Women Wage Peace, which promotes peace-building actions among women from all communities and across the political spectrum.
Speaking to Forbes in 2021 for a series on women who assist the vulnerable, Silver said she remembered feeling relief after the government built bomb shelters in Kibbutz Be'eri, which had been subject to rocket fire from Gaza for more than a decade.
"In 2009, the [Israeli] government only built shelters for communities that were four kilometers from the border. The community I live in is four and a half kilometers from the border, so we didn't have shelters then," Silver told Forbes. "Now we do, so psychologically we feel better, and we feel safer, and in fact, we are safer, we're a lot safer than the people in Gaza."
At a 2018 Women Wage Peace event on the Gaza border in 2018, she said that the Israeli government needed to change its approach in order to bring peace to the area. "Show the required courage that will bring changes of policy that will bring us quiet and security," she said then, addressing the government. "Returning to the routine is not an option."
Appealing to women across the border, she said, "Terror does not make anything better for anyone, you too deserve quiet and peace."
Bronznick first met Silver in the early 1970s when both were involved in organizing a national conference of Jewish women. They remained friends and, for a period of six years, took an annual trip together — the last one was to Santa Fe, New Mexico. When Silver would stay at Bronznick's home, she would prepare an Israeli breakfast, Bronznick recalled. 
"She would be passionately advocating for peace right now," Bronznick said, referring to Israel's war against Hamas, launched following the Oct. 7 attack. "She never gave up on bridge-building. She never gave up on making change. She never gave up on people… She always focused on people, children, what motivated them, what meant something to them."
Before Oct. 7, Silver was due for another stay at Bronznick's home in New York City in early December. On top of each of the days in Bronznick's calendar, she had written "Viv."