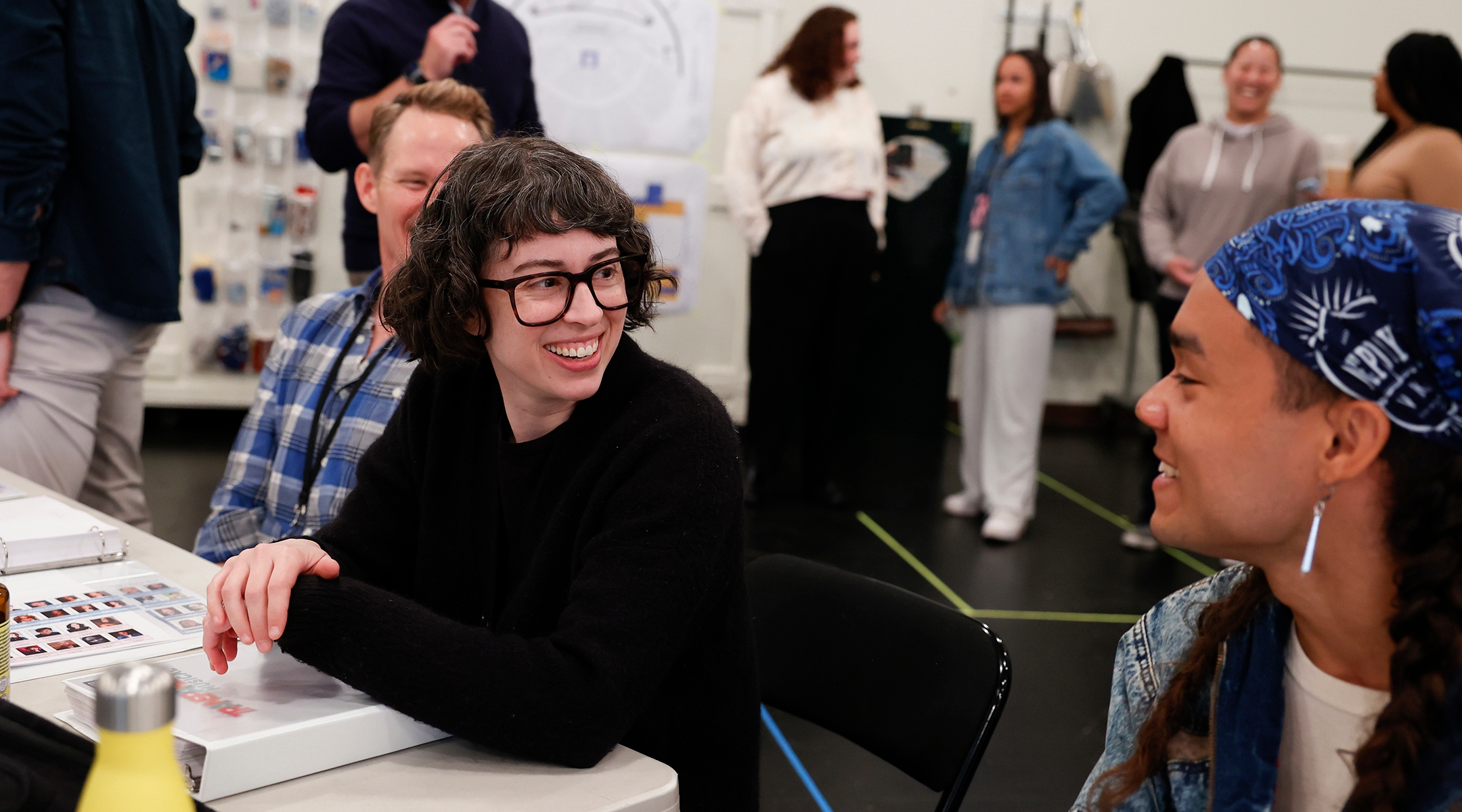 With greater representation, an on-stage 'Transparent' musical looks to transcend the Amazon show's rocky ending
((JR)) — When the Amazon series "Transparent" premiered in 2014, America had never met a family like the Pfeffermans on TV. 
The hit dramedy, following a Jewish family of three adult siblings whose parent comes out as a transgender woman in her 60s, was the first scripted series to center on a transitioning character. The show won eight Emmys out of 28 nominations, along with awards from GLAAD and the NAACP. It has been credited with paving a path for more leading trans characters in shows such as FX's "Pose," CW's "Supergirl" and HBO's "Euphoria." 
"Transparent" was also called by many "the most Jewish show on TV." Its Jewish characters range from mostly secular Los Angelenos to a rabbi to Weimar-era German counterculture pioneers (seen in flashbacks). In the fourth season, the main characters visit Israel, where they attempt to understand both their faith and the occupation. 
But the show was criticized for casting straight cisgender actor Jeffrey Tambor as the transitioning matriarch Maura Pfefferman. And in 2017, after "Transparent" had been renewed for a fifth season, Tambor was accused of sexual harassment by two former on-set colleagues. He was fired, his starring character killed off in the finale. (Tambor has repeatedly denied the allegations against him.)
That finale took the form of a 100-minute musical film, which ended the series with a divisive show tune called "Joyocaust," urging Jews to transform their DNA-rooted suffering into joy: "Take the concentration out of the camps, concentrating on some song and dance."  
Now the entire series is getting the musical treatment, arriving on a real stage in Los Angeles. "A Transparent Musical" — adapted by "Transparent" creator Joey Soloway with music and lyrics by Faith Soloway, who also wrote for the TV series — debuts on Tuesday and runs through June 25 at the Mark Taper Forum. One of the goals: to put the spotlight squarely on LGBTQ actors.
"It's like 75% trans and nonbinary people on stage," said Faith. 
The siblings were originally inspired by their own family: Their own parent came out as trans at 75 years old. After they started making the show, Joey and Faith Soloway gradually also came out as  trans. Joey changed their name from Jill. Both siblings use the pronouns "they/them."
They saw the musical medium as a way to freshen up the TV show's explorations of Jewish and queer history, and the ways in which they interact. Their production will include songs like "Jewish and Queer" — a jubilant "Jewish drinking song," said Joey — along with defiant anthems like "Deviant," which celebrates uniting against hatred.
Before they understood their interest in gender, the siblings always imagined making a musical together.
"At the ages of 5, 6, 7 years old, you can picture us sitting on the carpet in our living room in the early '70s, listening to the cast albums of 'Jesus Christ Superstar' and 'Hair' and 'Fiddler on the Roof,' dreaming that one day this was where we were going," said Joey. 
Joey said they did not realize that Tambor's casting was "problematic" when the TV series debuted. They approached casting and hiring creatives for "A Transparent Musical" with a laser focus on representation, choosing trans actress Daya Curley for Maura's role. They also centered the character of Davina — Maura's trans friend, portrayed by Black actress and "RuPaul's Drag Race" runner-up Peppermint — to intensify the musical's focus on intersectionality.
Adina Verson, who identifies as nonbinary and featured in the show "Only Murders in the Building," will play Ali Pfefferman, the family's youngest sibling. 
"I've never seen a show with so many trans actors," said Verson. "It's an incredible room full of unique, incredible performers who honestly haven't often been given the stage that they deserve."
As someone who is married to a man and has a child, Verson said they "never felt queer enough"; meanwhile, growing up as a Reform Jew, they "never quite felt Jewish enough." (In the series, Ali is played by non-Jewish actress Gaby Hoffmann.)
"It was so exciting to be able to bring that questioning to Ali's journey, and through Ali, I feel like I've really found my footing," Verson said.
At the same time as trans representation in popular culture has grown since Amazon premiered "Transparent," trans identities have come under a coordinated political attack. This year, 20 states have passed 71 bills restricting healthcare, public accommodations and school activities for trans people, according to the Trans Legislation Tracker.
Last week, Florida Governor Ron DeSantis signed a slate of bills targeting drag shows, restricting the discussion of "preferred pronouns" in schools and enforcing the use of specific bathrooms at public facilities — from schools to prisons — based on "biological sex." The laws also banned minors from accessing transgender medical treatments, such as puberty blockers or hormone therapy, and placed new restrictions on adults seeking treatment.
Joey Soloway said they were "in mourning" and "paralysis" over the legislation. They see "A Transparent Musical" as a form of protest, conveying "the relationship between how Jews are othered and trans people are othered" with a power that feels different on a theater stage.
"We're amping up our ammunition beyond a one-on-one TV experience that you watch alone in your room, streaming on your iPad," said Joey. "This is something you experience collectively, that lands in the body and allows you to go out into the world singing and dancing."