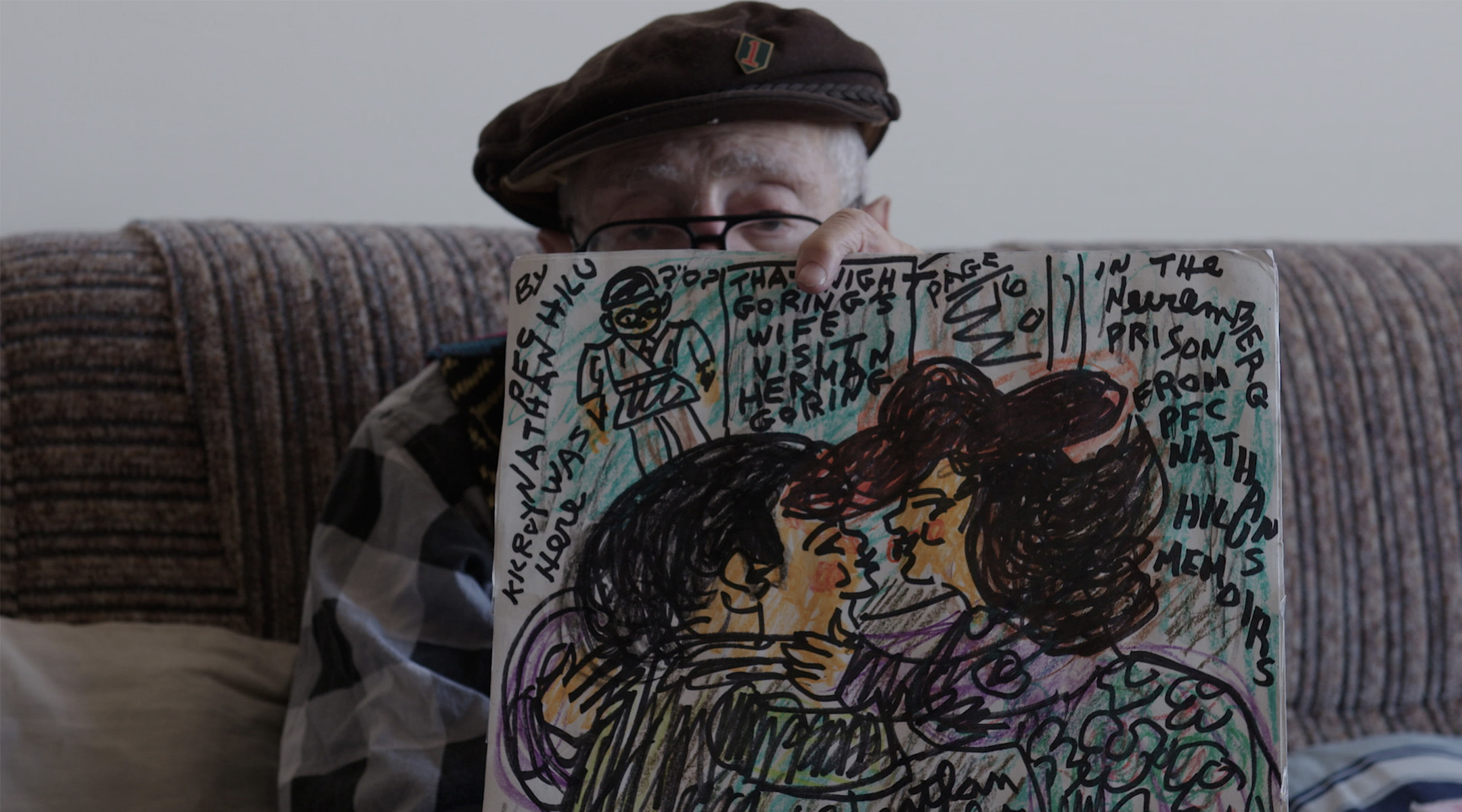 A new film unspools the storied life of Jewish outsider artist and Nuremberg trials guard Nathan Hilu
(New York Jewish Week) — In the documentary film "Nathan-ism," Jewish artist Nathan Hilu is hardly ever without a Sharpie or crayon in his hand, drawing something from his memories. 
Hilu was a Lower East Side native who, as a U.S. soldier at 19, was assigned to guard Nazi war criminals at the Nuremberg trials. The experience left an indelible mark upon him: In the ensuing decades, Hilu processed these memories by obsessively creating art from this time in his life, often repeating the same images, simple figures with words written around them in a messy if compelling scribble. 
"I'm not really a big, great artist. I'm a memory man," Hilu, who died in 2019 at 93, says in the film, which will have its New York premiere at the Doc NYC Festival on Tuesday. "That's where my pictures come from."
In 2012, Tablet Magazine called Hilu the "most significant Jewish Outsider artist you've never heard of." With the documentary, Israeli-American filmmaker and editor Elan Golod is hoping to change that. He's spent the past eight years making "Nathan-ism," which chronicles both Hilu's daily life as a lonely, aging veteran and the history of the Nuremberg trials. The result is a movie that takes us inside the obsessive mind and cluttered apartment of a unique New York artist who is desperate for his story as a witness to one of the most significant trials in history to be heard. 
"It's not that he feels like drawing, he has to draw — it's a way of communicating," curator Laura Kruger, who has been credited with "discovering" Hilu, told the New York Jewish Week about Hilu in 2019. "I really believe he is an exceptional talent."
Golod first learned about the artist eight years ago when he read an article about a small retrospective of Hilu's art at Hebrew Union College's museum that was curated by Kruger. "I was fascinated by the circumstances of his story, but also the dissonance between a very heavy subject matter done in colorful Crayola colors," Golod told the New York Jewish Week. "That felt cinematic to me." 
Golod envisioned his project as a short film, and at first Hilu, not understanding Golod's intentions, was hesitant to participate. But after a few phone calls and in-person meetings without the camera, Hilu warmed up to the filmmaker. Golod ended up filming Hilu throughout the last four years of his life; each time he visited — usually once every week or two — Hilu would show him a shopping bag full of art he had made since their last meeting. 
He ended up with more than 300 hours of film of Hilu, who shares with Golod his memories of how well the Nazis were treated in jail, as well as the time Hitler's chief architect Albert Speer told him that Hitler made a mistake and didn't have to kill the Jews. 
Hilu was generous with his time and he was equally generous with his work: Golod estimates that he has about 1,000 pieces of Hilu's art in storage. "He wasn't very precious about holding onto his art," he said. "He just wanted it to be out in the world." Golod said he also donated some of the art to Hebrew Union College on Hilu's behalf, while some of Hilu's self portraits hang in Golod's office in New York. 
Other talking heads in the film include Kruger; counselor for war crimes accountability for the U.S. Department of Justice Eli Rosenbaum; and art journalist Jeannie Rosenfeld, who all weigh in on the importance, volume and validity of his work.
The film also demonstrates the importance of oral history — specifically, historical events as remembered by those were there — while also grappling with the fallible nature of memory. As Hilu draws and narrates his often-repeated stories of his encounters with Nazi criminals, he is quick to emphasize that though some of his stories don't sound true, he insists they all are. As Hilu says in the film, "I am no historian. All I can do is show you my part of history."
In the film, Golod endeavors to verify Hilu's stories, albeit with mixed results — largely because a 1973 fire destroyed Hilu's military records. And yet, even if the details get hazy, Golod insists that Hilu never tried to intentionally dupe anyone, he was simply expressing his version of events as he remembered them. "I think he's obviously telling his truth," Golod said. 
Support the New York Jewish Week
Our nonprofit newsroom depends on readers like you. Make a donation now to support independent Jewish journalism in New York.
Hilu was a complicated subject. He had a lot of input for Golod about what should be included in the film — and many of Hilu's "notes" made their way into the final product. "Nathan wasn't the most amenable to being directed," Golod said. "Whenever I would film him, it would pretty much be him doing show-and-tell with the latest works that he had done, and the only ways I could direct the conversation was to choose which pieces I wanted him to talk about, or ask specific questions about something in the piece he was showing. Deviating from that structure didn't work for him and he'd be resistant to going off the path that he had set for us."
But after spending so many years together, Hilu began to open up to Golod beyond his usual narrative. "It took several years of us being together for him to let his guard down," Golod said, referring to a part of the film in which Hilu discusses his difficult relationship with his father, an immigrant from Syria whose expectations for his son didn't align with Hilu's artistic nature. 
"I feel like if I tried to make this film in a shorter time frame, I probably wouldn't have gotten that level of vulnerability from Nathan," Golod said. 
Though Hilu has been dead for four years, Golod said that, in a way, he only recently started grieving. "It's hitting me more this past year, since the film has come out, versus when he actually passed, because I was still constantly editing the footage and it felt like he was still there," he said. 
After the New York premiere next week, "Nathan-ism" will continue to make its way through the festival circuit. Golod is most excited about a special screening planned for February inside Courtroom 600 at the Nuremberg Palace of Justice where the infamous trials took place. "For Nathan's legacy, it's incredible and amazing how the story is coming full circle," Golod said.
"Nathan-ism" will be screening on Tuesday, Nov. 14 and Thursday, Nov. 16 as part of the Doc NYC Festival. Online screenings are also available from Nov. 15-26. Get tickets and info here.