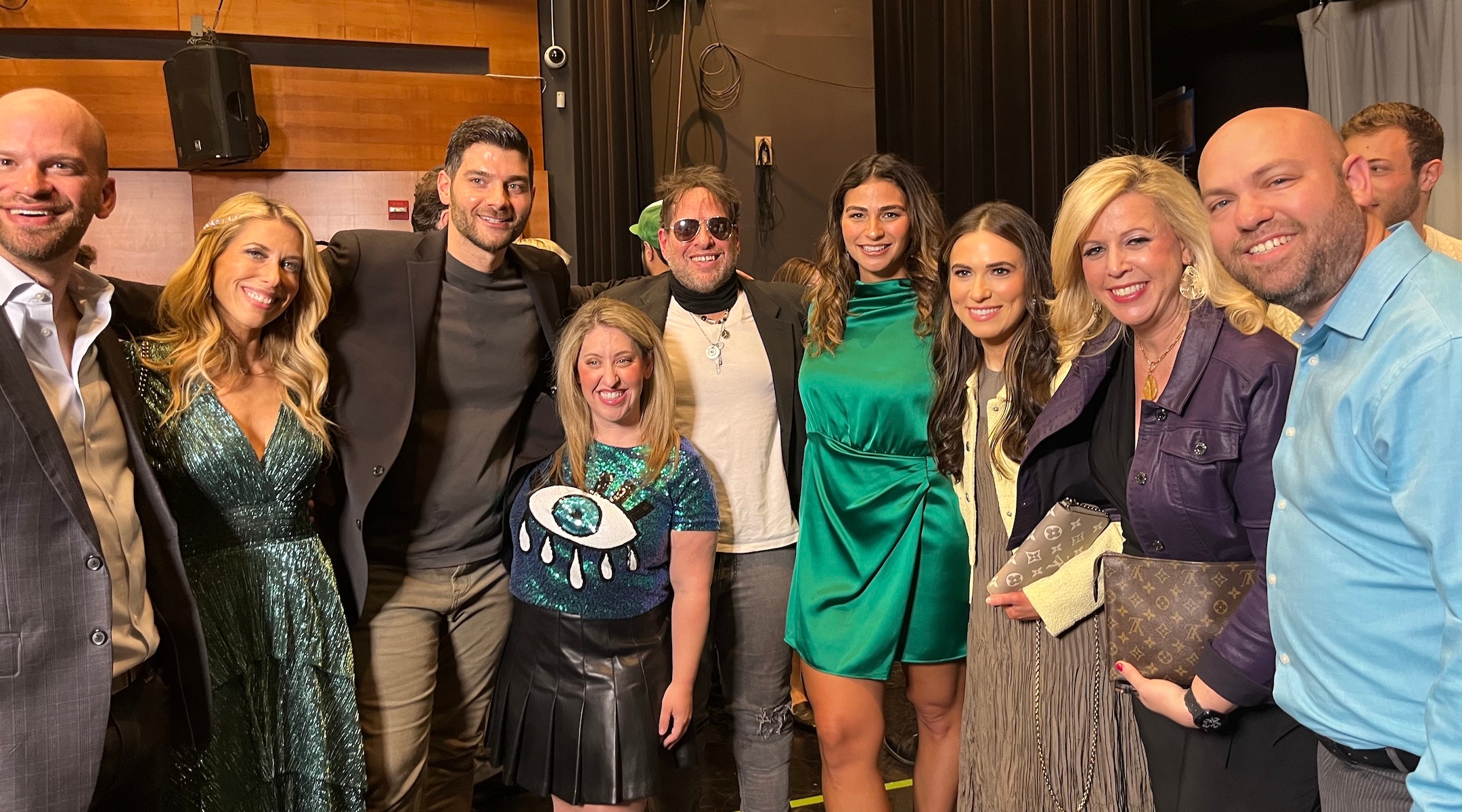 At a live event with Netflix's 'Jewish Matchmaking,' fans of the show find their people
(New York Jewish Week) — Aleeza Ben Shalom, star of the Netflix hit "Jewish Matchmaking," stood in the middle of a tight circle of fans — both men and women, young and old — doling out dating advice. Maintaining the same warmth she displays on her TV show, Ben Shalom spoke to as many people as she could as mothers pushed their daughters to the front of the line, single women hung on her every word and superfans asked for hugs and selfies.
Ben Shalom, who lives in Israel, was in New York on Wednesday night to make an appearance at a promotional, sold-out event for the series as well as her book, "Get Real, Get Married." Some 200 people filled the auditorium at The Town School on the Upper East Side, having paid $54 for a ticket (or $72 if they wanted to attend the VIP meet-and-greet beforehand). 
"Thanks everybody for watching the show — you watched the show right? We can't get a season two unless you watched all the episodes," Ben Shalom quipped as she greeted the crowd from the auditorium's stage.
A dating reality show, "Jewish Matchmaking" premiered on Netflix on May 3 to much fanfare. Created by the same team behind the streaming service's hit "Indian Matchmaking," "Jewish Matchmaking" spotlights a diverse group of Jews who are looking for love in Israel and across the United States. Viewers watch as Ben Shalom tries to set folks up with their bashert — soulmate — and explains Yiddish/Hebrew words and Jewish customs while doling out gentle, sensible dating advice.
In a short time, the eight-episode series has developed a loyal fan base, while reviewers have called "Jewish Matchmaking" "smart and sweet."
 As for the reason for the show's success, "There's everything from the girl that doesn't want to marry someone that eats bacon, to someone like me who wants someone that prays three times a day in shul," Brooklynite Fay Brezel, one of the show's Orthodox stars, told the New York Jewish Week. "I think that's what people really love about the show: It makes everybody proud to be Jewish no matter where you are with it."
On Wednesday, Ben Shalom and Brezel were joined onstage by several other members of the cast, including Shaya Rosenberg, whom Brezel briefly dated on the show, as well as Miami resident and eyebrow expert Dani Bergman; Sephardic event organizer David Behar of Miami; Los Angeles-based "unicorn" Harmonie Krieger; outdoorsy Noah Dreyfus of Denver (and Jackson Hole) and Chicago musician Stuart Chaseman.
As for the audience, it skewed female — though like the cast of the show, they represented a diverse cross-section of Jews, including Sephardic, Israeli and Ashkenazi, as well as Reform, haredi Orthodox and everything in between. 
Attendees' reasons for buying a ticket to the event were just as varied. One woman, who wished to remain anonymous, said she came to the event because the show moved her so much. "I am not a reality TV person at all," she said. "I just felt so inspired by the show. Aleeza was such a warm, positive presence to see on Netflix, and she gave me so much hope for myself that I'll be able to find someone and so much hope for the Jewish people." 
And yet the woman, who lives in New York, said she also hoped to ask Ben Shalom for dating advice. 
Others came to meet and praise their favorite cast members. "I have never felt more validated in my life," one viewer gushed to Bergman. (Bergman, for her part, told the New York Jewish Week that hearing such sentiments has been the best and most unexpected part of the show.)
More than a few single women were sent to the event at the behest of their worried Jewish parents. "I'm young, I'm 24, I have a lot of great things going on in my life," said Yael Chanukov, a Manhattan-based actress who recently appeared in two episodes of "The Marvelous Mrs. Maisel. "But my parents are so concerned about me finding someone. They bought me the ticket, sent me the email confirmation and said I had to ask Aleeza for advice." 
Support the New York Jewish Week
Our nonprofit newsroom depends on readers like you. Make a donation now to support independent Jewish journalism in New York.
Chanukov came solo, though she said she would have brought her roommate if she had been in town. "I really loved the show, so I am happy to be here regardless," she added. 
Another woman who wished to remain anonymous said that her parents in Long Island watched the show and immediately bought her tickets to the event, telling her she had to talk to Ben Shalom about her dating life. "I had nothing going on tonight and I live nearby. I'm single, so I figured, why not?" she shrugged. "Anything could help." 
As for the advice Ben Shalom gave her? "She told me to stay open and stay hopeful," the woman said. 
Sacha-Aviva Sellam, 30, came because she was inspired by the diversity of Jewish experiences on the show. "I loved the show and found it very relatable," Selam, who is of North African descent, told the New York Jewish Week. "[Ben Shalom] had a sensibility for all Jews, and Netflix was careful to include and uplift everyone — not just the ultra-Orthodox or the stereotypical 'bagels and lox' Jewish experience, which is not me."
"I'm not here specifically because I'm single, but would I like it very much if I happened to meet someone here somehow? Of course," she joked. 
During the event, guests got to hear from the cast about their favorite parts of the show — for Brezel, it has been messages to her that people have become more observant after watching. "When was the last time that you heard somebody say that they are going to be more careful with mitzvot after watching something on Netflix?" she said. "I don't think that's ever happened." 
Behind-the-scenes details that weren't filmed or didn't make the final cut were also shared — like Krieger's vulnerable, late-night calls with Ben Shalom; Dreyfus taking Ben Shalom on a six-mile hike in Jackson Hole; Brezel's mother baking the production team cookies in Brooklyn, and Ben Shalom helping Bergman hang a mezuzah on the doorpost of her Miami home. 
During a Q&A session, everything was on the table. One man jokingly asked Bergman to rate his eyebrows — she gave him a solid 7.5. A young woman of Orthodox background asked Brezel how to be more vulnerable with matchmakers. The answer? It's not necessary, Brezel responded, unless they are someone with whom you have a genuine connection — like Ben Shalom.
Of course, Ben Shalom delivered on what had brought so many there that evening: She shared her best dating tips, including that connection starts the moment you walk in the room — so present your best self inside and outside. She even brought some audience members on the stage for live matchmaking. Four volunteers from the audience — all women — were invited on stage; other audience members asked questions about their lives and dating preferences. After a few rounds of questions, Ben Shalom asked if anyone in the room knew of a good match — and, Jewish geography being what it is, four women headed into the evening with the contact information of three or four potential dates. 
"I didn't think I'd have so much fun during this experience — I feel like I'm more of like a type-A personality but ["Jewish Matchmaking"] really brought out my fun side," Brezel, who brought friends and family friends to the event, told the New York Jewish Week. "Everywhere I go people are stopping me and asking for selfies. It's such a crazy experience."