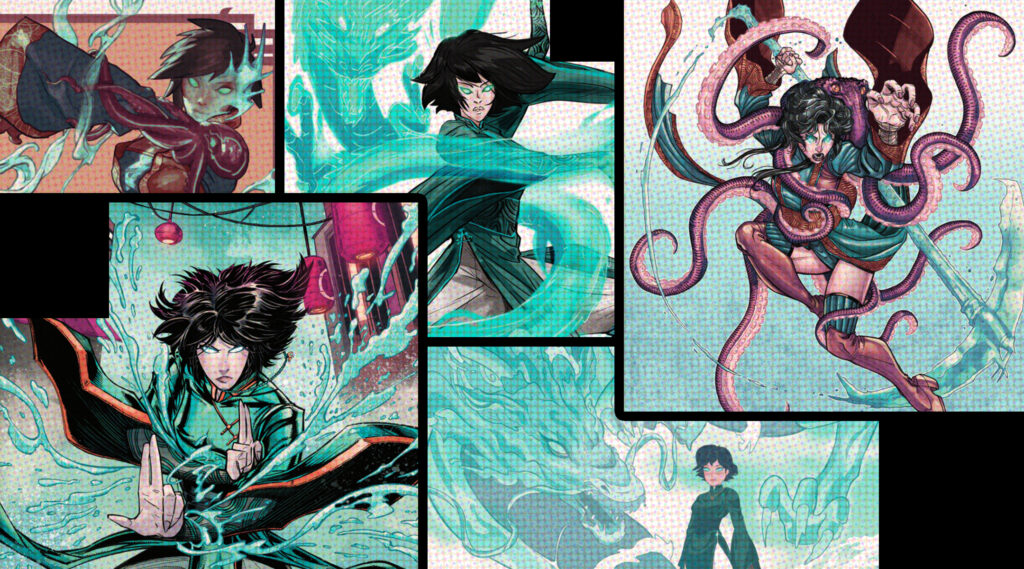 An Asian-Jewish superhero fights the 1970s Chinese mob in comic book debut
((JR)) — An independent comic book publisher that aims to promote diversity in comics is about to spotlight a historic new character: the Asian-Jewish Leah Ai Tian, AKA "The Last Jewish Daughter of Kaifeng."
The character is the brainchild of Fabrice Sapolsky, co-founder of the Queens, New York-based FairSquare Comics, which aims to "promote and give more exposure to immigrants, minorities and under-represented creators of the word." "The Last Jewish Daughter of Kaifeng," which debuts June 7, is the latest installation of the Intertwined series of comics, which Sapolsky and fellow Frenchman Fred Pham Chuong started in 2017.
Leah, who made a brief appearance in the first Intertwined book, has the ability to manipulate anything water-based and travel through streams — not unlike a certain character in the popular TV show "Avatar: The Last Airbender."
The book tells her complex origin story, which Sapolsky said is meant to "explain the reality of being a minority in a country that does not accept you as a minority."
At first, Leah lives freely as a Jew in 1970s New York City — she wears a chai necklace, has opened a kosher Chinese restaurant and says her rabbi calls her powers "a blessing" from god. But the reader learns that she had left China to avoid a forced marriage to a mob lord who now terrorizes Kaifeng — a large city in eastern China home to the remnants of the country's only native Jewish community. 
That community, once thought to be at least a few thousand strong, by the time of Leah's story was thought to be mostly dispersed or assimilated into the non-religious society of the Cultural Revolution. Leah returns home to try to save her parents and bring them to New York, where they could practice their religion freely.
Sapolsky's interest in the Jewish community in Kaifeng dates back to the 1990s, when he was a teenager and his Jewish camp in France one year held "Kaifeng-themed" activities, meant to educate campers about Chinese Jews.
Born in France to a Sephardic mother from Algeria and an Ashkenazi father with roots in today's Ukraine, his own background informed his interest in Jewish diversity. 
"When working on the original concept of Intertwined, I knew we had to have a Jewish character, and there had never been an Asian Jewish character in comics," Sapolsky said.
For Sapolsky, it was important to make Leah's story "real, make it authentic, make it believable." He talked to consultants about Kaifeng history and culture, making sure even the architecture depicted on the page was realistic.
"The two artists, Fei Chen and Ho Seng Hui, are from China and Malaysia, and never thought about Jews before this project, so they learned while drawing the book," he said. "Will Torres, a Christian of Puerto Rican descent, helped with the inking, and the coloring was done by Argentines Exequiel Roel and Walter Pereyra." 
The goal of the story was not only to refer to the minority experience in China — but also to the realities in the United States, Sapolsky's adopted home. 
"Unlike in France, where Jews are clearly defined as a minority, in this country they are widely perceived as simply white, which denies the diversity of Judaism," he said.