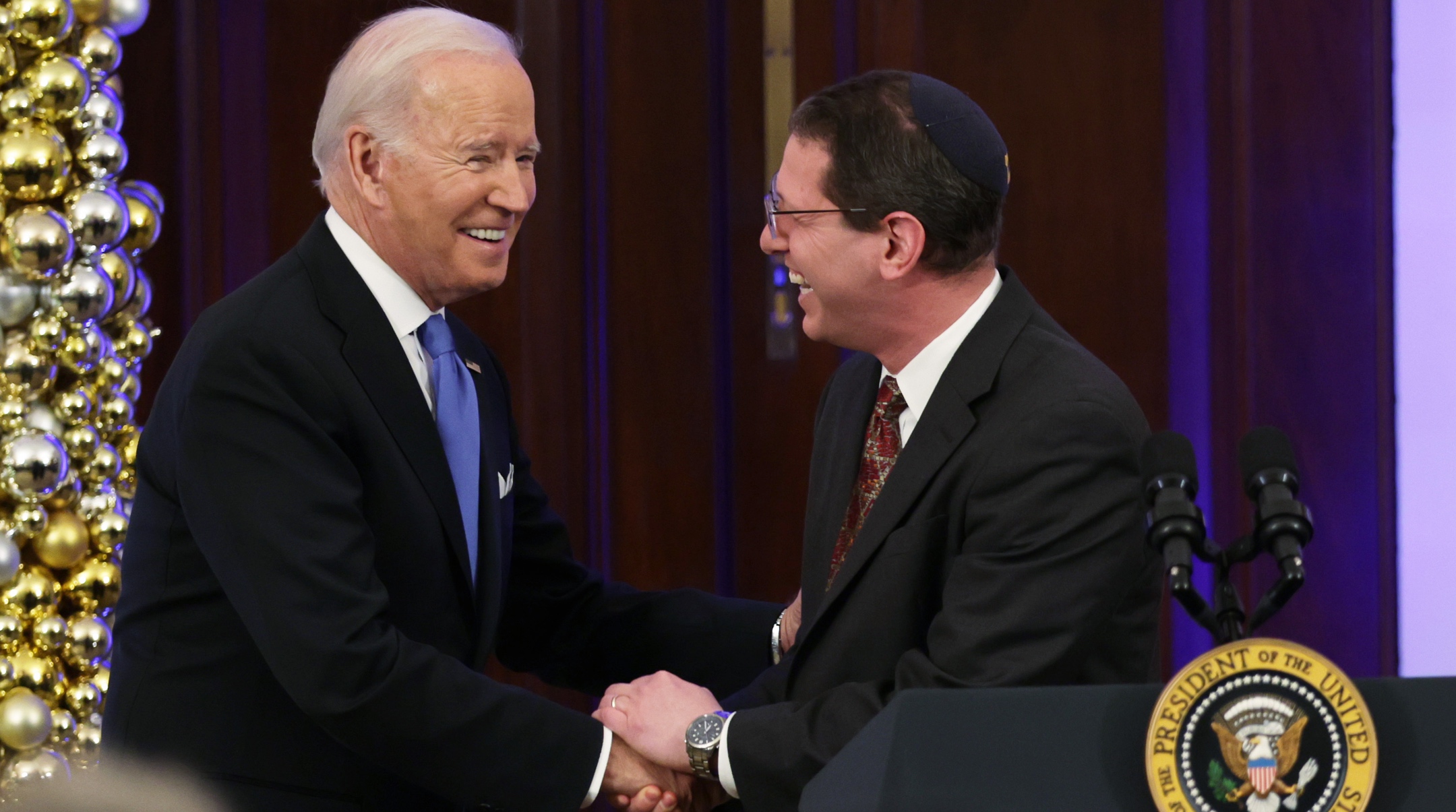 Hundreds of rabbis say Biden's plan to fight antisemitism should embrace a disputed definition
WASHINGTON ((JEWISH REVIEW)) — More than 550 rabbis are calling for the Biden administration's forthcoming strategy on fighting antisemitism to include a definition of anti-Jewish bigotry that has come under debate.
The letter was sent as progressive groups are seeking to dissuade the administration from using the definition because they believe it chills legitimate criticism of Israel. The letter's signatories disagree with that assessment.
"IHRA is critically important for helping to educate and protect our congregants in the face of this rising hate," said  the rabbis' letter, which was sent to the White House on Friday via the Conference of Presidents of Major American Jewish Organizations. The acronym IHRA refers to the 2016 working definition of antisemitism crafted by the International Holocaust Remembrance Alliance.
"We believe it is imperative that in its National Strategy to Combat Antisemitism, the administration formally embrace the IHRA Working Definition as the official and only definition used by the United States government and that it be used as a training and educational tool, similar to European Union countries' use of the definition in their Action Plans," the letter said.
The IHRA document consists of a two-sentence definition of antisemitism followed by 11 examples of how antisemitism may manifest. Most of those examples concern speech about Israel that the IHRA defines as antisemitic. Israel critics, and some progressive supporters of Israel, say two of those examples are so broad that they inhibit robust criticism of Israel: "Applying double standards by requiring of [Israel] a behavior not expected or demanded of any other democratic nation" and "Denying the Jewish people their right to self-determination, e.g., by claiming that the existence of a State of Israel is a racist endeavor."
The letter's signatories hail from all three major Jewish denominations, though the list of names includes few leaders of the movements. The Reform movement has said IHRA is a useful guide but has opposed using it in legislation.
Among the signatories are rabbis known to be close to President Joe Biden, including Michael Beals, a Delaware rabbi who played a prominent role campaigning for the president in 2020, and Rabbi Charlie Cytron-Walker, the rabbi who protected his congregants during a hostage crisis at a Texas synagogue last year.
If the Biden administration does include the IHRA working definition in its plan, it won't exactly be a surprise. Soon after his inauguration, a Biden administration official called the IHRA document an "invaluable tool," and one month later, Secretary of State Antony Blinken said the administration "enthusiastically embraces it." The working definition has been endorsed by past administrations of both parties and, in 2019, Donald Trump signed an executive order instructing the Department of Education to consider it when weighing civil rights complaints concerning Jews. It has been adopted in varying forms by a range of national and local governments, universities, professional sports teams and other bodies.
But now, according to Jewish Insider, progressive groups are asking the Biden administration to forgo including the definition in a soon-to-be-published strategy to combat antisemitism. Biden said at an event on Tuesday that the strategy would have 100 recommendations for action, and insiders say it may be published as soon as next week.
A number of coalitions have proposed alternative definitions that contain more limited definitions of when anti-Israel speech is antisemitic. The letter from the rabbis does not mention Israel, but cautions against adopting a definition other than IHRA's.
"We believe the adoption of any definition less comprehensive than the IHRA definition would be a step backwards for this administration and make our work on the ground significantly harder," it said.
In a meeting this week with members of the press, Biden's lead antisemitism monitor, Deborah Lipstadt, who is a member of the administration's antisemitism task force, would not say if the IHRA definition would make it into the strategy, accordin. She said it was "effective" and helped her in her work, but added, "I'm not going to preempt what the White House is going to say or not say."
William Daroff, the CEO of the Conference of Presidents, said the notion that the IHRA working definition inhibits Israel criticism has been belied by the "slew of people critical of Israeli policy [who] have not been muted because of the IHRA definition." Daroff pointed in particular to widespread criticism of the Israeli government's plan to weaken the judiciary, which critics have said would undercut Israel's democracy and remove a curb on human rights abuses.
"A comprehensive report on antisemitism might not be comprehensive without defining antisemitism," Daroff told the Jewish Telegraphic Agency. "It might undercut American efforts to combat antisemitism abroad by weakening the clear importance of the IHRA definition."