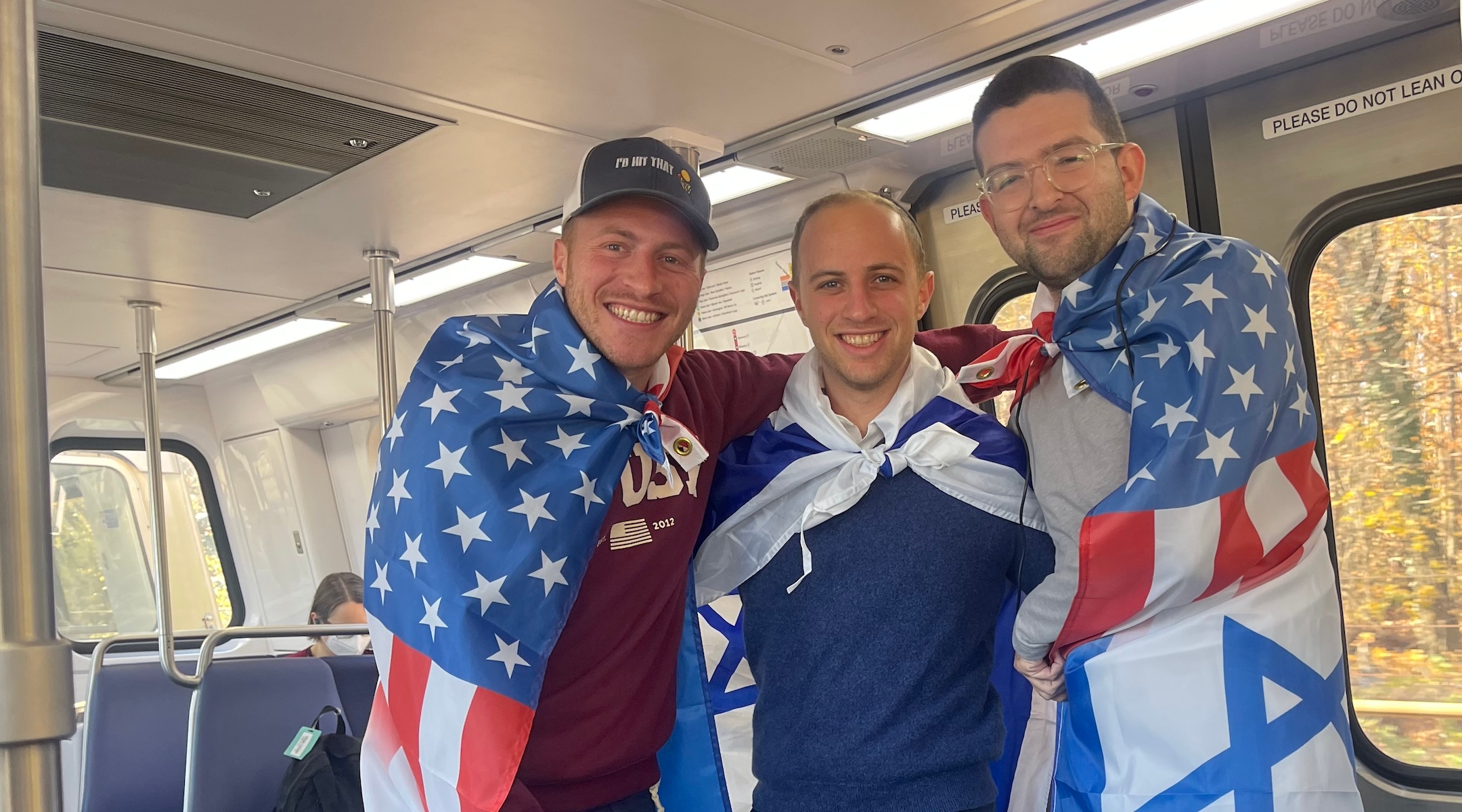 Before they hit the National Mall, these pro-Israel rally-goers stopped for lox and prayers
WASHINGTON ((JEWISH REVIEW)) — After 12 hours on the bus, Dan Kenem appreciated the breakfast at Ohev Sholom Congregation.
"The lox really hit the spot," he said, seated at a table in the synagogue's social hall, just minutes after getting off the bus that had started out from Lakefield, a Chicago suburb, the night before.
David Wolkenfeld, the rabbi at this modern Orthodox synagogue in a leafy neighborhood in northwest Washington, D.C., had moved here six months ago from Chicago. So when he heard a week or so ago that there would be a March for Israel on Tuesday in his new hometown, he put out the word in his old hometown: Ohev Sholom would seek overnight accommodations for families coming early and would feed those coming in the morning.
That was the easy part, Wolkenfeld said. "There were a lot of enthusiastic responses" among his new congregation.
Travelers did not seem too put out by the 12-hour journey. "It was lots of fun," said Yona Lunken as he double checked his travel bag for his prayer book, his prayer phylacteries and his prayer shawl. "Today's a good day to pray."
First reports estimated around 100,000 Jews at the National Mall on Tuesday who were gathered to hear from a range of speakers, including survivors of the Oct. 7 Hamas massacres that launched the current Israel-Hamas war; students from U.S. campuses who have experienced a spike in antisemitism; and a bipartisan slate of leading politicians. It is likely the largest Jewish rally in the United States since the Second Intifada in 2002.
"There was a Palestinian march that was fairly large," said Kenem, 58, who works in real estate, referring to a D.C. protest last month. "I hope we're close to it or bigger. It will give people on the fence an idea of what Jews in the U.S. are doing."
Lunken, 62, an educator, said he was not a fan of crowds, but his wife, a dentist, encouraged him to go, if only because she was unable to clear her schedule to go herself.
"We need to show there are lots of us," he said.
Camile Altman flew in from Chicago — the thought of sitting down for 12 hours was too daunting. She wavered at first, but when she learned her mother was coming in from Memphis, that clinched it.
"I felt like I'd been doom scrolling for two hours every day, which is like being around people who want to murder me, and it would good to be with a crowd who accepted me for a few hours," said Altman, a 33-year-old tech product manager, who attended the Ohev Sholom breakfast to meet up with fellow Chicagoans.
That Altman was coming convinced her mother-in-law, Gail Guttman to come in from Bethesda, a Maryland suburb of Washington.
Guttmann, 69, a therapist, said she was wary of crowds, but decided to join hundreds of thousands of people on the mall not just to spend time with her daughter-in-law, but to exercise freedoms she did not have in her youth in Nashville.
"I lived with a lot of antisemitism," she said, referring to practices that kept Jews from joining organizations or living in certain places. "I'm here because I can do something where I couldn't do anything then."
Bruce Gillers flew in from Boston for the protest, but arrived a few days early to hang out with grandchildren. He heard about Ohev Sholom's breakfast and came in time for morning prayers. He had attended mass rallies in Washington for Jewish causes — for Soviet Jewry in 1987 and for Israel during the Second Intifada in 2002 — and he wanted this one to dwarf those.
"This is a challenge to the existence of Israel," said Gillers, 75, an ophthalmologist.
Some organizers said the rally drew 200,000 people, more than the 100,000 in 2002, but short of the 250,000 in 1987.
The Chicago delegation made their way to the Metro, where they joined other people who had traveled into Washington to join the protest.
Asher Blum, Ari Barnett and Moshe Felson, all in their 20s and who know each other from yeshiva studies in Israel, flew from around the country into New York and made a road trip out of it. They stood on the Red Line train and wore capes that depicted the Israeli flag bleeding into the American one.
Barnett had heard about the rally through a group he belongs to, Young Jewish Conservatives, and he was taking his friends to a pre-rally event at the conservative Heritage Institute. Rep. Pat Fallon, a Texas Republican, would be present, Barnett told his friends. "He's base," he said, using a conservative term for "cool."
"We want to show that Israel has America's support," said Felson.
Watching them was a couple that had driven down the night before from Long Island, Ted Sklar and Maddy Meltzer. Sklar held up a poster, "Never again! Am Yisrael Chai" inscribed over an Israeli flag.
Sklar, 67, a retired attorney, said he was attending for his father, who survived the Holocaust in France and who was still alive.
"The world's moral compass is broken," he said, choking back tears. "He's alive, and he has to see this again? I have to do this for him, and for my granddaughter."