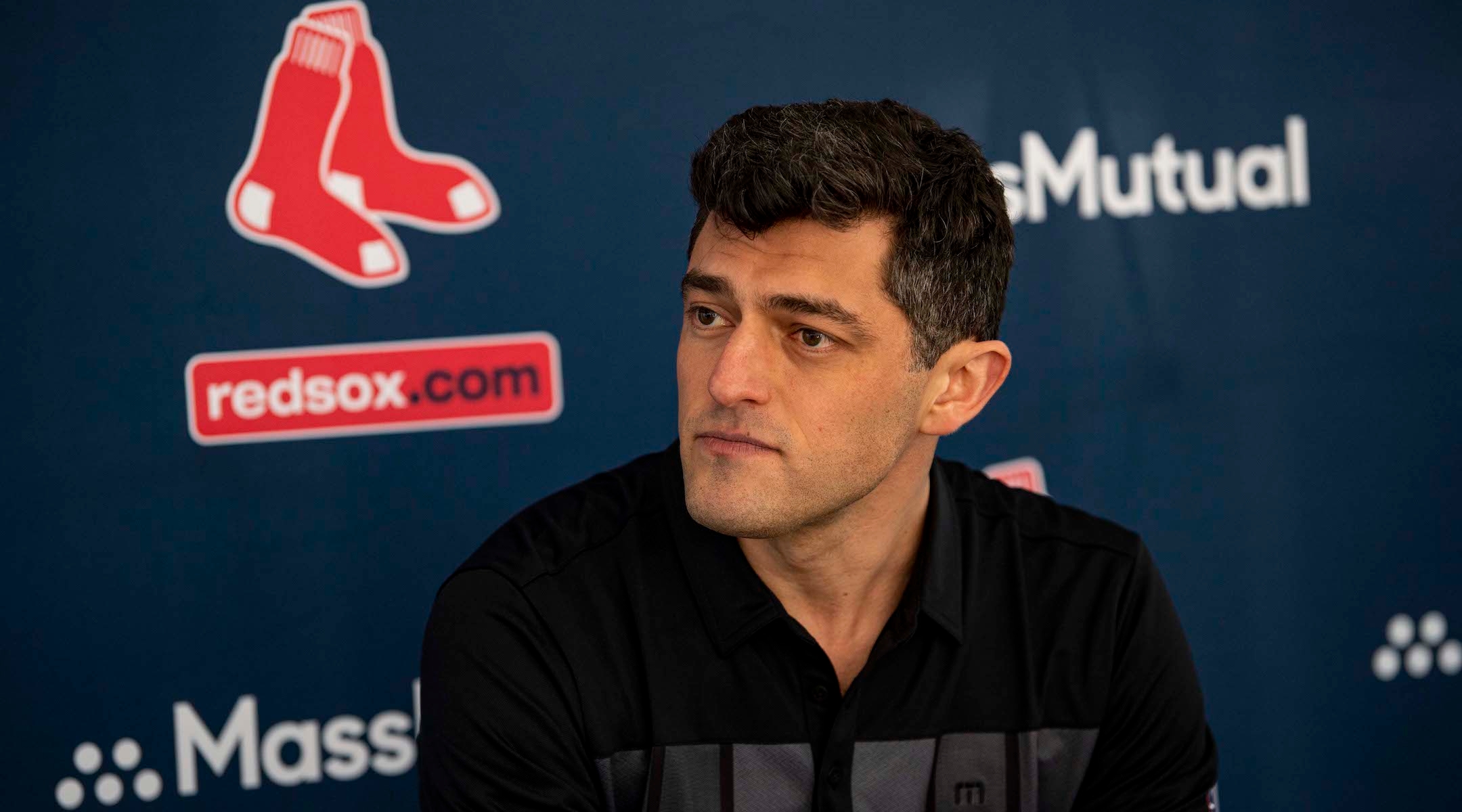 Boston Red Sox fire Chaim Bloom, formerly seen as Jewish baseball wunderkind
((JEWISH REVIEW)) — The Boston Red Sox fired Chaim Bloom on Thursday, ending the Shabbat-observant baseball executive's nearly four-year tenure as the team's chief baseball officer.
Bloom, who also keeps kosher, was seen as a wunderkind with his previous team, the Tampa Bay Rays, who under his leadership became one of baseball's best teams despite a relatively low payroll. He was hired by Boston to turn the team into a perennial contender with more sustainable financial practices than his predecessor, Dave Dombrowski, who signed an array of expensive free agents while trading away several of Boston's top prospects.
Bloom, 40, did effectively shed payroll and rebuild the Red Sox minor league system into one of the sport's best. But his time in Boston is likely to be defined by the series of high-profile players who were traded or left for other teams during his tenure, including Mookie Betts and Xander Bogaerts. After multiple last-place finishes, the Red Sox are likely to miss the playoffs this year for the third time in Bloom's four seasons.
"Everyone who knows Chaim has a deep appreciation and respect for the kind of person he is," Red Sox principal owner John Henry said in a press release. "His time with us will always be marked by his professionalism, integrity and an unwavering respect for our club and its legacy."
Bloom, a Jewish day school alum, said he had experienced multiple instances of antisemitism during his tumultuous time in Boston, during which fans used to the team's winning ways over the past decade had grown frustrated. Earlier this year, Bloom told the Boston Globe he had received death threats and an antisemitic slur. Last year, the team released a minor league player after a series of social media attacks against Bloom, including calling Bloom "an embarrassment to any torah-following jew."
Bloom, who joined Boston after 15 years with the Tampa Bay Rays, told Tablet in 2019 that his family lived within walking distance to Tropicana Field so he could walk to home games on Friday nights. He also keeps a jar of gefilte fish in his office, a result of a World Series bet that began in Tampa and had continued in Boston.
Sam Fuld, a former Team Israel player who is now the Philadelphia Phillies' general manager, is seen as a possible candidate for the Boston job. He was a finalist for the position in 2019 when Bloom was hired.
Theo Epstein, the Jewish former longtime executive who led Boston to its curse-breaking championship in 2004, has already been ruled out as a candidate.