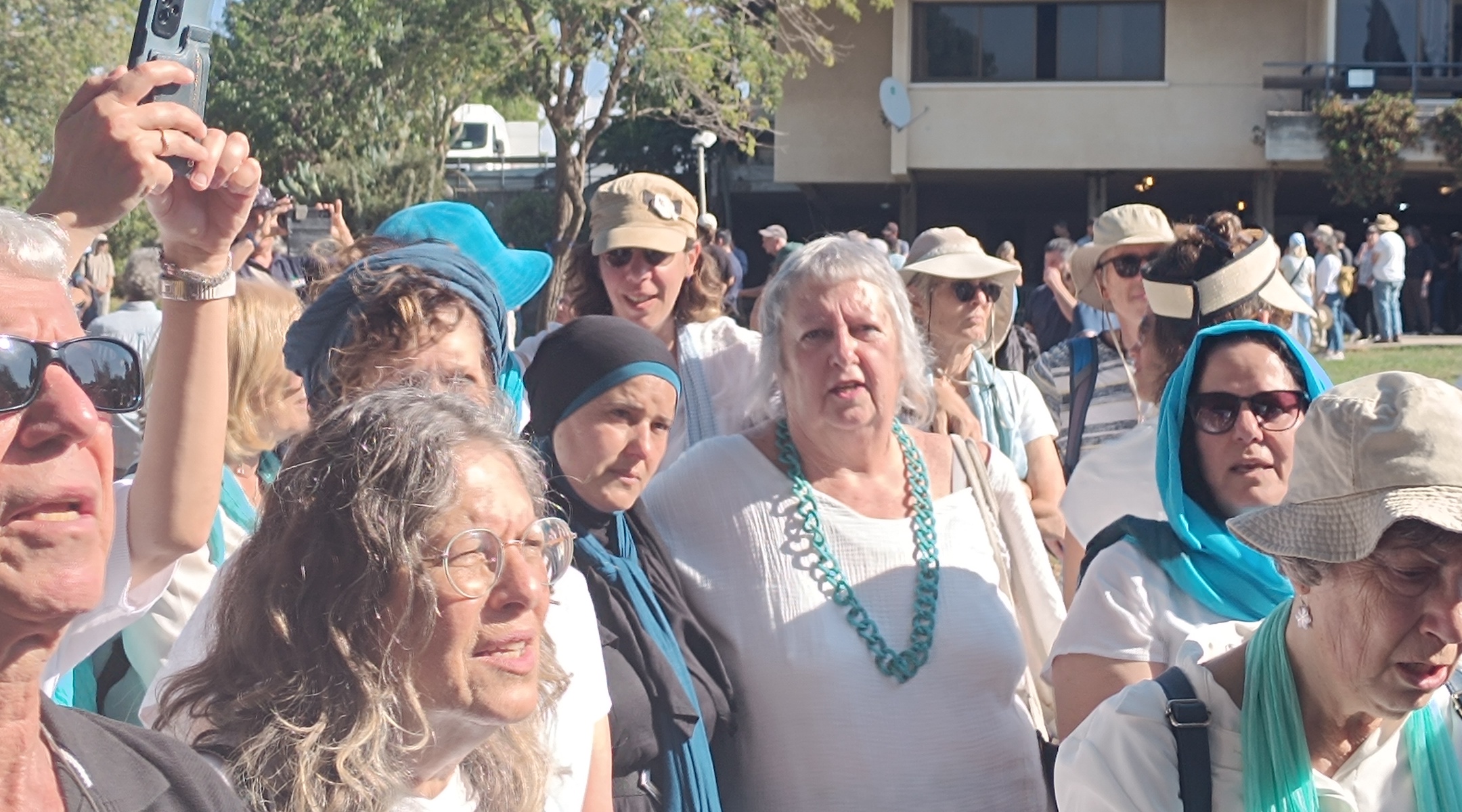 'Hamas did not murder your vision': At memorial service for Vivian Silver, grief and a determination to pursue peace
KIBBUTZ GEZER, Israel ((JEWISH REVIEW)) — As she eulogized Vivian Silver, her friend and longtime fellow activist, Ghadir Hani said, "Vivian, my beloved, if you could hear, I would want you to know: Hamas did not murder your vision."
Hani, who is from Hura, a Bedouin town in southern Israel, was one of several speakers at a "parting ceremony" for Silver, the Canadian-Israeli peace activist who was killed by Hamas in its invasion of Israel on Oct. 7. Many in the mixed crowd of Jewish and Palestinian women at the ceremony held each other in tears, and a friend of Silver's from Gaza sent a written note.
Silver was previously presumed to have been held hostage, and confirmation of her death in the massacre at Kibbutz Be'eri came earlier this week. Before moving to Be'eri in 1990, Silver had lived at Gezer, in central Israel, for more than a decade.
Cars lined the road for several kilometers outside of the kibbutz, and the large crowd included current and former Israeli lawmakers, Reform and Orthodox Jewish leaders, international and local media and activists wearing shirts bearing the names of left-wing organizations including the one she co-founded, Women Wage Peace.
"It is impossible to destroy humanity, solidarity, the wish for a safe future," Hani said in her eulogy.
Arab-Israeli Knesset member Ayman Odeh, who leads the Hadash Party, described Silver in remarks to journalists as "the shining light of our community" and lamented that "instead of dancing together after achieving peace, she became a victim in the most horrible way."
Dov Khenin, a longtime Knesset member from Hadash and later the Joint List, told the Jewish Telegraphic Agency that his "heart is broken" and that Vivian "was optimistic, very smiley and personable" while working together with him on many campaigns promoting Jewish-Arab partnership.
Many speakers from diverse backgrounds described their immense pain at Silver's death, and determination to pursue the causes to which she was devoted: peace and feminist activism.
"We promise you Vivian, we will continue your path even stronger and braver, since now it is clear where the path leads to that is not the 'way of peace,'" said Avital Brown of Women Wage Peace. Brown promised to "continue to work with our Palestinian partners and the global community of women. "
After the final speaker, members of Women Wage Peace, all wearing light blue scarves, gathered  in a circle, singing Israeli folk songs and concluding with "We shall overcome."
"You taught us the most important lesson: to be human, to see the other, the weak, the one whose voice is not heard," said Hani, who discussed the difficulty of saying goodbye to Silver during wartime.
"I wait here without words," she said. "We are all in shock. What would you tell us to do now? How can we continue from here?"