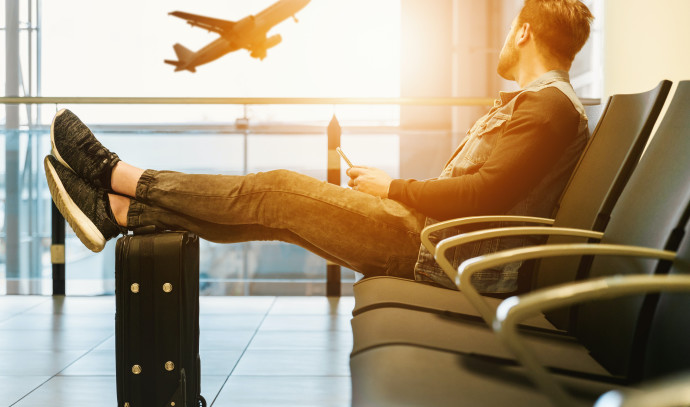 How are Europeans traveling cheaper this year?
As the days get warmer and summer vacation gets closer, here are some interesting facts about travel that you may not have known.
First, about 72% of Europeans plan to travel between the months of April and September this year. And while leisure remains the main reason for travel (69%), there's been a decrease of 7% compared to 2022. 
This decrease probably reflects a slowdown in the feeling of desperation that caused many people to flee the confinement they experienced during the Covid-19 lockdowns.
Meanwhile, business trips registered an annual increase of 3% and now account for 8% of all trips total.
An increase in the cost of food, flights and hotels due to inflation, as well as the ongoing war in Ukraine, and concerns about extreme weather conditions such as heatwaves are serious issues that impact the choices Europeans are making regarding their travel destinations in the spring and summer of 2023.
These and many other insights emerged from a recent study on the travel preferences of Europeans carried out by the European Travel Commission (ETC).
Luís Araújo, ETC president stated that: "We're excited to prove that despite financial concerns and high travel costs, Europeans are still eager to go on vacation."It's also encouraging to know that more and more travelers are choosing to go on their summer vacations outside the peak of the tourist season, in order to avoid the overcrowding and high prices that come with it. This positive trend supports sustainable tourism by spreading the number of vacationers more evenly. 
The ETC advises both tourist destinations and businesses to follow these trends closely to meet the evolving needs of travelers.
Yes for summer vacation, no for the peak of the season
Research also shows that this year, more Europeans are planning to go on their vacations in the spring and early summer.
Almost 30% of travelers said that they intend to go on vacation between the months of April and May, which is an increase of 6% compared to 2022. Also, 40% of those surveyed are considering traveling in early to mid-summer (June to July).In contrast, only 23% expect to go on trips during the months of August and September, a significant decrease of 9% compared to last year. This change in seasonal travel patterns may reflect a growing desire to avoid both overcrowding at popular destinations and heat waves.Moreover, it seems that many Europeans are even planning several trips between April and September 2023.
Data shows that 59% of respondents will go on more than one trip in the coming months, with 35% planning to travel twice and 24% three or more times.
In comparison, only 31% of those surveyed in the new study stated that they would go on vacation just one time during that period. Note that "vacation" also refers to staying somewhere for just one night.
Also, the study shows that Europeans over age 25 show considerable enthusiasm for going on vacation (74%). This trend can be attributed to their relatively high disposable income, which makes them less affected by the current economic situation. Yet "Generation Z" (ages 18-24) is still reluctant to plan their upcoming vacations (61%).
Extreme weather added to the equation
The study examined, among other things, the various concerns that travelers take into account when planning their vacations. The increase in vacation costs due to inflation remains the biggest concern of Europeans (23%), and this is paired with personal financial difficulties (17%).
This figure may perhaps explain why 51% of Europeans have already made partial or full reservations for their next trip, an increase of 8% compared to last year in order to guarantee themselves lower prices.
Research shows that pleasant weather conditions (18%) are the strongest factor when choosing a destination, followed by finding good deals at an affordable price (17%),  avoiding overcrowding (11%) and welcoming local communities (10%). 
However, 7% of travelers in Europe stated that extreme weather events are a significant concern for them.
The ongoing war in Ukraine also remains another source of concern for 12% of people surveyed, especially among respondents from Switzerland, Poland, Austria, Italy and the Netherlands.
It appears that as the conflict continues, it will continue to influence travel-related decisions for around half of Europeans.
More money, same time
While it seems that many travelers are willing to change their vacation dates to slightly reduce their financial concerns, findings show that they're not willing to "sacrifice" the length of their vacations. 
The figures from last year still remain steady this year, with a trip of four to six nights still considered the most popular choice among Europeans (35%), and another 22% plan to travel for more than ten nights.
Travel Daily News reported that in response to the increase in holiday prices, 37% of Europeans are now allocating larger budgets of more than €1500 per person per holiday, an increase of 7% compared to 2022.  And 19% of travelers expect to spend more money on their upcoming trips than they did in previous years.
Finally, respondents were asked about their favorite travel destinations in Europe. France and Spain remained tied for first place in terms of popularity (each with 8%), followed by Italy (7%), Greece (6%) and Germany (5%).