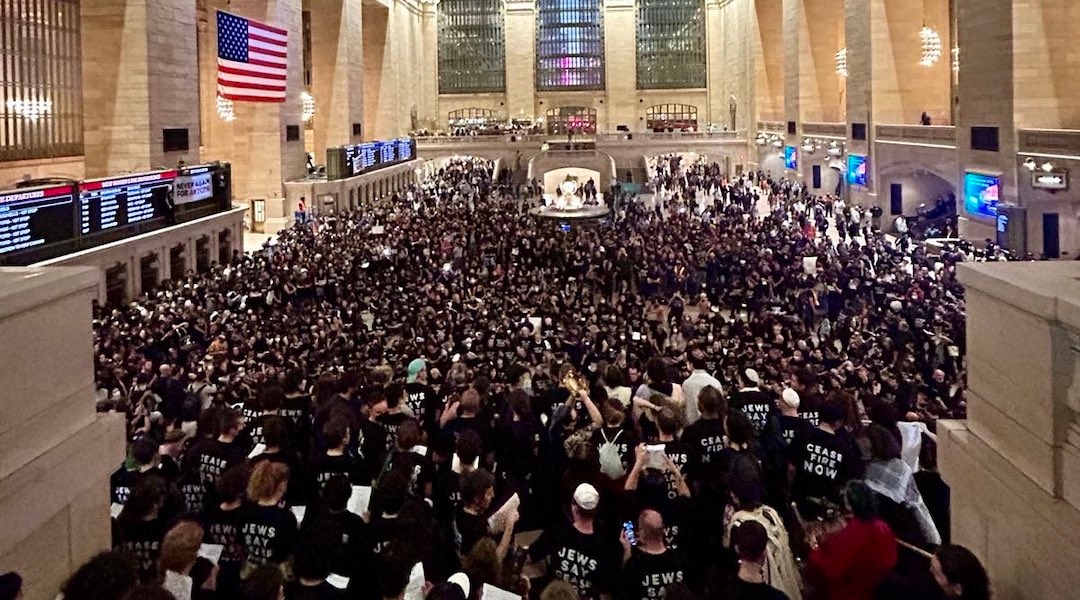 Hundreds arrested at NYC's Grand Central as pro-Palestinian rallies take place across the globe
(New York Jewish Week) — Hundreds of protesters were arrested as they crowded Grand Central Station in New York City on Friday afternoon for a rally sponsored by a Jewish group calling for a ceasefire in Gaza.
The rally came a day ahead of a series of other pro-Palestinian rallies worldwide. It was organized by Jewish Voice for Peace, an anti-Zionist group that has accused Israel of genocide and blamed its policies for Hamas' massacre of Israel on Oct. 7, which killed and wounded thousands.
While the protest on Friday inconvenienced rush-hour travelers, it did not delay any trains, according to The New York Times. The rally came after an Oct. 18 rally co-organized by the group brought thousands to Washington, D.C., to call for a ceasefire.
Israel and the United States, as well as most U.S. Jewish organizations, have rejected the idea of a ceasefire because it would leave Hamas, which the U.S. designates as a terror group, in control of Gaza. Israel's military expanded ground operations in Gaza over the weekend, and is waging war on Hamas with the stated aim of dismantling the terror group.
The rally came ahead of a series of pro-Palestinian rallies across the globe. Thousands gathered in cities such as Istanbul, Rome, Kuala Lumpur and London, as well as New York City. The biggest demonstration, in London, drew an estimated 50,000 to 70,000 people, according to Reuters. Video of the event shows that it featured chants of "Intifada until victory," a reference to a violent Palestinian uprising two decades ago that killed an estimated 1,000 Israelis.
In New York, a Saturday rally by a pro-Palestinian group that likewise calls to "globalize the intifada" gathered on Eastern Parkway in Brooklyn, not far from Crown Heights, a neighborhood with a large Hasidic population. A local Jewish security group had advised residents to avoid the rally, but it proceeded in the opposite direction from Crown Heights, toward the Brooklyn Bridge.