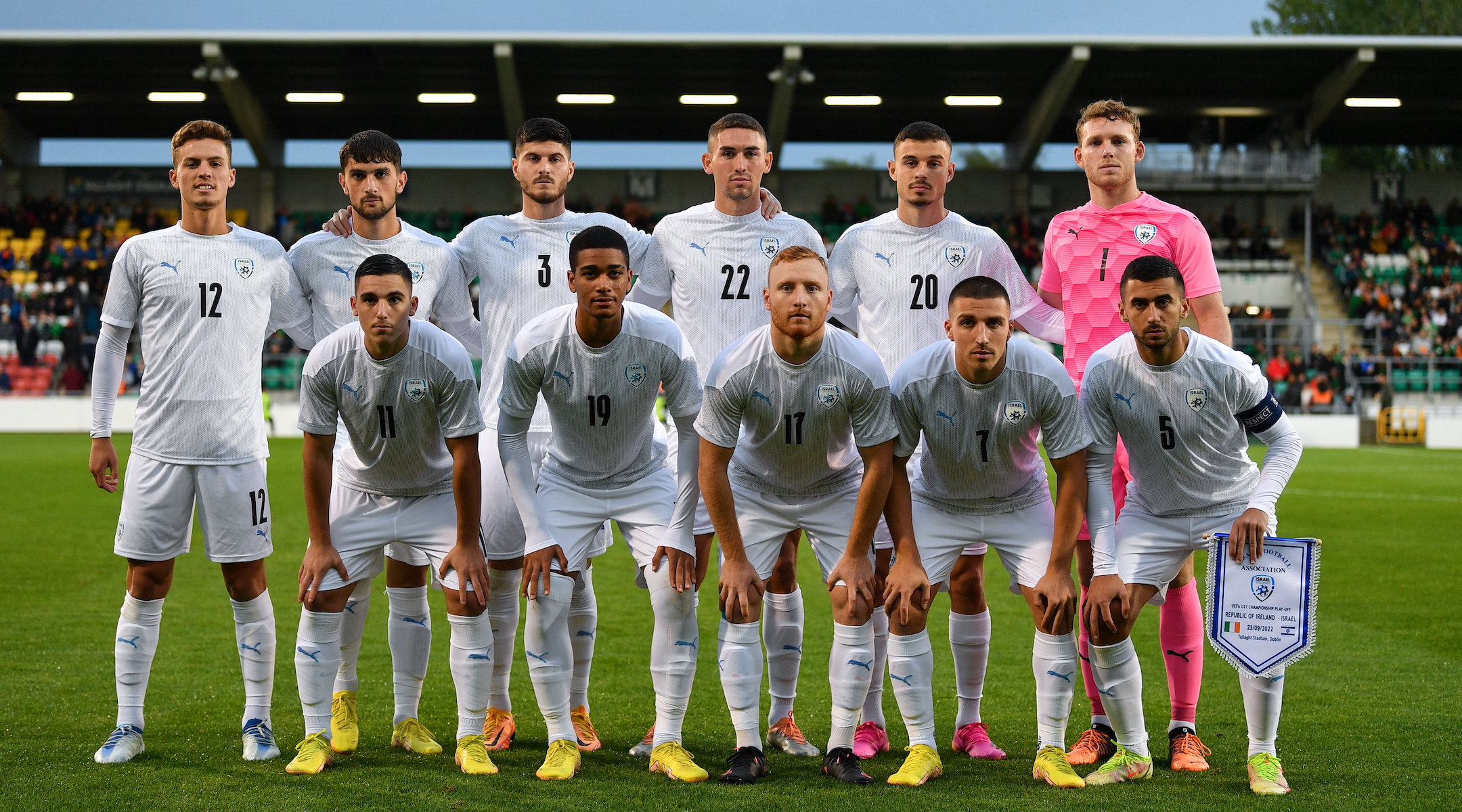 Israel looks to make history at under-20 men's World Cup
BUENOS AIRES (JR) — Israel's under-20 men's national soccer team has arrived in Argentina and is preparing for its first-ever appearance in FIFA's under-20 World Cup, which begins this weekend.
Israel has only made the general World Cup one time, in 1970.
"I'm 48, and coming to Argentina to play soccer was my dream since I was 10 years old," said manager Ofir Haim, a former professional player, referencing the level of play in the country that won the most recent World Cup last year.
On Monday afternoon, the team received a warm welcome upon arriving at a hotel in Buenos Aires. Around 80 members of the local Jewish community joined the team at a two-hour event that included speeches and an introductory video. An organizer said it sold out in person within five minutes.
But at the same time as the welcome event, around 10 blocks away, a group of demonstrators participated in a protest commemorating the Nakba, the term meaning "catastrophe" that Palestinians use to describe their displacement during and after Israel's founding.
"The [Israeli] national soccer team is the most representative team in the country because it is composed of the diversity that comprises the state of Israel, a state of all of its citizens, regardless of religion or ethnicity," said Alejandro Mellincovsky, the director for Spanish-speaking countries at the World Zionist Organization, which organized Monday's welcome event. The Israeli team includes three Arab players.
The tournament was not originally slated to be played in Argentina. Former host country Indonesia objected to Israel's participation, arguing that it had agreed to host the tournament before knowing that Israel would qualify.
In response, FIFA, the global soccer organization that runs the World Cup and its accompanying tournaments, stripped Indonesia of its hosting rights in March.
"We knew that Indonesia would reject us, but we were confident to represent Israel with pride everywhere," Haim said to applause at Monday's event.
On the field, the squad will be eager to prove the surprise success that got them to the World Cup — a run to the finals of the UEFA under-19 European championship last year — was not a fluke. In the initial group stage, they will play Colombia on Sunday, May 21; Senegal on Wednesday, May 24; and Japan a week from this Saturday, May 27. The top two teams from each group advance to the next stage.
"We came here to win the trophy," midfielder El Yam Kancepolsky told the Jewish Telegraphic Agency.
Kancepolsky was born to a surfer father in Hawaii but raised in Israel, where his dad opened the country's first "surf center" (El Yam means "to the sea"). He will be one of the team's top players after it was announced that lead scorer and star Oscar Gloukh did not obtain permission to play in the tournament from his club team, Austria's Red Bull Salzburg. 
The only other player on the roster who currently plays on a European team is Tai Abed, who suits up for Dutch club PSV Eindhoven. (Rising Israeli star Manor Solomon, who plays in the English Premier League for Fulham, is 23.)
The team has the opportunity to make history: The only goal Israel scored in a major FIFA tournament was kicked by Mordechai "Motaleh" Spiegler against Sweden, in the Mexico 1970 World Cup. 
Israel was kicked out of the Asian Football Conference in 1974 and since 1994 has played in international tournaments through UEFA, the European soccer federation that offers more difficult competition.
Besides the general World Cup, which takes place every four years, and the U-20 World Cup, which takes place every two years, FIFA also holds an U-17 World Cup.
"I'm very proud to represent Israel in a World Cup, it is a huge dream," Kancepolsky said.