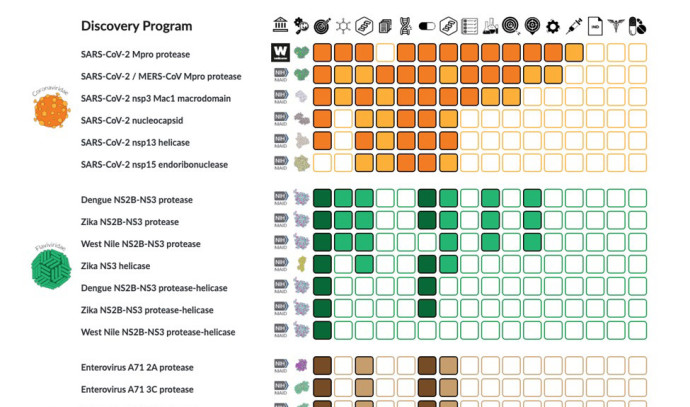 Israeli-American blueprint for future pandemic medications
Doctors and scientists who develop new drugs try to keep their discoveries to themselves until they prove efficacy in medical journals and obtain patents – but not always. 
An international crowdsourced campaign to discover an anti-COVID-19 drug has created a blueprint for the accelerated, patent-free development of drugs to treat viral threats to humanity. The results of the campaign, named "COVID Moonshot" have just been published today in the prestigious journal Science under the title "An open-access format for drug discovery is helping design medications against potential viral threats." 
"COVID-19 became a global pandemic partially as a result of the lack of easily deployable, broad-spectrum oral antivirals, which complicated its containment," they wrote. "Even endemically and with effective vaccinations, it will continue to cause acute disease, death, and long-term sequelae globally unless there are accessible treatments. COVID-19 is not an isolated event but [just] the latest example of a viral pandemic threat to human health. Therefore, antiviral discovery and development should be a key pillar of pandemic preparedness efforts."
The campaign produced more than 18,000 compound designs, 2,400 synthesized compounds, 500 3D structures obtained by X-ray crystallography, and more than 10,000 measurements from biochemical assays. 
It was co-led by Prof. Nir London of the Weizmann Institute of Science in Rehovot and researchers from the University of Oxford, Memorial Sloan Kettering Cancer Center and the US-based biotech company PostEra. 
According to the authors, all this information was "shared rapidly and openly, creating a rich, open and intellectual property-free knowledge base for future anti-coronavirus drug discovery." The report provides detailed information on one compound in particular that holds especially great promise for blocking the replication of COVID-19 and doing so in ways that differ from those of existing drugs.
The idea is that pharmaceutical companies can later develop this or other compounds into generic drugs that are not covered by a patent so they are sold at much lower prices than branded ones. This would make anti-COVID-19 medications more accessible to low-income countries and populations. In the early years of the pandemic, many developing countries were unable to purchase the Pfizer, Moderna and other vaccines for their citizens because they couldn't afford them. 
Drugs for Neglected Diseases initiative
The international nonprofit organization Drugs for Neglected Diseases Initiative (DNDi) that focuses on aiding poor and vulnerable communities has adopted the COVID Moonshot project into its drug- development portfolio.
While engaged in the race to discover effective antiviral drugs during the coronavirus pandemic, London and his international colleagues made an unusual move. They decided to allow fully open access to their drug search findings, posting them online in real time so that the entire scientific community could use them. "At the time of a global crisis, it seemed like the obvious thing to do," London recalls. 
He was collaborating at the time with researchers from the University of Oxford and the UK's national synchrotron Diamond Light Source, who had solved the 3D structure of a key COVID-19 protein. This protein, called the main protease, is crucial to the virus's replication. 
London was working with the British scientists on finding a molecule that would block this enzyme: His lab in Weizmann's chemical and structural biology department develops technologies for speeding up the discovery of new drugs, particularly small molecules that block certain types of protein activity. In this joint project, the scientists found some 80 compounds that could potentially serve as starting points for the development of antiviral drugs. They then teamed up with PostEra, using that company's machine learning tools to identify the most promising of these compounds and to look for new ones. 
When the collaborators decided to make their preliminary results public, London posted a message on Twitter (now X), inviting medicinal chemists and computer-aided drug design experts worldwide to suggest how the original compounds could be improved. The appeal was retweeted hundreds of times, and within the first week alone, the team received more than 2,000 submissions. "Many scientists were in lockdown, and they were only too happy to enlist in a worthy cause," London recalled. "That was when I realized that 'science for the future of humanity' is not only a Weizmann Institute tagline – it's become a reality."
With these designs, the collaboration expanded. A volunteer team of medicinal chemists, most of them formerly engaged in the pharmaceutical industry – eventually led by Dr. Ed Griffen of the UK-based biotech company MedChemica – triaged the compounds and continued to design new ones; a team from New York's Memorial Sloan Kettering Cancer Center led the computational evaluation of the submissions; and crucially, a company in Ukraine, Enamine, agreed to synthesize the compounds predicted to be most effective against COVID-19 almost at cost. 
Packages with these molecules started arriving at Weizmann on a weekly basis. London took them to the Nancy and Stephen Grand Israel National Center for Personalized Medicine on the Rehovot campus where high-throughput biochemical assays were applied to test the biological activity of the compounds. The results were posted online and numerous researchers suggested further improvements; the improved molecules were again synthesized and tested. The optimization progressed in this manner for more than 50 iterations.
The initial collaboration ultimately grew into a much larger campaign with numerous participants, the COVID Moonshot Consortium, and it received $10 million in funding from the UK's Wellcome Trust. The researchers donated their time, ideas and resources, and all the resulting data were made immediately available without intellectual property restrictions, so that no one had the commercial rights to the results. 
In what the report calls "a notable example for the impact of open science," the campaign has already helped create a brand-name medication. The anti-COVID-19 drug Xocova (ensitrelvir), which received emergency approval in Japan in 2022, was developed in part on the basis of crystallographic data from the Covid Moonshot Consortium.
In broader terms, the consortium has created a basis for speeding up the search for drugs against a wide variety of viruses through open science. The group's leaders have founded an antiviral drug discovery center, which recently received initial funding of $68 million from the US National Institutes of Health. The center will identify compounds that can be developed into drugs for three large families of viruses – coronaviruses, picornaviruses and flaviviruses – that threaten to cause future pandemics. The latter family, for example, includes the Zika virus, which can lead to severe birth defects if passed on from a pregnant woman to her baby. 
"The COVID Moonshot has shown that open science offers an effective alternative model for drug discovery," London asserted. "By building on the strength of numerous contributors and removing intellectual property barriers and red tape, it can tremendously speed up the development of drugs that are urgently needed to avert global threats."