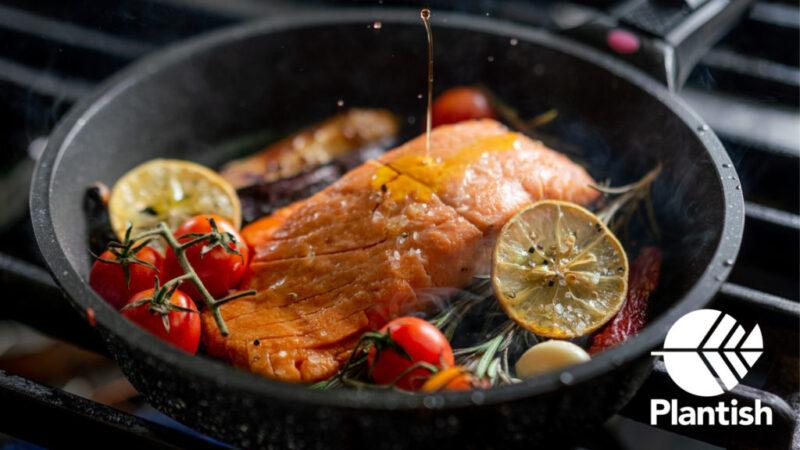 Israeli startup Planfish reveals: First printed Salmon Fillet
Little has been released until now since Israeli foodtech startup Planfish was founded in March 2021. Today, the company introduces the first printing plant-based salmon that replicates the sea fish fillet.
The product, which is protected by a patent-pending manufacturing process, is made from legume proteins and algae extracts and contains the same amount of omega fats, and B vitamins as ordinary salmon – one of the world's most popular fish. It is boneless, but has a discernible structure and resembles actual salmon. However, it does not however contain any of the pollutants that are regularly detected in conventional fillets, including mercury, hormones, microplastics, and antibiotics.
The company was founded by CEO Ofek Ron, and CSO Dr. Ron Sicsic with the help of Dr. Ariel Szklanny, and Dr. Hila Elimelech.
In April 2021, one month after it was founded, the company has raised $2 million pre-seed from six investors including Sustainable Ocean Alliance, VegInvest, TechAviv Founder Partners, Gil Hirsch, and Beni Nofech.
Plantish's initial product is salmon, the company already planning to expand into other types of fish and even seafood such as shrimp and calamari.
Other fish substitutes such as Wanda Fish, Sea2Cell, and Forsea opt for a minced appearance. They all manufacture lab-cultured fish products by sampling numerous animal cells and developing them in the laboratory. Plantish stands out by capturing the whole cut of fish. According to the company, 80 percent of people consume fish as an entire piece or fillet.
Plantish salmon can be cooked identically to conventional salmon. Consumer interactions are planned for late 2022. A full commercial launch is currently planned for 2024.