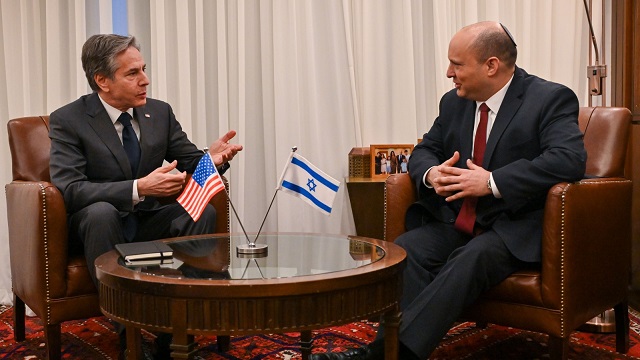 Naftali Bennett Meets with US Secretary of State Ahead of Historic 6 Nation Summit
Prime Minister of Israel Naftali Bennett met on Sunday with the American Secretary of State Antony Blinken ahead of the historic "Negev Summit set to begin Sunday evening in Israel.
Israel's Minister of Foreign Affairs Yair Lapid will host the US Secretary of State and the foreign ministers of 4 different Arab nations – the United Arab Emirates (UAE), Bahrain, Morocco, and Egypt – at The Negev Summit' which will take place in Sde Boker in the Negev desert, from Sunday through Monday morning. Sde Boker was famously the home of Israel's first Prime Minister David Ben-Gurion after he left office. The guests are expected to visit his grave.
"The Middle East is changing, and it is changing for the better," Bennett said in a statement about his meeting with Blinken. "We cultivate old connections and build new bridges. We renew the old peace and recharge it with the new energy of the Abrahamic Covenants. We work together to overcome the old forces of darkness, to build a new future that is better, more radiant and incredibly promising."
Bennett and Blinken discussed the situation in the Middle East and the warming in relations between Israel and the countries of the region, particularly the strengthening of the Abraham Accords and taking them to the next stage by adding economic, cultural and security content.
The Prime Minister and the Secretary of State also discussed Iranian aggression in the region such as was expressed over the weekend in the Houthi attack on Saudi Arabia.
Prime Minister Bennett reiterated the Israeli position on the Vienna talks and the nuclear agreement and emphasized Israel's opposition to removing the IRGC from the list of terrorist organizations (the FTO).
Prime Minister Bennett expressed his appreciation, and conveyed his gratitude to US President Joe Biden, for the American support for the Iron Dome system, as the President promised in his meeting with the Prime Minister last August.