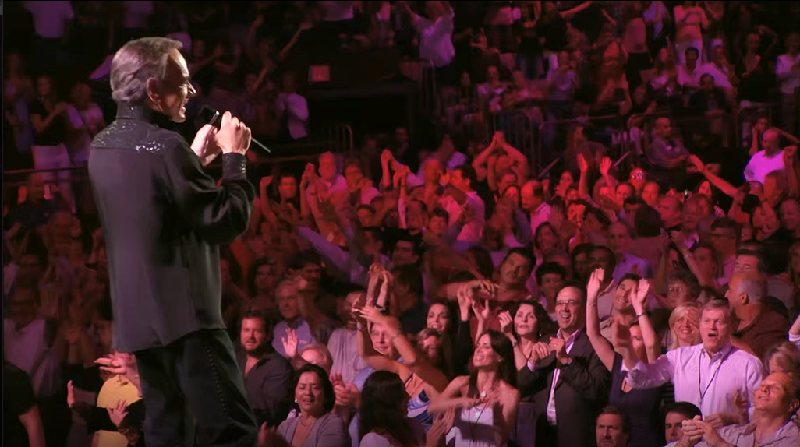 Neil Diamond sells complete song catalog to universal
After serving as Neil Diamond's publishing administrator since 2014, Universal Music Group announced today that it has purchased the full song library and recording rights of famous performer and composer Neil Diamond.
UMG hasn't disclosed the price of the deal. Diamond has sold more than 130 million albums over the last half-century, putting about 70 songs onto the Billboard charts.
The deal contains chart-topping singles Sweet Caroline, Red Red Wine, Solitary Man, Cracklin' Rosie, Song Sung Blue, Love on the Rocks, and America, as well as 110 previously unheard recordings, an unreleased album, and archival long-form videos.
UMG's latest catalog deal comes less than two weeks after Sting sold his entire song library to Universal's publishing company UMPG in a deal valued at more than $300 million, according to MBW, citing source from the industry.
UMG's agreement with Diamond cements a professional homecoming, reuniting his early Bang recordings and post-1972 recordings with those he recorded exclusively with UMG's MCA Records between 1968 and 1972, a period in which he created and released hits such as "Sweet Caroline," "Holly Holy," and the chart-toppers "Cracklin' Rosie" and "Song Sung Blue."
Since 2013, UMG and Diamond have collaborated on a profitable recording agreement and licensing agreements for non-MCA recordings via its Capitol Music Group branch and Universal Music Enterprises (UMe), resulting in three albums.
UMG will also record and release Diamond's future songs, should he decide to return to the studio, under the terms of the new arrangement, which includes previously unheard tracks.
In making the announcement, Neil Diamond said: "After nearly a decade in business with UMG, I am thankful for the trust and respect that we have built together and I feel confident in the knowledge that Lucian, Jody, Bruce, Michelle, and the global team at UMG, will continue to represent my catalog and future releases with the same passion and integrity that have always fueled my career."
Sir Lucian Grainge, Chairman and CEO of Universal Music Group said: "Neil Diamond is by definition, a truly universal songwriter. His immense songbook and recordings encompass some of the most cherished and enduring songs in music history. Through our existing partnership, we are honored to have earned his trust to become the permanent custodians of his monumental musical legacy."
Jody Gerson, UMPG Chairman and CEO, said: "A legendary artist and songwriter, Neil's music exemplifies how truly great songs have lasting power and stand the test of time. With this acquisition, which UMPG COO Marc Cimino played an invaluable part in, our global teams across all of Universal Music will work together to ensure that all of his timeless hits like 'Sweet Caroline,' 'Red Red Wine' and 'Cracklin' Rosie' will continue to impact generations of fans, both existing and those to come."
Speaking on the announcement, Bruce Resnikoff, President and CEO, Universal Music Enterprises (UMe), and Michelle Jubelirer, Chair and CEO, Capitol Music Group, jointly stated, "Over his meteoric career, Neil Diamond created one of the greatest recording catalogues in pop music history. To be able to represent it in its entirety is both an honor and a thrill, and the entire Universal Music team looks forward to upholding his iconic legacy."
Diamond, a Brooklyn native, was motivated to pursue a career as a musician while still a teenager after seeing Pete Seeger play at his summer camp and seeing fellow campers share their own music with the renowned folk performer. Diamond eventually dropped out of New York University to follow his creative goal full-time, only to face many extremely difficult years as a freelance songwriter, frequently subsisting on hot dogs and hard candy.
Diamond ultimately got through when he abandoned composing for others and began experimenting with songs about his own experiences and emotions. His ideas and authentic voice eventually spawned a global career that influenced not only millions of admirers but also some of the world's most accomplished performers.
Diamond's songs have been covered by Johnny Cash as "Solitary Man," UB40 as "Red Red Wine," Frank Sinatra as "Sweet Caroline," Andrea Bocelli as "September Morn," The Monkees as "I'm A Believer," and Barbra Streisand as "You Don't Bring Me Flowers" – the latter of whom was Diamond's classmate at Brooklyn's Erasmus Hall High School.
His music has been featured on the soundtracks of some of the most popular films and television series of all time, ranging from The Simpsons, Friends, Mr. Robot, and The Big Bang Theory to Donnie Brasco, Once Upon A Time In Hollywood, and Urge Overkill's scene-stealing rendition of Tarantino's Pulp Fiction's "Girl You'll Be A Woman Soon," as well as his own starring role in 1980's The Jazz Singer.
In further ways, Diamond's work has become ingrained in the fabric of American popular culture. "Sweet Caroline" is one of a handful of pop songs that motivate fans of all talents (or none at all) to sing along uninhibitedly, like Red Sox fans do during the seventh inning stretch at Fenway Park in Boston. Perhaps it is natural that "Sweet Caroline" has become synonymous with America's pastime, as Diamond's own tale – one of aspiration, determination, and the sweetness of accomplishment – is truly American. However, his influence extends well beyond America, with the song being sung on soccer terraces in the United Kingdom by supporters of the English national team, at ice hockey games in Canada, and by WBC World Heavyweight boxing champion Tyson Fury serenading the crowd at Las Vegas's MGM Grand Garden arena following his knockout victory over Deontay Wilder.
Among Diamond's numerous honors are a Grammy, a Golden Globe, Kennedy Center Honors, an ASCAP Film and Television Music Award, as well as entry into the Songwriters Hall of Fame and the Rock & Roll Hall of Fame. These accomplishments demonstrate Diamond's unwavering commitment to his art and his songs' enduring appeal to hope.
UMG is committed that new and increasing audiences will remember this peerless performer and his music for centuries to come by acquiring Diamond's full library, all masters, and unpublished live film – and by collaborating with the artist on a continuing basis.
Gene Salomon of Gang, Tyre, Ramer, Brown & Passman, Inc. and Neil Diamond's manager Katie Diamond represented Neil Diamond in the sale.