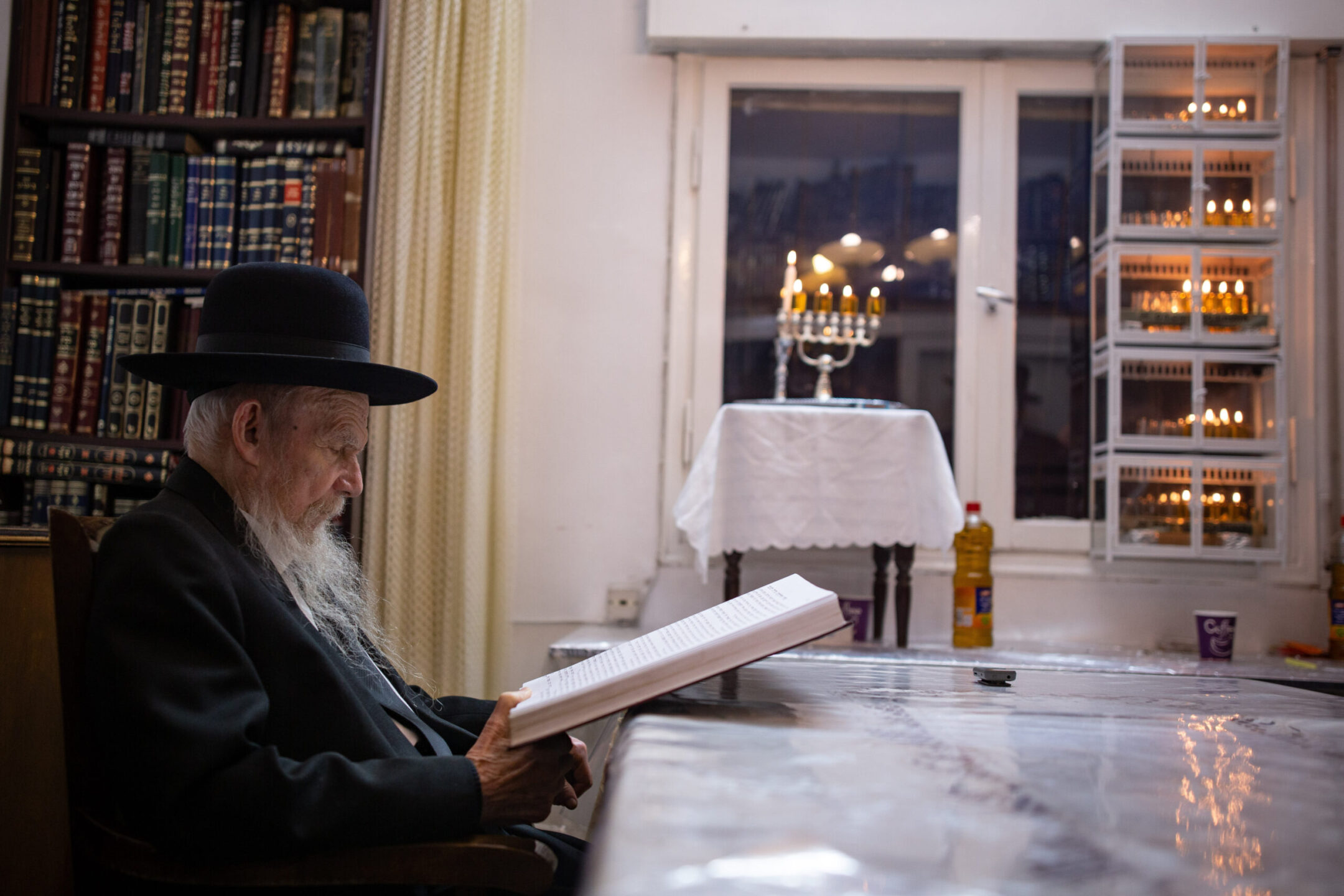 Rabbi Gershon Edelstein, revered haredi leader in Israel, dies at 100
((JEWISH REVIEW)) — Hundreds of thousands of mourners crowded into Bnei Brak Tuesday for the funeral of Rabbi Gershon Edelstein, head of the Lithuanian Ponevezh Yeshiva and one of the most influential religious leaders in Israel.
In addition to running the yeshiva, one of the most prestigious in the haredi Orthodox world, for more than two decades, Edelstein was the spiritual leader of Degel HaTorah, a faction of Israel's United Torah Judaism political party that played a key role in the formation of the current government.
In the last year of his life, after the death of Rabbi Chaim Kanievsky at 94, Edelstein was awarded the title of "gadol hador," or "greatest of the generation." He had succeeded Kanievsky as the leader of Israel's non-Hasidic haredi community, and his death is seen as leaving that community without a clear leader for the first time.
Edelstein was considered somewhat moderate for his approach toward interacting with the secular Israeli world while still remaining attuned to the needs of his devout community, where he was revered for his humane approach to teaching.
"Rabbi Edelstein was a spiritual leader of enormous stature whose greatness in Torah and devout greatness influenced our generation and will influence generations to come," Israeli President Isaac Herzog said in a statement on Twitter. "This is a great loss to the yeshiva world and the entire nation of Israel."
Born to a family of rabbis near Smolensk in the Soviet Union, Edelstein and his father and brothers immigrated to Palestine in 1934. Edelstein eventually settled in Bnei Brak, where in 1943, he became one of the first students of the Ponevezh Yeshiva when it was reestablished there after shuttering in Nazi-occupied Lithuania. He married Henya Rachel Diskin in 1947, the same year he took a top position at the yeshiva. In the 1990s, a disagreement between two leaders at the yeshiva led to a schism, and Edelstein became the top leader of one of the factions. (Both groups still meet in the same building.) He stayed in that role until his death, reportedly continuing to teach until this week despite having been hospitalized.
Edelstein advocated for Orthodox families to maintain ties with children who became secular, and attributed the non-observance of Jewish law by secular Jews to ignorance rather than the wickedness cited by more extremist haredi leaders. He also embraced Orthodox Israelis who chose to serve in the army, in an apparent rejection of the stance of some haredi leaders who characterize those who choose army service as rejecting Torah study.
Also unlike some other haredi leaders, Edelstein advocated caution during the COVID-19 pandemic. During the first round of High Holidays during the pandemic, Edelstein pushed for outdoor prayer quorums that maintained social distancing or indoor prayers in a well-ventilated area, both with congregants wearing masks. When the COVID-19 vaccines were produced, Edelstein also recommended that everyone 12 years and older get vaccinated.
He had a heavily regimented daily schedule, waking up at 5:30 a.m. to make it in time to pray morning services by 7 a.m., with a full day of teaching, learning and praying until midnight. According to a 2017 profile in Israel HaYom, he also adhered to the so-called "Rambam diet" (named for the medieval Jewish philosopher Maimonides) and ate vegetables, cheese and half a slice of whole-grain bread in the morning and in the evening. While he would eat a cooked lunch, the profile explained, he had not eaten sweets in 80 years.
From his perch at the top of the yeshiva, Edelstein also served as president of the Council of Yeshivas, an organization that supports yeshivas in Eastern Europe.
In his capacity as a spiritual advisor of the Degel HaTorah party, Edelstein is most recently known for demanding that the Belz Hasidic sect drop an agreement with the education ministry to teach more secular studies in exchange for increased government funding. His success in pressing the group to drop the demand preserved the United Torah Judaism ticket of religious parties, allowing the bloc to help Prime Minister Benjamin Netanyahu to form a government last year.
He also drew widespread attention in 2021 after the suicide of haredi children's book author and alleged serial sexual abuser Chaim Walder, when Edelstein claimed that Walder's victims who spoke up about his abuse were responsible for his death.
"It is clear that the great pressure he was under led him to lose his sanity and kill himself. This is called murder," Edelstein said.
Edelstein's wife Henya died in 2001. Among his survivors are sons who are rabbis in Israel, at least one of whom spoke at his funeral.
"Our father did not want to pressure us, or anyone else, into devoutness," Rabbi Tzvi Yehuda Edelstein said during a eulogy, according to Israeli media. "Make no mistake: He wanted us to be devout, but from within, not from without."