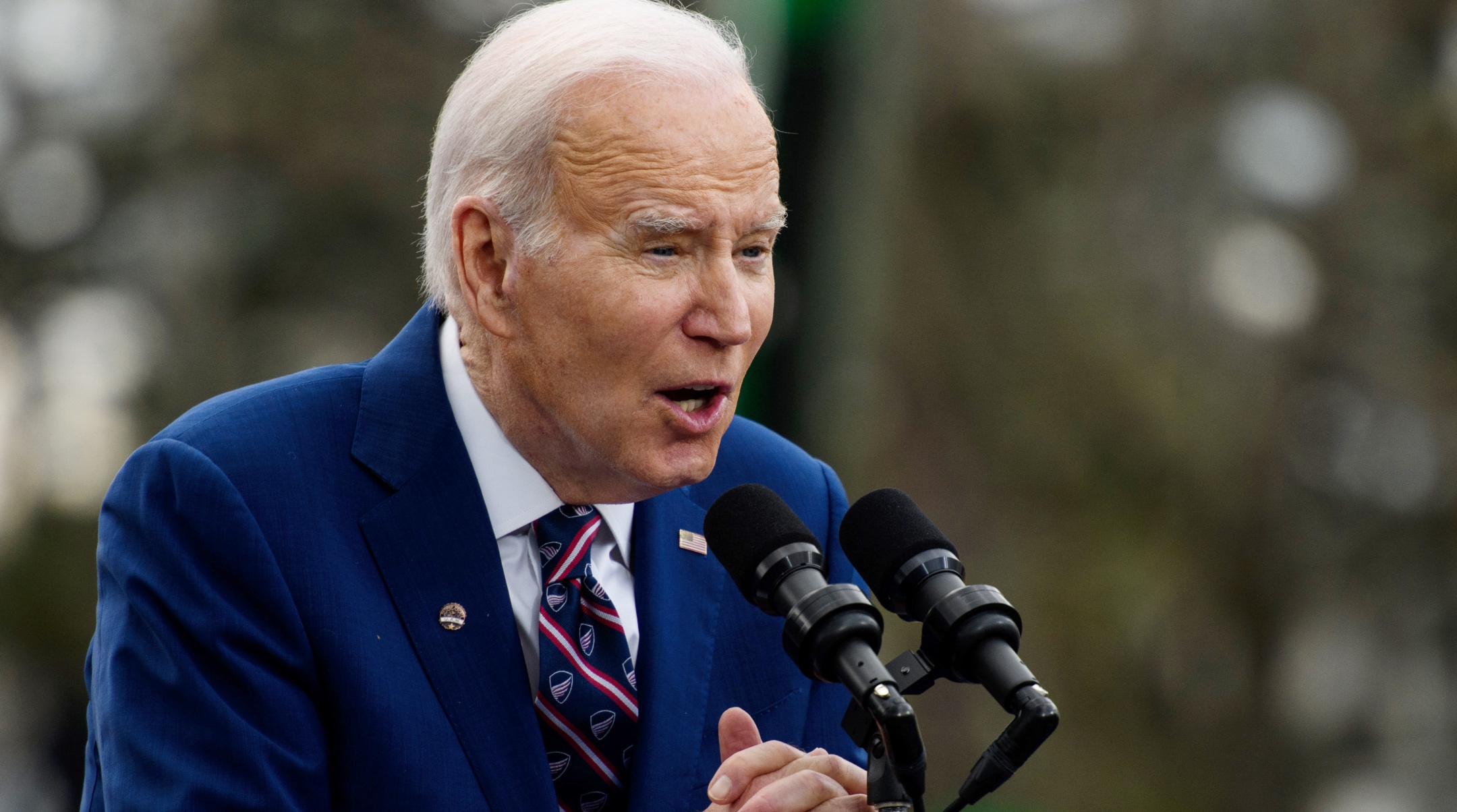 Survey: Jewish voters strongly favor Biden over Trump in possible 2024 rematch
WASHINGTON ((JEWISH REVIEW)) —Jewish voters would favor Joe Biden over Donald Trump by 50 percentage points in a 2024 general election matchup, according to a survey released on Monday — a stark contrast from polls of the national electorate that predict a close race between the two leading candidates.
The survey of 800 registered Jewish voters, taken by the Jewish Electorate Institute, shows Biden leading Trump 72% to 22% among respondents. An NBC poll of registered voters nationally, released Sunday, gives Biden just a four-point lead over Trump, 49% to 45%.
The Jewish Electoral Institute, which is led by a board comprised mostly of Jewish Democrats, commissioned GBAO Strategies to run the survey, which took place from June 4-11. It had a margin of error of 3.5%.
If the two men do face each other in the general election more than a year from now, and the survey results bear out, the Jewish vote will fall roughly along the same lines as it has for decades, with a solid majority of Jews voting for the Democratic candidate. In 2020, surveys showed anywhere between 60% to 77% of Jews voting for Biden over Trump, and a 2016 survey found that 71% of Jews voted for Hillary Clinton.
Monday's survey comes as Trump is widening his lead over rivals in the Republican primaries, commanding a 51% to 22% advantage over his nearest challenger, Florida Gov. Ron DeSantis, according to the same NBC poll. Trump's lead is swelling as he has twice been indicted this year, most recently on federal charges stemming from his alleged mishandling of sensitive government documents. The Jewish survey did not match Biden, who will almost certainly be the Democratic nominee, against other Republicans.
The exception in Monday's poll was its small sampling of Orthodox Jews, who made up 9% of respondents; the vast majority said they supported Trump. Surveys of Orthodox Jews ahead of the 2020 election also found that a majority planned to vote for Trump.
Monday's survey found that 63% of Jews overall viewed Biden favorably, versus 33% who viewed him unfavorably. By contrast, only 19% and 21%, respectively, viewed Trump and DeSantis favorably. Jewish voters view Biden much more favorably than do Americans overall, fewer than 40% of whom have a favorable view of the president, according to the RealClearPolitics polling average.
In addition, the poll found that Jewish voters continue to be preoccupied with the same issues that animated them last September ahead of the midterm elections, according to polling then by the same organizations.
Asked to pick two issues that concerned them most out of a list of 10 topics, respondents ranked the same issues in the top five as they did nine months ago: 37% chose the future of democracy, 28% chose the economy, 26% chose abortion, 25% chose climate change and 24% chose guns. For Jewish voters under 40, climate change was the top issue, concerning 40% of respondents in that group.
Israel continued to rank low as one of the top issues concerning Jewish voters: Just 6% named it as a priority, in line with previous surveys.
But the survey found that that vast majority of Jewish voters, 72%, remained attached to Israel. And Jewish voters appeared to be aware of the news emerging from that country. More than 70% said they had heard "a lot" or "some" about the Israeli government's efforts to sap much of the power of the judiciary, which has sparked massive weekly street protests from opponents of the plan who say it endangers Israeli democracy.
Most respondents who had heard a lot, some, or not too much about the controversy agree with the protesters, the survey found. More than 60% of that group believes that the proposed judicial reforms would weaken Israeli democracy, while just 15% said they would strengthen Israeli democracy. Most Orthodox respondents fell into the latter group.
The survey also found that Israel's prime minister scored poorly among respondents: Just 28% viewed Benjamin Netanyahu favorably, while 62% viewed him unfavorably.