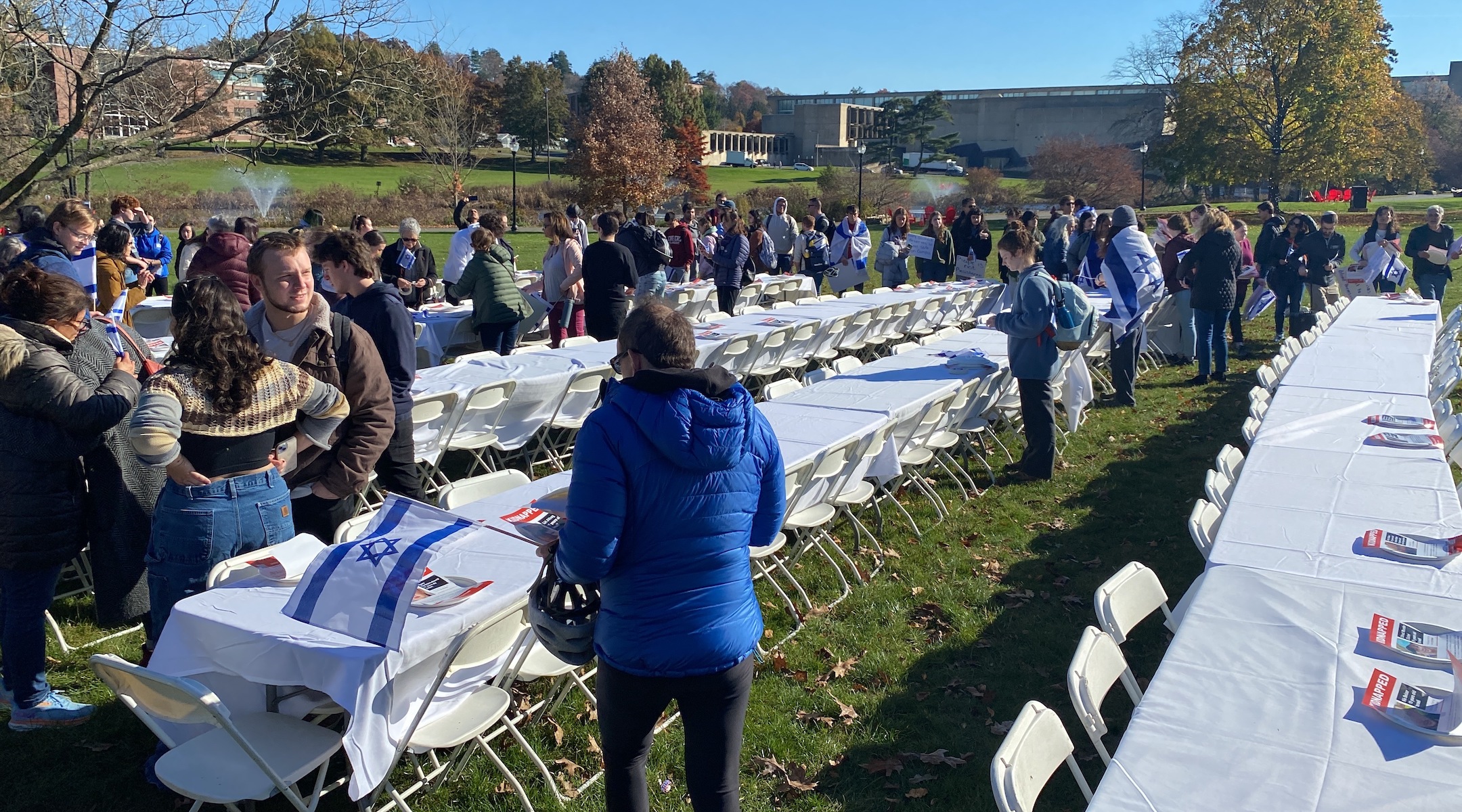 UMass student arrested for punching Jewish student at Hillel vigil
((JEWISH REVIEW)) – A student at the University of Massachusetts Amherst was arrested by university police Friday after punching a Jewish student and spitting on an Israeli flag during a vigil for hostages.
According to both the school's administration and the UMass Hillel, the attack occurred at a solidarity walk organized by the Hillel, which had set up empty Shabbat tables symbolizing the more than 200 Israeli hostages being held by Hamas in Gaza.
At first, the student in question was "aggressively giving people the middle finger," according to a "security message" posted by the Hillel on Sunday alerting people to the incident. After the event's conclusion, the message said, the same student returned, punched a Jewish student holding an Israeli flag and spat on the flag. A Hillel staff member intervened to "de-escalate the situation," and campus police arrested the perpetrator.
The UMass administration condemned the assailant's conduct as "reprehensible, illegal, and unacceptable" and said the student would be held both legally liable and subjected to the student code of conduct. The student has been released on bail and is prohibited from returning to campus. The administration added that the Jewish student who was assaulted had not been injured.
The incident is the latest example of campus antisemitism leading to a law enforcement response during the war between Israel and Hamas, which began on Oct. 7. Last week, a student at Rutgers University was charged with making online threats against an Israeli student who is a member of the Jewish fraternity AEPi, according to the local Patch news site. 
The UMass incident also comes less than a week after a student at Cornell University was arrested for making death threats toward the campus Jewish population, and weeks after a suspect was charged with hate crimes for attacking a Columbia University student.
In addition, over the past month, several university faculty nationwide have publicly praised Hamas' attack or taken aim at "Zionists," and student groups projected anti-Zionist messages onto a campus library at George Washington University. Some parents of Jewish college students have sought to mobilize around the issue, while some Jewish day schools have pressed universities to better guarantee their students' safety.
The current war began when the Hamas attacked Israel on Oct. 7, killing 1,400 and wounding thousands. Since then, Israel has counterattacked with airstrikes and a ground invasion of the Gaza Strip in which more than 10,000 people have been killed, according to the Hamas-run Health Ministry in Gaza. It is unclear how many of those casualties are civilians and how many have been killed by terror group's misfired rockets.
In a letter to the UMass campus community in the wake of the Friday incident, Shelly Perdomo-Ahmed, interim vice chancellor for student affairs and campus life, and Tyrone Parham, assistant vice chancellor and chief of police, wrote, "Antisemitism, Islamophobia, or any form of bigotry have no place in our community." 
"Let us be clear, these were the actions of an individual who did not speak for nor act on behalf of a group or anyone other than themselves," they added. "Peaceful advocacy and protest must and will be protected on our campus." 
Rabbi Aaron Fine, director of the UMass Hillel, did not return Jewish Telegraphic Agency requests for comment. Hillel's statement encouraged the campus community to continue to "model civility."
"We know this incident is disturbing to many of us, particularly during a time when tensions, emotion and concern are heightened on our campus," the message reads. "But we must not let the most extreme voices and actions create undue fear or dominate the campus climate."