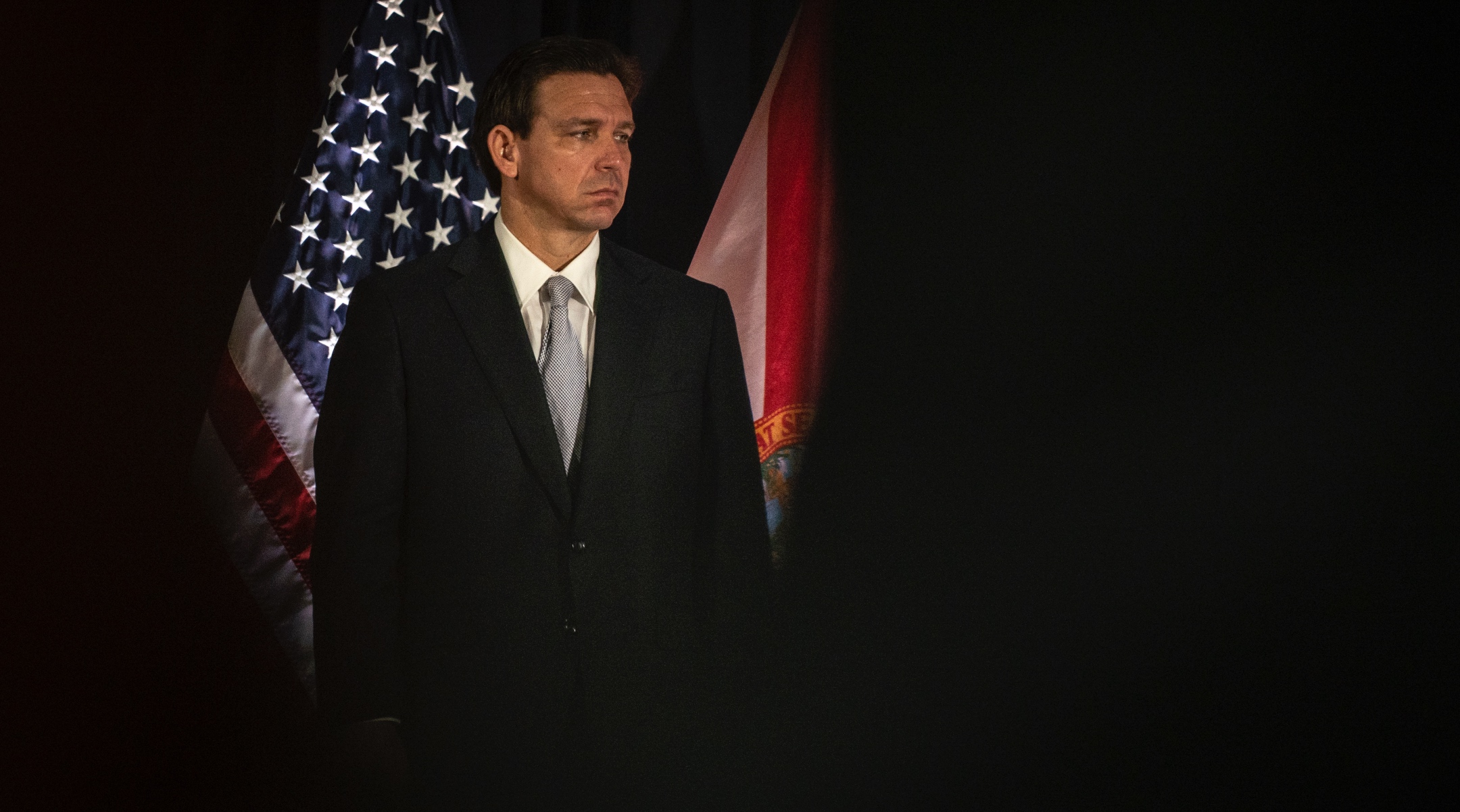 What Jewish voters need to know about Ron DeSantis, the Florida Republican running for president
((JEWISH REVIEW)) – In late April, Florida Gov. Ron DeSantis visited Jerusalem, voicing support for Israeli West Bank settlements, touting a law he had just signed giving families thousands of dollars per year in private school tuition vouchers and signing a bill that increased penalties for antisemitic harassment.
Two weeks later, his education department rejected two new textbooks on the Holocaust as part of a clampdown on what he has called "woke indoctrination."
Those two developments may anchor the Jewish arguments for and against DeSantis as he stands on the cusp of announcing a campaign for the Republican presidential nomination.
Supporters paint DeSantis, 44, as a steadfast ally of Israel who speaks to the pocketbook concerns of Jewish families. In the years since he became Florida's governor in 2019, the state has seen an influx of Orthodox Jews, drawn both by lax pandemic policies and the promise of discounted day school tuition.
But DeSantis' opponents portray him as a cultural reactionary whose anti-"woke" politics are inhibiting education on the Holocaust and antisemitism — along with teaching about race, gender and sexuality. He has repeatedly condemned George Soros, the progressive megadonor who is an avatar of right-wing antisemitic conspiracy theories. Surveys show that his near-total restriction of abortion rights is unpopular with Jews nationally.
And hanging over the campaign is the candidacy of former President Donald Trump, who is running for a second term, is leading in the polls — and shares much in common with DeSantis even as he has attacked him.
While DeSantis' allies have played up some of their differences (such as DeSantis' youth and military service), when it comes to their respective records on issues of interest to Jewish voters, Trump and DeSantis are less distinct.
Each has sought to cultivate Jewish support by focusing on Israel and erasing church-state separations that, Orthodox Jewish leaders argue, inhibit religious freedoms. And both have attracted white nationalist supporters while leaning into the culture wars.
DeSantis is set to officially announce his campaign in a chat with Elon Musk, who was just condemned by a wide range of Jewish figures (and defended by a handful of others) for tweeting that Soros "hates humanity."
Here's what you need to know about DeSantis's Jewish record:
He has been an outspoken booster of Israel.
DeSantis, a Catholic, has a visceral affinity for Israel, and has framed his support for the country in religious terms.
"When I took office, I promised to make Florida the most pro-Israel state in the United States, and we have been able to deliver on that promise," he said this week, addressing evangelical Christians at the National Religious Broadcasting Convention in Orlando, The Jerusalem Post reported.
He likes to tell audiences that on his first visit to Israel as a U.S. congressman, his wife Casey scooped up water from the Sea of Galilee into an empty bottle to save for baptisms. The couple had yet to have children.
The water came in handy for the baptisms of their first and second children, but after DeSantis was elected governor, staff at his residence cleared away the unremarkable bottle (which was still half full) after their second child was baptized in 2019. Not long afterward, DeSantis mentioned the minor fiasco in passing at a synagogue in Boca Raton, and before he knew it people were sending him bottles of water from Israel.
The gesture still moves him. "I was sent, all the way from Israel, this beautiful big glass jar filled with water from the Sea of Galilee that sat on my desk in the governor's office in Tallahassee until our third child was born and baptized, and we used that water to do it," DeSantis said last month when he visited Israel.
DeSantis made Israel a focus when he was congressman, taking a leading role in advocating for moving the U.S. embassy from Tel Aviv to Jerusalem. He was among a group of lawmakers who toured Jerusalem in March 2017 and was bold enough to pick out what he said would be the likeliest site. 
In November of that year, as chairman of the House national security subcommittee, he convened a hearing on what he called the necessity of moving the embassy. The following month, Trump announced the move, and the site the Trump administration chose was the one DeSantis had identified.
In May 2019, just months after becoming governor, DeSantis convened his state cabinet in Jerusalem and gave a definition of antisemitism favored by the pro-Israel community the force of law. The same year, he banned government officials from using Airbnb after the vacation rental broker removed listings in West Bank settlements. DeSantis' blacklisting of the company was seen was key to Airbnb reversing the decision.
He's garnered allies — and enemies — among Florida's Jews.
DeSantis has done much to cultivate support in Florida's growing Orthodox community, which shares his enthusiasm for bringing faith into government.
In 2021, DeSantis came to a Chabad synagogue in Surfside to sign two bills, one affording state recognition to Hatzalah, the Jewish ambulance service, and the other tasking all Florida public schools with setting aside a daily moment of silence, long a key initiative of the Chabad movement.
In his first gubernatorial campaign in 2018, DeSantis campaigned on steering state money to religious day schools. This year he made good on the promise, signing a law that makes $7,800 in scholarship funds available annually to schoolchildren across the state, regardless of income, and to be used at their school of choice.
DeSantis also has plenty of Jewish enemies in a state where the majority of the Jewish community votes for Democrats.
In his first term, he had a contentious relationship with Nikki Fried, a Democrat who, as agriculture commissioner, was one of the four ministers in the Cabinet who had a vote. DeSantis maneuvered to freeze her out of the decision-making process.
Fried, who describes herself as a "good Jewish girl from Miami," now chairs the state's Democratic Party. She routinely calls DeSantis a fascist. In April, she was arrested at an abortion rights protest outside Tallahassee's City Hall.
Under DeSantis, Florida has prohibited abortions after six weeks of pregnancy. That stance has set him up for clashes with other prominent Jews in the state as well. Last year, he suspended Andrew Warren, a Jewish state attorney, because Warren pledged not to prosecute individuals who seek or provide abortions after the U.S. Supreme Court overturned Roe v. Wade.
L'Dor Va-Dor, a synagogue in Boynton Beach, spearheaded the first lawsuit filed against Florida's abortion ban in 2022, citing religious freedom arguments. Daniel Uhlfelder, a Jewish lawyer who drew attention when he dressed as the Grim Reaper to protest DeSantis's reopening of the beaches during the pandemic, signed on as an attorney for the synagogue.
His "war on woke" has had implications on Holocaust education.
Recently, much of DeSantis' tenure has been defined by what he calls the "war on woke," a term originated by Black Americans to describe awareness of racial inequity but now more often functions as shorthand for conservative criticism of progressive values.  DeSantis has enacted multiple pieces of legislation restricting what can be taught in schools and has also limited transgender rights, banning gender-affirming medical care for children.
While most of the books challenged under DeSantis' education laws have focused on race and gender, the study of the Holocaust has been affected as well. In addition to the education department's rejection of the Holocaust textbooks this month, Florida laws that make teachers liable for teaching inappropriate content to students have led multiple school districts to take Holocaust novels off the shelves, including a graphic novel adaptation of Anne Frank's diary.
DeSantis calls claims that he's chilling Holocaust education "fake narratives." He and his defenders point to his requiring all Florida public schools to certify that they teach about the Holocaust.
Neo-Nazi and white supremacist activity has increased under his watch.
A recent report from the Anti-Defamation League described an upward trend of extremist and antisemitic activity in the Sunshine State, driven in part by emerging white supremacist groups — some of whom have gone to bat for DeSantis in the past.
DeSantis has been dogged by accusations that he caters to the far right. One of the most stinging exchanges in the 2018 election season came when Andrew Gillum, DeSantis's Democratic opponent in the race, accused DeSantis of not being forceful enough in renouncing the white nationalists who expressed support for him in robocalls.
"First of all, he's got neo-Nazis helping him out in this state," Gillum said. "Now, I'm not calling Mr. DeSantis a racist, I'm simply saying the racists believe he's a racist." DeSantis flinched.
DeSantis eked out a victory a few weeks later, and was soundly reelected last year, but he remains sensitive on the issue. Last year, when neo-Nazis intimidated Orlando's Jews with signs and shouts at an overpass, politicians in the state reflexively condemned them. A reporter asked DeSantis why he had not done so, and after calling the neo-Nazis "jackasses," the governor said the question was a "smear" and added, "We're not playing that game." (Several months later, the leader of the antisemitic propaganda group Goyim Defense League moved from California to Florida, saying he thought the Sunshine State would be more hospitable to his efforts.)
DeSantis has also called liberal prosecutors "Soros-funded". It's not an unusual political gambit — the billionaire Jewish liberal donor does fund progressives running for prosecutor. But Soros has also been the focus of multiple conspiracy theories that antisemitism watchdogs say are antisemitic, casting the Holocaust survivor as a malign influence with excessive power.
Some Jewish donors are already supporting him.
DeSantis appeared last year at a conference in New York of Jewish conservatives, where he talked to a friendly audience about his war against the "woke" and was also conveniently in the room with some of the most generous Republican donors.
He is reportedly working some of those donors, who gave generously to his gubernatorial runs. He was a star last November at the Republican Jewish Coalition's annual Las Vegas confab, and Axios reported that he met with Miriam Adelson, the widow of GOP kingmaker Sheldon Adelson, as well as other Jewish donors when he was in Jerusalem last month.
A number of them are hanging back, not wanting to alienate Trump while he remains influential in the party. (Adelson has said she does not want to weigh in on the primaries.)
Among the Jewish donors and fundraisers said to be in DeSantis's camp: Jay Zeidman, a onetime Jewish White House liaison who is now a Houston based businessman; Gabriel Groisman, a lawyer who is the former mayor of Bal Harbor; and Fred Karlinsky, a leading insurance lawyer.
Last week, Jewish conservative political commentator Dave Rubin tweeted that DeSantis would bring "Freedom, sanity and competency" to the country. Groisman shared the tweet with the word "This."