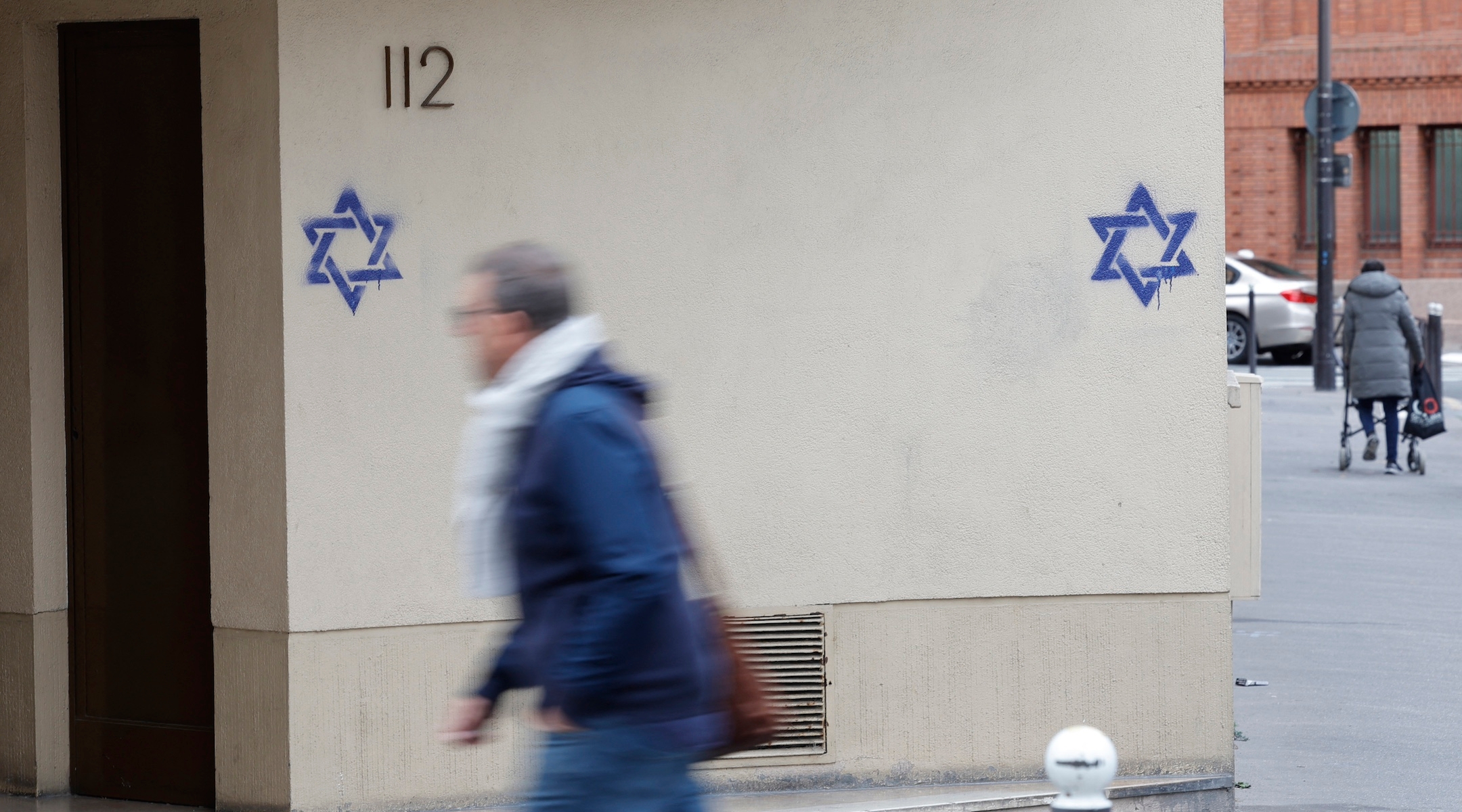 Stars of David spray-painted on Paris buildings remind Jews of 1930s, mayor says
((JEWISH REVIEW)) — Police are investigating dozens of Stars of David found spray-painted on the walls of buildings in Paris' 14th arrondissement this week, the latest in a series of incidents tied to the Israel-Hamas war that have had French Jews on high alert since Oct. 7.
Authorities announced the investigation on Tuesday, days after similar graffiti was found in the suburbs of suburbs of Vanves, Fontenay-aux-Roses and Aubervilliers. In the nearby town of Saint-Ouen, some graffiti was accompanied by slogans such as "Palestine will overcome."
The mayoralty of the city's 14th arrondissement said in a statement that the Jewish stars "recall the events of the 1930s… which led to the extermination of millions of Jews."
French Prime Minister Elisabeth Borne told the National Assembly that "my government is determined to wage a merciless fight against" antisemitism. Her father survived Auschwitz but then committed suicide when she was 11. "It is the duty of the republic to protect all the Jews of France," she added.
Officials said that the Stars of David have yet to be officially tallied as hate crimes.
France has seen more antisemitic incidents since Hamas' attacks on Oct. 7 than in the entire past year — more than 850, according to Gérald Darmanin, France's interior minister. "Jewish community sites will be protected day and night," Darmanin said at the Levallois-Perret synagogue on Tuesday evening.
The antisemitic incidents range from verbal abuse and antisemitic graffiti to death threats and physical assaults in the street. Over 400 investigations have been opened into instances of online abuse, Le Figaro reported, and more than 425 people have been arrested so far in connection with antisemitic acts throughout the country. Of those, 125 are of foreign origin. "More than 30 are already in administrative centers awaiting deportation, and deportations of foreigners for acts of antisemitism have already begun," Darmanin said.
With one of the largest Jewish populations outside of Israel and the United States, at around 500,000 people, France is also home to the largest Muslim community in Europe.
Jacques Isaac Azeroual, a kosher butcher in the city's 19th district, which has a sizable Jewish community, told AFP that he doesn't feel secure anymore. Out of fear, he is closing his store an hour early and has started covering his kippah outside.
"People are demoralized. They are scared of going out to shop," he said.