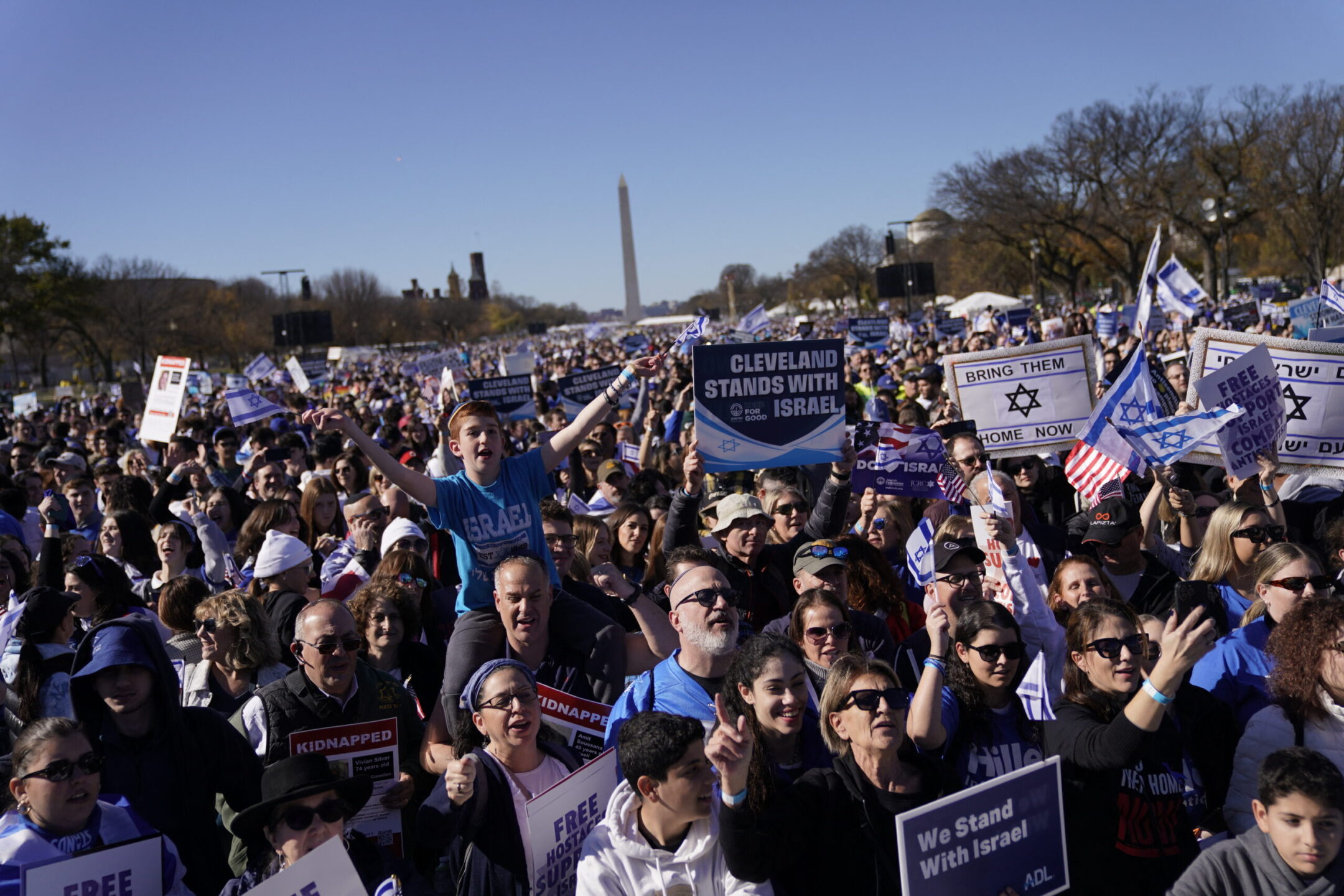 'The world can see that we are together': March for Israel attendees say they delivered a powerful message
WASHINGTON ((JEWISH REVIEW)) —  Hannah Kaplan, a senior at Tiffin University in northern Ohio, can identify exactly one other Jew in the school's student body of approximately 3,000. There are also a few Jewish professors, but no Hillel.
She says she's felt lonely since Oct. 7, when Hamas' attack on Israel killed 1,200, sparked a brutal war in Gaza to depose the terror group and led to a reported spike in antisemitism across the United States. Kaplan, who has relied on her lacrosse team for comfort, says there aren't many pro-Palestinian protests on her campus — but she's also feeling the absence of Jews.
So she got a seat on a bus leaving from Ohio State University and took the seven-hour ride to Washington, D.C., for what ended up being perhaps the largest Jewish gathering in American history on Tuesday — the pro-Israel rally on the National Mall.
"It's important for me to be around people who I really associate with, and can identify with a community," Kaplan said. "I'm so pumped and so ecstatic that so many Jewish students and so many Jewish people were able to come out in support today. It makes me feel like we really have a strong community. It makes me feel hopeful."
The pull Kaplan felt — to be around many, many other Jews at an uncertain time for both Israel and American Jewry — was shared by attendees across the hundreds of thousands who filled the grassy expanse in the nation's capital for two hours on Tuesday afternoon. Dozens of people who spoke with the Jewish Telegraphic Agency mentioned their support for Israel when they described what they hoped to hear at the rally. But mostly, they said, they were excited to be in a crowd of their own.
"When I heard about this rally, I felt it was so important to come and bring my daughter so that we can be here and stand with everyone," said Marnie Atias, who flew with her 15-year-old from Milwaukee. Another daughter moved to Israel shortly before the Oct. 7 attack and works at Hadassah Medical Center in Jerusalem. Arias added, "The world can see that we are together."
The crowd was a mix of young and old, with a large proportion of Orthodox attendees, in part a reflection of the decision by Jewish day schools and universities to cancel classes and bus students, and in some cases their families, to Washington. Clusters of men gathered outside the event before it started for afternoon prayers.
Politically, attendees seemed to reflect the broad pro-Israel tent that the organizers had hoped for, with right-wing demonstrators standing in the same crowd as a "Peace Bloc" organized by progressive Jewish groups. Signs mostly declared broad support for Israel, opposition to antisemitism, a call to free the hostages or condemnation of Hamas. Many held the hostage posters that have become a common sight in cities across the world, with more strewn in spots across the Mall.
A few signs made a "hummus/Hamas" pun, favoring the Middle Eastern chickpea paste while opposing the Middle Eastern terror group. Many people wore or waved flags that were half-American and half-Israeli. At least one person went a step further, wearing a tripartite flag that was one-third Israel, one-third United States and one-third Ukraine.
There were also some Jewish demonstration mainstays. A group from the activist anti-Zionist Hasidic group Neturei Karta protested outside the event's security barricade. Emissaries of the Chabad Hasidic movement roved around the crowd, seeking men who could put on tefillin, the prayer article worn daily by many observant Jews. A man sold Israeli flags ($10 each) from a cart, along with pins with messages such as "Go to Hell Harvard" — a reference to recent accusations that the university has not done enough to fight antisemitism — and "F— Iran" over a picture of former President Donald Trump.
There were also a significant number of Christians at the rally (and much to the chagrin of the liberal groups present, conservative evangelical Pastor John Hagee spoke from the stage). Kaylee Santalucia and her parents left Buffalo, New York, at 2:30 am, representing their church, on the Buffalo Jewish Federation's bus to Washington. She said she felt God would play a role in saving Israel.
"I am feeling uplifted, hopeful, that we can come together and stand for Israel and just be supportive," Santalucia said. She said she hopes to see "an end to the slaughter that Hamas is doing."
But the vast majority were Jews. One man, from Toronto, made a sweatshirt that read, in all caps, "THANK YOU PRESIDENT BIDEN FOR YOUR MORAL CLARITY," below a picture of the president. He stood on a chair, arms outstretched, one hand waving an Israeli flag and the other an American flag as he advanced a message that even some right-wing Jews have espoused about the Democratic president in the wake of Oct. 7.
"His stance is seen around the world," said the man, Zach Mammon. "He knows that, and we know that around the world."
A couple who flew from Atlanta was decked out in all manner of Zionist apparel: Eric Fox wore a blue-and-white scarf on top of a T-shirt bearing the likeness of Theodor Herzl, the ideological father of Zionism. His wife Julie Fox wore a blue shirt with a white Star of David and an American-Israeli flag as a cape.
They said they were motivated in part to counter the images of mass rallies held by Jewish Voice for Peace, an anti-Zionist Jewish group that brought thousands to a demonstration at the U.S. Capitol weeks ago.
"Just to show what the Jewish point of view really is instead of what's been shown on TV as far as Jewish Voice for Peace," Julie Fox said. "That doesn't represent most of us."
She added, "We want our hostages back and we want Hamas gone and I don't really think there is a way to have a two-state solution, unfortunately."
Not far away, Carol Berkower wore a shirt from the liberal Israel lobby J Street that identified her as pro-Israel as well as pro-Palestinian. The group advocates vocally for the establishment of a Palestinian state. She said she owned the shirt before Oct. 7 but read it again before putting it on and decided she still agreed with it.
But she said she hadn't come to the rally from her home in Baltimore to convince anyone. Rather, what brought her was concern for her cousin who lives in Kfar Aza, a kibbutz ravaged by Hamas. Berkower's daughter is also a student at the University of Rochester, and Berkower wanted to be part of a large crowd showing solidarity with Jewish college students.
"I think we're all together," she said of the rallygoers. "Everyone I know in Israel is traumatized right now so I've been doing everything I absolutely could to stand for it."
Another mother of a college student, Sarah Rubel from Westville, New Jersey, has a son at Tulane University, which was recently the site of an altercation between pro-Israel and pro-Palestinian protesters. She said she isn't scared — she's taking her cues from him, and he feels fine — but does feel sad, and felt a need to stand in solidarity with other Jews.
"I want all of Israel to see that we all support them," she said.
Some protesters did come advocating for a specific set of goals. Orna Tussia and Devorah Selber, Israelis who live in Philadelphia, carried huge posters with the pictures of the hostages held by Hamas. Selber's cousin is among them. They said they came to raise awareness for the hostages and to push for a large-scale prisoner exchange that would bring the hostages back in exchange for all of the Palestinian prisoners held by Israel.
"Israel and all of the world should see that it happened, this tragedy occurred, and we have hostages, there are still families there, we want them back as fast as possible," Tussia said, "Bring back the captives, and then we'll deal with the rest. First of all, bring back the captives."
For David Lender, a sophomore at the University of Delaware who comes from an Israeli family, the rally was an opportunity to support his people. He arrived in Washington with a bus of about 20 other students from his school.
"Israel is my everything — it's my home, it's my family, it's my people," he said. "What I want people to understand the most — and this is a point that I've heard echoed throughout the rally, even from people just walking around — is that Hamas and the Palestinian people are two very different entities and I don't want people to conflate one with the other."
Eytan Saenger, a first-year student at Binghamton University, originally had a test scheduled the day of the march in Washington.
"But then I was like, 'When else do I have the opportunity to stand with hundreds of thousands of people and stand here against the antisemitism that's going on both across the country and on college campuses?'" he told (JEWISH REVIEW). "Fortunately, my campus has a lot of Jews — but even where sometimes I'm the only Jew in a class or something like that, I will know that I'm part of a greater people that can come together for each other in times of need, and hopefully also in times of strength."