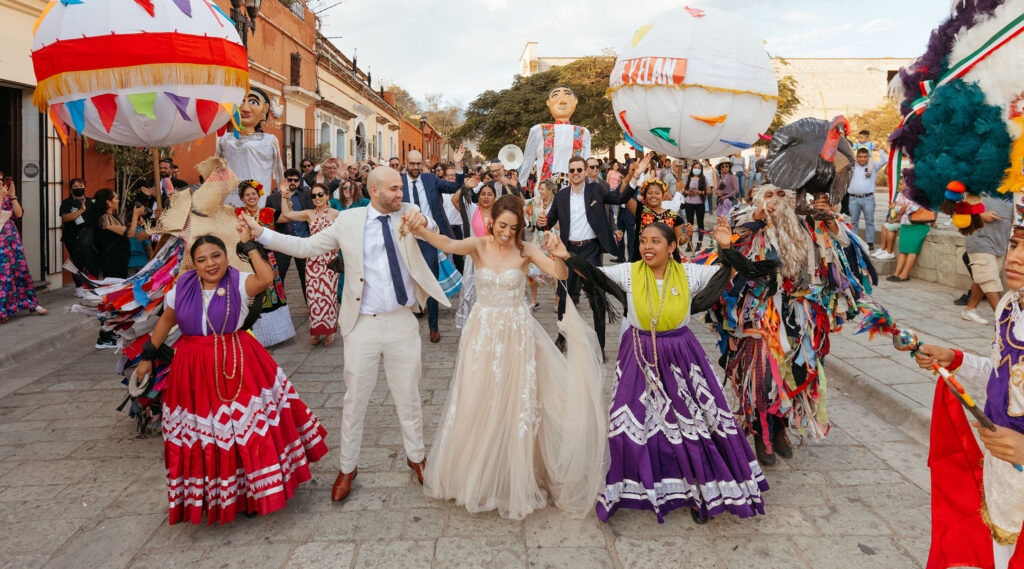 This Jewish couple ended their three-country wedding tour with a colorful Oaxacan ceremony
(JTA) — For the third of their three weddings, Hallie Applebaum and Elan Raffel set up a chuppah in Oaxaca, the Mexican city where they first confessed their love for each other.
Oaxaca is a vibrant hub of Mexican folk art and incredible food, but Jewish life? Not so much. Nonetheless the couple chose there to wed in an egalitarian Jewish ceremony led by the groom's sister, Libby Smoler, on Feb 26. And when seven family members and friends gave their own interpretations of the seven traditional blessings, one of Applebaum's sisters wished them a lifetime of adventures and delicious meals.
The wedding came just over three years after the pair met — online, from their parents' houses early in the pandemic.
Applebaum's parents weren't subtle about wading into her dating life after she moved home to Portland, Maine, in early 2020, the only one of their four children to do so. Her father showed her a video about dating apps and her mother asked her for a demonstration.
Applebaum, 35, downloaded Hinge. The next thing she knew, her mother was hooked. "She's swiping and swiping, and saying, 'This is fabulous,'" Applebaum recalled, adding with a joke, "I told her, 'You have to have some standards.'"
In Los Angeles, where Applebaum had been living, she had been focused first on her job as a producer of external communications for the educational technology division of the World Bank, and her all-consuming side project as the founder of Future of Women, which hosts breakfast events around the world and hosts a podcast for women leaders.
But in her childhood home, with no timeline for when life would resume, she decided to dive into dating, drawing on her extensive experiences living and traveling abroad to experiment with what would generate the most promising results.
"I put my location as different places, like Mexico City or London, for the fun of it," she said. "When we were so isolated, to have contact with people in these places was nice. But, then, I put myself in a more realistic location."
That location was New York City, where she soon encountered Raffel, an attorney in the tech industry.
The pair matched and soon learned that they had a lot in common. Like Applebaum, Raffel had moved back in with his parents at the start of the pandemic — in his case Pikesville, a heavily Jewish suburb of Baltimore. Both had attended Jewish day schools growing up; both had spent time living abroad (Applebaum in Guatemala, Ecuador and while pursuing a master's degree at the London School of Economics and Raffel in his mother's native Israel); and both enjoyed fine food and off-the-beaten-path adventures.
After months of phone calls and probing conversations — some fueled by "The 36 Questions that Lead to Love" as appeared in The New York Times — they decided that Raffel would join Applebaum for a camping trip in Maine's Acadia National Park.
"We had an out," Raffel recalled. "If either of us had a terrible experience, we could back out."
That wasn't needed. Instead, they extended their time together — after kicking it off with an unplanned first meeting for Raffel with Applebaum's parents when she forgot a cooler of food at their house.
"We joke that our first date was two weeks long," said Raffel.
Soon after, Applebaum met Raffel's family for Rosh Hashanah dinner. Then, Raffel rented a home in Los Angeles after Applebaum returned there.
With remote work the norm, and a few months dating now behind them, they began considering living and working elsewhere. They decided on Mexico, spending one month in Merida and one month in Oaxaca.
With its vibrant food scene and colorful arts and culture, the couple both fell in love with Oaxaca, and with each other. It was there that they first said, "I love you."
They returned to Mexico in the summer of 2022 while their new condo in Santa Monica was undergoing renovations; it was there that they became engaged. They now regularly host Shabbat dinners in their L.A. home through the nonprofit OneTable.
The first of their three wedding ceremonies took place on Sept. 30, 2022, when they were legally married at the Los Angeles County Courthouse.
The next event took place in Israel, where Raffel's mother had long hoped that one of her three children would marry. He was her last hope, so the couple said yes to what they thought would be a small wedding there planned by her.
But Shuli Raffel's plans grew larger and larger, until finally, Applebaum's parents decided to come and her London-based sister, too. Rabbi Shira Levine of Kibbutz Hanaton, rooted in the Conservative movement of Judaism, officiated a religious ceremony on Oct. 14 at Bistro de Carmel in Zichron Ya'akov with 90 guests present.
Levine had guided the couple via video calls in writing their own text for the Jewish wedding contract, the ketubah.
"We spoke to the rabbi about ​our relationship, our household, and how do we make this concrete and what traditional things do we want to modify and make more egalitarian," Applebaum said, adding, "Since I do a lot of work in women's empowerment, it was important to me to have a woman rabbi."
Then, over Thanksgiving weekend, the couple held an Israeli brunch in Philadelphia, attended by their grandmothers — Applebaum's is 102 — who would not be traveling to Mexico. From there, they flew directly to Oaxaca for a menu tasting, where, because Applebaum is vegetarian, it fell to Raffel to try all the fish and meat options they might offer their guests.
The couple returned to Oaxaca for the main affair — a multi-day event that included a day-long tour to a facility where mezcal, a Oaxacan spirit, is made; visits to craftspeople; and two nights of dinners.
On Feb. 26, they had their third and final wedding in front of 72 guests at Cardenal Oaxaca, an events venue. Spicy pineapple mezcal cocktails kicked off the celebration, and a festive meal that won accolades even from foodie guests followed the ceremony.
"It was amazing," said Ori Zohar, a guest who is also the co-founder of spice company Burlap & Barrel. "The wedding meal was a procession of Mexican and Oaxacan specialties with an international twist. Beets were grilled and paired with pumpkin seeds and pickled mustard seeds. Duck enchiladas came slathered in a black mole sauce and aged cheese. The main dishes were shared plates, so each guest got to try a little of everything before going back and polishing off the rest of their favorite."
In one highlight of the day, the couple partook in a local custom where tall likenesses of the couple are made out of paper maché and carried, and people toast the bride and groom. It was, Applebaum said, a perfect way to show off a beloved place to their friends and family.
"Our guests went from this beautiful ceremony that his sister put together," she said, "to being immersed in this celebration in the streets."