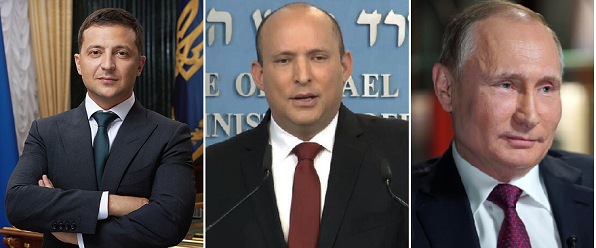 Zelensky Backtracks After Knesset Speech Backfires
Ukrainian President Volodymyr Zelensky may have miscalculated in an address that he made to Israel's Knesset Sunday evening pleading for more help to defend against Russia's invasion of his country. The speech, which was made through teleconferencing from his office in Kyiv, came after a similar long distance address was given by Zelensky to the US Congress. But that speech was more warmly received by its audience than the one given to Israelis.
President Zelensky was critical of what he feels is a lack of support from the Israeli government for his country's current situation. In spite of all of the humanitarian aid that Israel has already sent to Ukraine – tons of medical supplies, food and other items so far – and the numerous Ukrainian refugees who have found safe haven in Israel (and not only Jews), Zelensky is disappointed that Israel has not implemented financial sanctions against Russia in the same way that the US and much of Europe has done.
Zelensky also urged Israel to provide his country with military assistance, including the Iron Dome missile defense system.
While he did, however, acknowledge the mediation efforts made by Israel's Prime Minister Naftali Bennett who even traveled to Moscow to personally meet with Russia's President Vladimir Putin, Zelensky criticized the notion that the conflict was a two-sided dispute between nations. "Apathy kills, calculations kill. You can mediate between countries but not between good and evil," said the Ukrainian President, in effect, not only calling Russia evil but also charging that Israel is failing to acknowledge that Russia is to blame of unwarranted aggression against a blameless victim.
Naftali Bennett took the opportunity to respond to Zelensky's speech while attending a ceremony for the sendoff of a fully operational field hospital to Ukraine. This is just one example of the many ways that Israel has been helping the Ukrainian people since the Russian invasion began. "Israel has been stretching out its hand to aid in the crisis in Ukraine for several weeks, from the first minute in different, varied channels," Bennett said. "We are managing this unfortunate crisis sensitively, generously, and responsibly while balancing the different considerations – and they are complex."
Israel's Foreign Minister Yair Lapid took a diplomatic approach when he responded to Zelensky's comments by basically ignoring the negative and listing the aid that Israel has given Ukraine. "I reiterate my condemnation of the attack on Ukraine and thank President Zelensky for sharing his feelings and the plight of the Ukrainian people with members of the Knesset and the government," said Lapid. "We will continue to assist the Ukrainian people as much as we can and we will never turn our backs to the plight of people who know the horrors of war."
Some Knesset members, however, were outraged at President Zelensky's attempt to compare his people's suffering to the plight of Jews during the Holocaust. Likud opposition MK and former Minister of Finance Yuval Steinitz sharply criticized Zelensky saying, "It is said that you do not attack a person in a time of grief, but if the speech of Zelensky, the Jewish president of Ukraine, was delivered on normal days, they would say that he borders on Holocaust denial."
"The historical truth is that the Ukrainian people cannot be proud of their conduct in the face of the Jewish Holocaust," he added.
President Zelensky seemed to understand that he may have miscalculated in his choice of words. He later released a video saying, "Of course, Israel has its interests, strategy to protect its citizens. We understand all of it.
"The prime minister of Israel, Mr. Bennett is trying to find a way of holding talks, and we are grateful for this," Zelensky said. "We are grateful for his efforts so that sooner or later we will begin to have talks with Russia, possibly in Jerusalem. That's the right place to find peace. If possible."
Regardless, it is doubtful that Israel would have sent military aid to Ukraine, let alone Iron Dome technology. Israel is in no position to have its arms used against the Russian military, even if it is only used in defense. Also, the Iron Dome only defends against short range missiles and rockets. It does not protect against aerial bombardment or long range missiles.