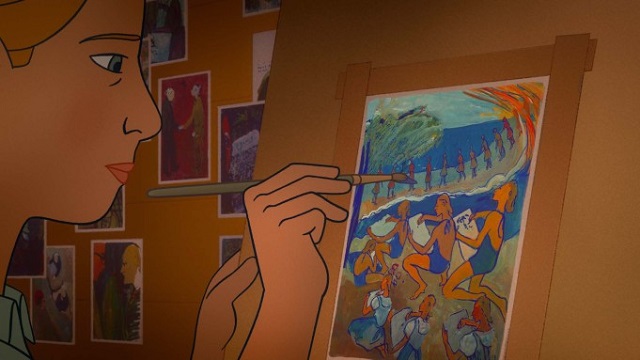 Keira Knightley to Play German Jewish Painter and Holocaust Victim
Oscar nominee Keira Knightley plays the French Jewish artist Charlotte Salomon who was murdered during the Holocaust in the new animated movie "Charlotte" which is due to be released in April. Most famous for her roles in the Pirates of the Caribbean movies, Knightley was nominated twice for an Academy Award, both times for the best actress award, once for "The Imitation Game" and once for the 2006 version of "Pride & Prejudice."
The actress, however, is not Jewish. So, now let's see if any Jews complain about Keira Knightley portraying a Jew on screen in the way that some people have complained about how Hellen Mirren was cast as the late Israeli Prime Minister Golda Meir in the upcoming movie "Golda." Or maybe doing just the voice of a Jew is OK with such people.
The Movie Charlotte tells the story of German-Jewish artist Charlotte Salomon during the time that she lived in the south of France between 1941 and 1943, when it was ruled by the collaborationist Vichy French government. Keira Knightley is actually ten years older than Salomon was at the time. Salomon was only 26 when she was murdered at Auschwitz sometime in the fall of 1943. And she was five months pregnant too when the Germans sent her there.
–
Charlotte Solomon was born in Berlin in 1917 to a prominent Jewish family there and was married to a non-Jewish German man. But that did not save her from Auschwitz. According to Jewish Women's Archive, she was twenty-three years old in 1940 when she made a painting of her face—"a nameless, stateless, Jewish face. A talented graphic artist, Salomon lived a life surrounded by death." Her father was sent to a concentration camp after the Kristallnacht pogrom in 1938, and a total of eight members of her family committed suicide. Salomon memorialized their lives with her artwork, creating a "slightly fictionalized depiction of her family members' lives".
–
[embedded content]
Before her death, Solomon packaged and hid her work in the book "Life? Or Theater?" Her work was found after the war by relatives and donated to the Jewish Historical Museum there in Amsterdam. What remains of Salomon is the great graphic power and the excruciating struggle to know and record the truth.
"And with dream-awakened eyes, she saw all the beauty around her, saw the sea, felt the sun, and knew she had to vanish for a while from the human plane and make every sacrifice in order to create her world anew out of the depths." Charlotte Solomon, from "Life? Or Theatre?"
Academy Award winner Jim Broadbent, Academy Award nominee Brenda Blethyn, Sam Claflin, Eddie Marsan and the late Helen McCrory are also in the movie.
Up next for Keira Knightley is the movie "Boston Strangler," which is currently filming. In it, Knightley plays Loretta McLaughlin who was the reporter who first connected the infamous Boston Strangler murder to a serial killer and who also first broke the story. She and Jean Cole challenged the sexism of the early 1960s to report on the city's most notorious serial killer. Carrie Coon will play Cole in the film which is written and directed by Matt Ruskin.